Unfold the future: Jack Neo
COVER STORIES
Unfold the future:
Jack Neo
Talking all things tech with Singapore's
most commercially successful filmmaker.
by Jamie Nonis


When Singapore went into "circuit breaker" in April, Jack Neo's trusty Samsung phone began working the night shift.


With filming and production on all projects essentially shutdown, one of the most recognisable faces in Singapore entertainment turned to his mobile device to do what Jack Neo does best – entertain fans.


He began live streaming on the various social media platforms and even launched an e-getai online show co-hosted nightly with popular veteran actor and getai singer Wang Lei – all through his mobile phone.


"The quality and sharpness is really very, very good," he raves.


The mobile device quickly became an indispensable gateway to the digital sphere, enabling Neo to stay connected with fans as the pandemic continued to devolve – and keep himself entertained.


"The Samsung Galaxy Z Fold2 has a wide display screen so I can watch my dramas and shows very clearly, and there is depth in the sound; really enjoyable and shiok!" he says.


This is made possible with Samsung Ultra Thin Glass, allowing the foldable display to open to a 7.6-inch display. This 120Hz Main Screen also gives you smooth visuals and fast touch response, and even adapts the refresh rate to what's on your screen, delivering an ideal viewing experience.
Neo's creative streak showed no signs of abating, even during the initial shutdown. He sprung into action and created "Show Off Show", a virtual talent competition to discover the next big star in acting, singing and hosting across Singapore and Malaysia, hosted by Gurmit Singh and with judges like Kumar and Irene Ang. Pulling off the show virtually – mostly via Zoom – proved a challenge, which Neo has never been one to shy away from.


In 1998, he made history with "Money No Enough", which surprised both audiences and industry, as it became one of the highest grossing movies of all time – until it was surpassed by Neo's other ultra successful franchise, "Ah Boys To Men", in 2012.


More importantly, the seminal film proved that local movies could be commercially viable, thereby changing the perception of an entire industry.


In the decades since, the trailblazing pioneer has come to be a cultural icon celebrated for his authentic portrayal of Singaporean life and knack for telling stories big on 'kampong spirit' on the big screen.


These days, Singapore's most commercially successful filmmaker is hoping to nurture a new generation of talent through his role as CEO of Asia Momentum Media (AMM), a subsidiary of Hong Kong Asia Television (ATV) Holdings.


AMM will produce and distribute original content – variety shows, dramas and documentaries – via its app for the Mandarin market in Hong Kong, Taiwan, Malaysia and Singapore. Independent creators can also sign up and create their own content channels within the app.


How did you manage to stay creative and inspired during the "circuit breaker" period?
I am a creative person and I like creative work so during this pandemic period, I sat down and thought about what I should do to attract people. I started live streaming, and based on my past experience, I know variety shows are within my capability so I also started the e-getai and a lot of entertainment items that we streamed online. Inspiration comes very naturally to me. I watch, I read, I like to think, I like to teach. Sometimes when I teach, I also learn.


How is your personal relationship with technology?
I enjoy technology because I think technology changes life. I follow military technology; a lot of technology is invented for military use then it's passed down (for commercial use). It's quite hard to predict what's going to happen; what kind of technology is going to come out and change your life. Now, you already see unmanned vehicles. Things we've seen in science fiction movies are now real. Many things are going to become real.


You've contributed so much to Singapore's film and entertainment scene over the decades. How do you feel about how the industry has evolved since you first started?
The new media is crazy; nobody was prepared 10 years ago when people were still thinking in old, traditional ways where big media groups control everything. And if you wanted to become a popular artiste, you had to depend on a TV station. With new media, one person controls everything. This is the big change. Now, with live streaming, you see a lot of key opinion leaders (KOLs) emerge and a one-man show can do everything.


Live streaming platforms are exploding as a result of more people staying home during this pandemic. What are your thoughts on current live streaming technology?
We are waiting for 5G. When 5G comes, I think the entire world will shift. People think 4G is not bad, but I think 4G is still not good but we have no choice. 5G will change the way we do things, especially when it comes to live streaming. We will be able to do much more. For example, when we do interviews via live streaming now, there's a lag. Or, if we play music on one end and the other side sings, it doesn't work because there's a lag. I've heard with 5G there is no lag. That is the difference.


How have you had to adapt to these changing technologies?
I have to adapt lah, no choice. But I think I'm quite fast. I will not say I'm 100% compatible with young people but I learn what is good enough for me to be in this industry.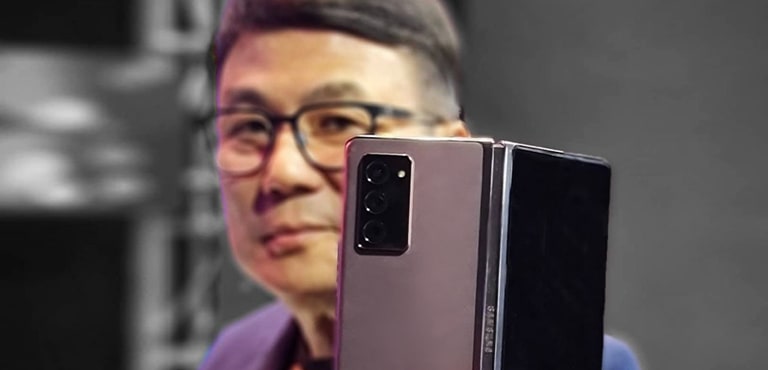 With current mobile phone technology and 4K video quality proving to be a game-changer for an increasingly online world, do you think the mobile device would make professional camera crew obsolete one day?
I don't think so. It would never. Pandemic aside, when we cannot go here and there to film, the end product is still critical. Take movies, for example. Movies used to be played in cinemas but because of the pandemic, a lot of people now think that watching movies at home is quite comfortable. This is a very big change. But if you say cinema will be obsolete, no. The cinema will still be there, depending on how the cinema can improve [its offerings] and come up with new experiences to attract people back into the cinema. The change we have to accept is that there will be two platforms: One is the cinema, and one is at home on the computer.

There will definitely be a move to digital but cinemas will remain. For me, I don't really like watching [movies] at home; I still prefer [going to the] cinema, not because I'm a film director but for the experience of watching together [with friends and family].


Is there a genre of film you would like to do that you haven't attempted before?
War. What I want to see is a movie, a complete full production, of a Singapore war story of how we fought the Japanese during the Japanese occupation. Not many people understand what happened during that war.


What are your hopes and dreams for the future of Singapore film?
To go overseas. There are a few good directors like Anthony Chen who are already moving out and representing Singapore, and I'm very happy to see this. But if you want to make this industry sustainable, besides art house films, you also need commercial films. You have to have different kinds of directors, and it's important to have directors who can make sure the film makes money, then it can be considered a mature industry. We are not a mature industry.
Find out more about Galaxy Z Fold2 5G here.
The views and opinions expressed in the article or video are those of the content contributors and do not reflect the official policy or position of Samsung. Any content provided by our content contributors are of their opinion, and are not intended to malign any religion, ethnic group, organisation, company or individual.
About Jamie Nonis
Jamie Nonis is an independent journalist with two decades of experience interviewing esteemed artistes, world-class athletes and influential captains of industry including Olympic champion Joseph Schooling and Singapore President Mdm Halimah Yacob. Jamie's work has been published in Channel NewsAsia Luxury and Tatler Singapore amongst other top-tier luxury lifestyle publications. Connect with Jamie on LinkedIn.
You are invited
Get ready for exclusive access to in-depth features with thought leaders, invitations to bespoke events, editorial beats on innovation, and first dibs on the latest Samsung products. Also be the first in line to reZerve your monthly delights of new experiences at no charge. Join our mailing list today.
Subscribe