A brand new vibe: Galaxy Z Flip design story
BRAND INNOVATION
A brand new vibe:
Galaxy Z Flip design story
The dream of folding your display has become a reality. Like a flower blossoming with new life, Galaxy Z Flip expands the narrative of the foldable phone. The folded shape and the method of opening the phone are completely new. As Galaxy Fold unravels a massive screen when 'unfolded', Galaxy Z Flip provides an incredibly compact half-sized phone when 'folded'. Its design is sleek, and the colors are intense. It stands on its own, freeing both of your hands. Along with these novel changes, a colorfully diverse experience extends before you.
Folded
A larger screen comes with a better viewing experience, but its size can be a burden when carried. We envisioned a smartphone that maintains the convenience of a large screen while exuding style at half the size.



The Charm of Holding Single-handedly
Galaxy Z Flip is small enough to fit in the palm of your hand with folded, and its snug fit feels just right when held. The load of carrying your phone is now cut to half. You can easily carry your smartphone around in a small pocket or bag rather than having to hold on to it wherever you go. Your every move has just been made easier than ever.


Folded yet Connected
Even without opening Galaxy Z Flip, you can easily stay connected through the cover display that displays the date, time, and battery status in a single glance. It also lets you check caller information of an incoming call or read text messages you just received even when the phone is folded. You can take high quality selfies as well using the rear camera and cover display.


A Stylish Statement
Point-styling is the latest trend in style, which is about being simple with bold accessories. Galaxy Z Flip comes in three colors: the audacious and powerful purple, the emotionally reinterpreted black, and the bright and elegant gold. These brilliant colors are unveiled based on the angle of light that reflects whenever you open and fold the smartphone. Just carrying it around adds edge to your style.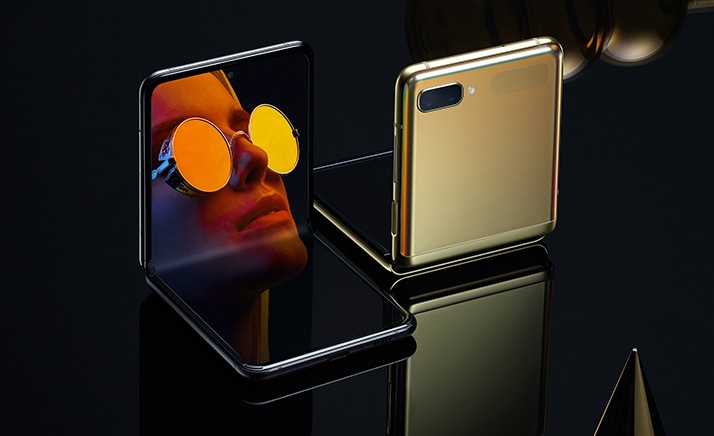 Half-Folded
You can open the smartphone and let it stand in various angles. Even without support, it easily stays upright. Galaxy Z Flip is optimized for today's generation who do other things and use smartphones at the same time.



Held Upright with Ease
Galaxy Z Flip smoothly traverses between being folded and unfolded. It maintains balance on its own at various angles and will fold or unfold only when you want it to. Whether you're taking a selfie, video chatting, or streaming a live broadcast, you can hold Galaxy Z Flip upright and still in multiple angles. The possibilities are endless.


The Freedom to Use Both Hands
Nowadays we do so much more than making calls with our smartphones. Galaxy Z Flip offers a hands-free experience for today's generation who are accustomed to surfing the web during a call or recording their daily lives on video. It is no longer a hassle to eat while enjoying a movie, cook as you watch a recipe video, and put makeup on during a video chatting
Unfolded
When you open Galaxy Z Flip, a screen with a 21.9:9 ratio like that of a movie screen unfolds before your eyes. It is perfect for watching contents. The user experience has also been intuitively refined based on the One UI concept for optimal use on a longer screen.



My Personal Theater
It's great to have a smaller device but we cannot sacrifice the joys of a large screen just for size's sake. Galaxy Z Flip transforms into a massive 6.7-inch screen when opened. It boasts a 21.9:9 ratio cinema view that is close to the screen you see in theaters, so your viewing experience can be livelier and more immersive. It completely satisfies the expectations and needs of today's users who watch movies and play games on their smartphones all the time.


The Convenience of Intuitiveness
Galaxy Z Flip provides optimized usability when unfolded. It comes with the intuitive One UI that helps you easily maneuver a large screen with a single hand. The Multi-Active Windows feature is useful for users who multitask on a regular basis. You can split the screen in the middle to use two apps simultaneously or even adjust the size of each screen separately. Galaxy Z Flip's intuitive features bring comfort even when you are using it for the first time, allowing you to accomplish so much more.


Being the leader of a generation is an aspiration of the past. What we need now is the boldness to venture ahead of others to pave a brand-new path. Galaxy Z Flip has an innovative form and its usage spans across a wide spectrum. This new category in mobile devices will bring change to our everyday lives, making it more cheerful and lightweight. Galaxy Z Flip will brilliantly express its multifaceted identity and reveal an unprecedented narrative for your life.
Original article from Samsung.com here.
You are invited
Get ready for exclusive access to in-depth features with thought leaders, invitations to bespoke events, editorial beats on innovation, and first dibs on the latest Samsung products. Also be the first in line to reZerve your monthly delights of new experiences at no charge. Join our mailing list today.
Subscribe