The Couture Collection
Created on a Phone
How a designer took the fashion world by storm right from her smartphone.
Award-winning fashion designer Aurélie Fontan is known for her bold designs and sustainable pieces, but she wanted to take the couture process where it hadn't been before. For her latest line, she designed an entire capsule collection—from digital drawing to runway—right on her phone. Here's how she did it.

Dive inside Aurélie's innovation process
Where tech and couture intersect
Aurélie is always exploring new techniques that innovate the process of couture fashion design. Her previous work, a dress "grown" from fermented kombucha tea, did this with biology itself.

She says, "My design process is inspired by the potential of science and technology to create sustainable couture and so my award-winning collection, TENSEGRITY, was based on bio-mimicry and inspired by DNA structural patterns."

For this project, Aurélie had a specific goal in mind. "The challenge wasn't to replace couture techniques with technology," she says, "but to explore how the technology that we carry around with us in our pockets, handbags, etcetera could provide a new perspective on the traditional methods of fashion design."
"The collection was designed and produced on a phone, but it is still couture."
—Aurélie Fontan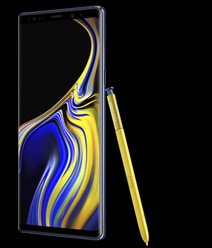 Galaxy Note9
The Note9's S Pen feels like putting pen to paper, so it's perfect for digital drawing.
How tech can amplify couture
Some may say using technology to produce fashion eliminates the couture tradition, but Aurélie found that it expanded the heights the method can reach. "The collection was designed and produced on a phone but it is still couture," she says. "It's one-off, it's artistic, it's crafted and it's bespoke. They both work in harmony to create something beautiful."

Technology allowed Aurélie's vision to bloom and flourish. For example, instead of traditional drawing tools, Aurélie used the S Pen to flesh out her ideas through digital illustration the moment she had them. "The S Pen has a level of sensitivity that meant I could sketch as if using pen on paper."

When it was time for production, she stored large files of her fabric pattern designs on the Note9 and sent them to a JotoX pattern printer, which printed them on the leather base. The fastenings, which were designed on the Note9 with a digital drawing app called Onshape, were sent straight to a Ultimaker 3D printer.
The democratization of fashion
Aurélie's "Mobile Couture" project just might inspire a new generation of creators within the fashion industry. She's proven that with the right talent, technology and digital fashion illustration skills, anyone can produce their own collection from start to finish.

Looking back, Aurélie is pleased with the final collection and feels she fulfilled her vision. "Everyday technology worked with my skillset to produce something entirely unique, creative, and, hopefully, game-changing."
The secret to mobile couture
Take a closer look at the tools and features that brought Aurelie's vision to life.
*S Pen Fold Edition sold separately and is only compatible with Galaxy Z Fold3 5G.