How to Change Your
Life with Journaling
Three digital methods that make journaling easier than ever.

Throughout history, humans have always sought out ways to record their thoughts, feelings and ideas. The first evidence of writing on tablet and scribe can be traced back around 5,500 years ago to ancient Mesopotamia. Fast forward a few thousand years, and some of the most talented and important visionaries from all walks of life made a habit of putting pen to paper. Leonardo da Vinci, Albert Einstein, Sylvia Plath, Oscar Wilde and Frida Kahlo might be famous for wildly different reasons, but they all had one thing in common: journaling.

Psychologists have peddled the therapeutic benefits of reflective writing since the 1960s. In recent years, we've experienced a journaling boom thanks to the prevalence of mindfulness and mental health awareness. There are many ways that journaling can change your life for the better, from enhancing creativity and ingraining learning to clearing your emotions. Whether you are planning your side hustle, tracking your mood, documenting your dreams or noting down daily life, finding a purpose to journal is the first step to making it a daily habit.

It's easy to passively consume information in the digital age, but journaling encourages us to think deeply and actively engage with our ideas. You might feel time-pressed or reluctant to write, but these three digital methods making this enriching practice accessible and fun.

Keep a handwritten diary on your tablet
For traditionalists, the pen will always be mightier than the keyboard. Journaling by hand can feel far more therapeutic than typing, as it connects us intimately to our thoughts and our authentic self. If you want to document your deepest thoughts or take your time writing in stream-of-consciousness style, nothing beats flexing your own personal handwriting skills.

To reap the benefits of journaling by hand as well as the convenience of journaling on the go, why not switch seamlessly from pen and paper to stylus and screen? A tablet is a great investment for those who consider themselves serious writers, because the larger screen feels like paper once you start scribing. As well as that, the Samsung Galaxy S Pen is a special stylus that offers a beautifully authentic journaling experience for the digital age. Integrated into the Galaxy Tab S7 and S7+, the S Pen enhances writing with ultra-low latency and responsiveness that feels exactly like the real thing.


Bullet journal on your smartphone
Whether you want to organise your life or level up your studies, bullet journaling is a no-nonsense approach for those who would rather focus their journaling efforts on maximising productivity than getting deep in the feels. If you lead a busy lifestyle, bullet journaling is a great system for scheduling, logging reminders, penning to-do lists, brainstorming, and other organisational tasks in one single place. Bullet journaling can also be used as a way to promote wellbeing, as it is handy method for keeping track of both your physiological and mental health, short and long-term goals, dreams and gratitude. The Samsung Galaxy S21 Ultra is a tool well suited to bullet journaling as allows you to build and customise spreads perfect weekly and monthly planning. Choose to write with the S Pen or switch to the keyboard on your phone, which may be more convenient for quickly writ. Choose to write with the S Pen or switch to the keyboard on your phone, which may be more convenient for quickly writing and editing goals and lists.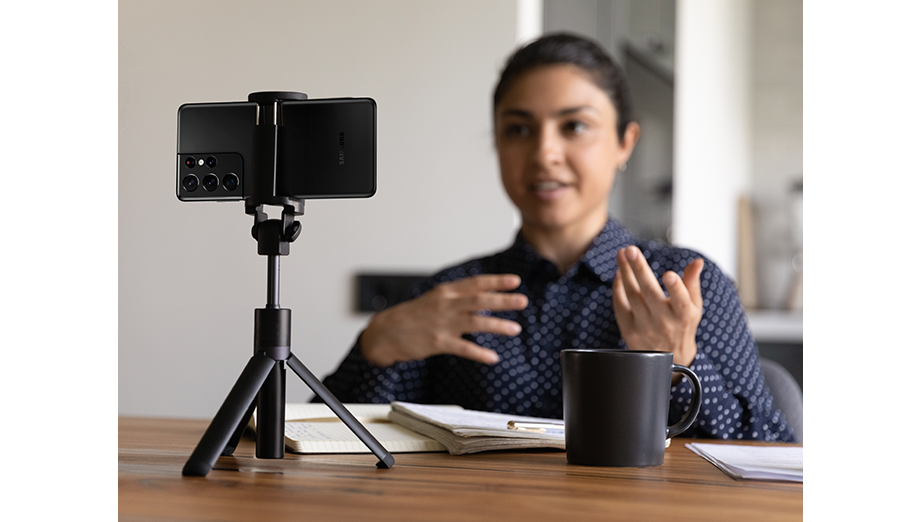 Record a video journal
Not everyone is a writer, and that's okay. Plenty of people find it far easier to grab their phone and take a video instead, and vlogging has many unique benefits. It shows how you and your environment change over time, and by speaking directly to camera, you can really express and experience emotions in a way that writing doesn't allow for. There are plenty of Android apps created for this specific purpose, where you can journal using a blend of media including photos, voice recordings, videos and text. Whether you make a six-second clip every day and stitch it together to document a chunk of your life, or keep a live journal for yourself or to share with your social community, the Galaxy S21 is the perfect journaling companion. With real 8K video, this pocket-sized creative studio produces crisp and detailed footage even in low light, and the variable 60FPS frame rate captures mesmerising slow-motion footage of anything you want to journal.
Ready to start journaling?
Here's everything you need.