Washing Machine Buying Guide
Washing machines are an essential home appliance for busy families. But when it comes to buying a washing machine, you need to make sure you've done your homework. With so many models available, knowing what to look for when buying a washing machine can be difficult – how do you even begin to compare? Our washing machine buying guide will help you make an informed decision, so that you know you're getting the right type of washing machine to suit your needs and budget.
Types of Washing Machine:
What are Your Options?
Fully Automatic Washing Machines
What is a Fully Automatic Washing Machine?
Fully automatic washing machines, as the name suggests, complete the laundry process from start to finish, at the touch of a button. You don't need to manually transfer your laundry into a separate dryer, so these machines make washing your clothes much simpler. In fact, once you've filled the drum, added the soap, and chosen your wash cycle, you only need to take your laundry out once it's cleaned. Fully automatic machines are ideal if you're generally pushed for time and need to streamline the laundry process. However, they're usually more expensive to buy, so if you're on a budget and won't benefit from the speed and simplicity they offer, you may be better choosing a semi-automatic model. There are two types of fully automatic washing machines: front load and top load.
Front Load vs Top Load Washing Machines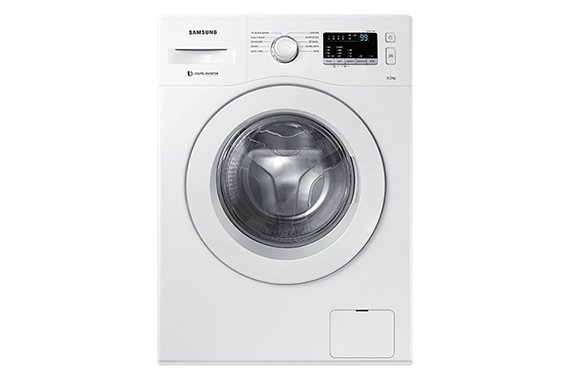 Front Load Washing Machines
When using a front-loading washing machine, your laundry goes into the drum at the front of the machine, rather than through the top. These types are becoming extremely popular, offering a variety of wash programs and good cleaning capabilities. Usually, they use less water and are gentler on the clothes too. Front load washing machines can be fitted neatly under worktops in kitchens or utility areas, making them look part of the design at best or inconspicuous at worst. They can be more expensive than their top-loading counterparts, so factor this in. However, front load machines usually offer a wider range of wash programs and can be quieter too.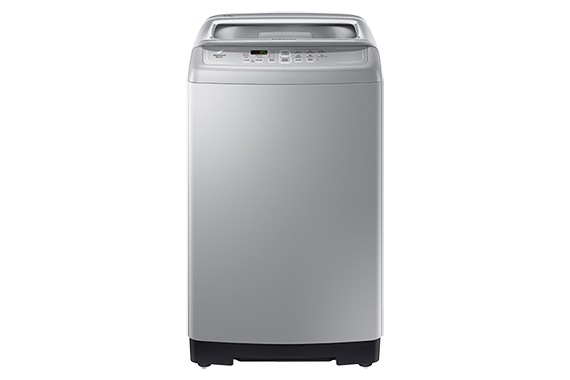 Top Load Washing Machines
Top load washing machines are more traditional types and are a good option for those who have a separate utility room in their home. Because you load these at the top – and therefore don't need to bend over to fill the drum – they're a better option for anyone with mobility issues. These machines are usually cheaper to buy than front-loading types too. Generally, these models are larger in size; if space isn't an issue, or if you have a bigger family, consider a top-loading machine.
What is a Semi-Automatic Washing Machine?
Semi-automatic washing machines require more manual work. These models usually contain two separate tubs; one for washing, and one for drying. You'll need to fill the water, add the soap, drain the dirty water, unload your wet laundry and put it in the dryer. Although this can be more time consuming, semi-automatic models are energy efficient, because they use less water and electricity.
Washing Machine Capacity
Washing machine capacity is given in kilograms, which refers to the maximum load weight a particular model can hold. The larger the capacity, the more clothes your machine can wash at any one time.
Washing Machine Sizes and Measuring Advice
Standard washing machine dimensions vary; you should always double check the width, height, and depth of your washing machine against the space that's available, to make sure you don't end up buying something that just won't fit.
Remember to factor in clearance space at the back too; washing machines require a gap of at least 15.24 cm (around 150mm) to accommodate piping. You should also leave an inch (25mm) between your washing machine and dryer, if they're going to be placed next to each other. Stackable front-loading washers and dryers are available for smaller spaces.

Washing Machine Programs Explained
It might sound obvious, but it's worth getting to grips with the different wash programs out there to ensure you're running the best cycle for your load.

Cottons
Cotton fabrics are usually washed at higher temperatures, especially when it comes to bedding, underwear or more heavily soiled items (this type of material can take more agitation and spinning). Cotton programs allow you to wash your cottons without damaging the fabric.
Synthetics
Synthetic fabrics, like polyester and viscose, are usually a little more delicate than cottons; this cycle washes at a lower temperature with a slower spin. If your washing machine doesn't come with this specific program (which some don't), wash synthetic fabrics on a delicate setting instead.
Wool, Delicates and Hand Wash
For delicate items of clothing or wool fabrics, this cycle washes at lower temperatures and spins at a slower speed, to prevent any damage or stretching.
Quick Wash
Cleans lightly soiled clothes quickly and efficiently in 15 minutes.
Super Eco Wash
This setting washes at lower temperatures, for a more sustainable cycle.
Spin
Sometimes, an extra spin is needed for a larger load of laundry, or to reduce drying time. This program can be selected in addition to the cycle you've already completed.
Rinse and Spin
Rinse and spin settings can be used to freshen up garments that only need rinsing, or to add fabric softener to a load. This cycle can also be used after a different one, if your laundry needs extra rinsing and spinning.
Additional Features to Look Out For
Modern washing machines come with lots of additional features, designed to make the laundry process easier. It's worth knowing what each of these do, to make sure you choose a machine that suits your needs.

Drum Materials
Did you know that not every washing machine's drum uses the same materials? Plastic drums are light, hard-wearing and cheaper; porcelain-enamel drums can be cleaned more easily, though these are known to chip or wear away in the long-term. If you have the budget, opt for a stainless-steel drum; these are extremely durable, and resistant to rust. Samsung's Diamond Drum has smaller, deep-set holes and a smoother surface. This drum treats textiles to a better wash, reducing wear and tear on your laundry.
Temperature Controls
Although most day-to-day washing can be done at 30°C (which has the added bonus of being environmentally friendly), some laundry items may require a warmer or cooler wash. Heavily soiled items usually need to be washed at higher temperatures, for example.
Bubble Wash
Samsung's Eco Bubble Technology delivers advanced fabric care as well as perfect cleanliness by minimising damages. Samsung's ecobubble™ technology uses a bubble generator to dissolve detergent into the water and then inject air, producing a rich soapy foam cushion.
When Ecobubble™ technology is applied, the detergent is better dissolved into the water and faster penetration into clothes is achieved, so less hot water is needed to aid the cleaning process.
Delay Start
Heading out for the day and don't have enough time to a run load before you go? The handy time delay function means you can get your washing ready and decide when you want it to start.
Pre-Soak Settings
Pre-soak functions are designed to tackle stains, giving your laundry some extra soaking time, prior to the wash cycle commencing.
Combined Washer Dryers
If space is limited in your household, a combined washer-dryer is a smart choice. It allows you to do everything in just one appliance; there's no need to haul out your laundry and transfer it over to the next machine to dry.
Internet Connectivity
Some modern washing machines can connect wirelessly to your phone, allowing you to detect problems and find solutions if a fault develops. This is called Smart Check on Samsung models*.
* Available on Android and iOS.
Features to Look for on Fully Automatic Front Load Washing Machines
AddWash™
Samsung's AddWash technology allows you to add items or more detergent to your load mid-wash*.
* Only fabric items, clothing, detergent and softener can be added. The AddWash™ door only opens only when the drum temperature is below 50°C.
Ceramic Heater
Heaters are used in washing machines to increase the temperature of the water that's used in the laundry process. Typically, these are prone to calcium build-up, which can affect the efficiency of the washing machine in the long-term. Ceramic heaters are up to three times more durable than conventional types, because they have a double coating. You'll save money on costly repairs, and the quick-heating ability of ceramic heater makes them more energy efficient – saving you money on your energy bills too.
Features to Look for on Fully Automatic Top Load Washing Machines
Digital Inverter Motor
Digital Inverter Technology uses magnets to drive the drum, reducing friction in the washing machine motor. This ensures that your machine runs quieter*, and with lesser vibrations, so it's perfect for smaller homes or open-plan spaces. Digital Inverter Motors are also more durable than conventional types.
* Reduces noise by 3dB at Normal Cycle (Warm, 4.9kg load) based on internal data.
ActivWash+
Samsung's ActivWash+ washing machines feature a built-in sink which has a wave pattern on the bottom and water jet button. The wave pattern along with water jet makes it convenient to soak and scrub tough stains and allows you to hand-wash delicate items or pre-soak heavily soiled laundry.
Wobble Pulsator
Wobble technology – which you'll find in selected Samsung top-load models – gently launders your clothes. Wobble pulsators provide multi-directional washing, so your laundry won't get tangled up either.
Magic Filter
The Magic Filter collects lint, fluff and particles that come off your laundry, and protects drainage from getting clogged up. This means that you'll get exceptionally clean clothes after every wash. Unlike standard lint filters, this powerful filtration system ensures better collection of lint when the water level is low, because it's positioned lower in the machine. It's easy to remove too, so cleaning the filter is hassle-free.
Magic Dispenser
Samsung's Magic Dispenser dissolves and disperses detergent, so that you're not left with residue on your laundry after it's been washed.
Soft Door Close
Soft closing doors shut gently, silently, and safely. Some top load models have doors with tempered glass windows too, allowing you to see your laundry without having to lift the lid.
Washing Machine Maintenance
Follow these simple tips to get the most out of your new appliance for many years to come.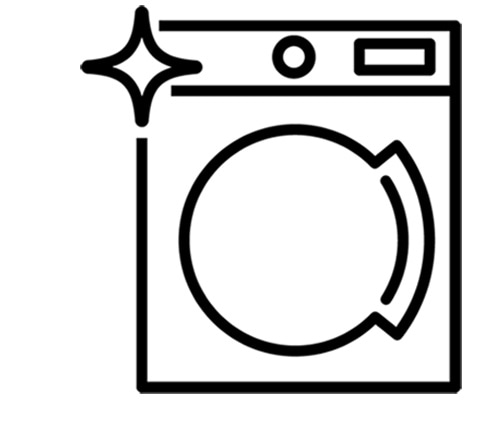 Washing Machine Maintenance Tips
Don't overload your washing machine; doing so can impact the drum movement and cause damage to the motor, leading to a breakdown.

Use the right kind of detergent for your machine type – many modern appliances require a soap that's not too sudsy.

Check the hosing every month or so to make sure there are no cracks, blockages or leaks.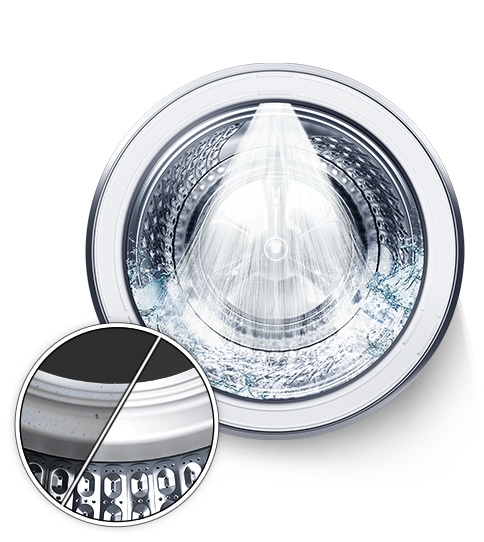 How to Clean a Washing Machine
Cleaning your washing machine regularly is also considered basic maintenance; it's a simple way to ensure your machine continues to perform efficiently. You should clean the drum every month or so, to keep it in a good condition. Doing this will prevent it from smelling musty, and ensure your next laundry load is free from any residue.
If your washing machine comes with a clean cycle (such as Eco Tub Clean, Clean Tub or ECO Drum Clean), simply select the cleaning program.

If your machine doesn't have a cleaning cycle, wipe the drum down with a cloth and set a hot cycle (minus the clothes!).
It's important to look after the detergent drawer too. If your appliance doesn't have a StayClean Drawer – a drawer rinsing setting that does this for you – you'll need to remove and clean it every so often, to get rid of any soap residue or mildew.
Whether you fancy a front loading washing machine, have your eyes on a top load model, or want a semi-automatic appliance, Samsung's range of washers will ensure spotless laundry every time.