How to Make Icons and Font Settings Easier to See in Galaxy S9|S9+?
Last Update date :
Oct 29. 2020
If icons and fonts are getting hard to see, or you just feel like mixing things up a little, just change the font size, screen zoom and app icon settings on your Galaxy S9 and S9+. You can also download additional fonts.
Note: The available screens and settings may vary by software version.  
1: Change Font Settings
You can make the font appear tiny, huge, or anywhere in between. 
Steps:
2
Search for and select Font and screen zoom.
3
To adjust the SCREEN ZOOM and/or FONT SIZE, touch and drag the slider to the left or to the right. A preview of the screen zoom/font size will appear at the top of the screen.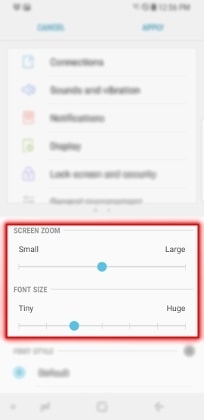 Note: Huge fonts may only work in certain apps. If an app doesn't support the Huge font size, Large will be used instead.  
4
Swipe to FONT STYLE and then choose the desired font style.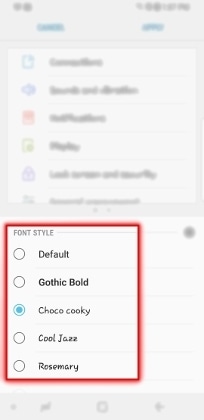 5
To save the changed settings, touch APPLY.
2: Download New Font
Navigate to Settings, and then search for and select Font and screen zoom. Swipe to and touch Download fonts, and Galaxy Apps will open automatically. Touch the Download icon next to the desired font.
3: Icon Frames
Navigate to Settings, and then search for and select Icon frames. Touch Icons with frames, and then touch DONE.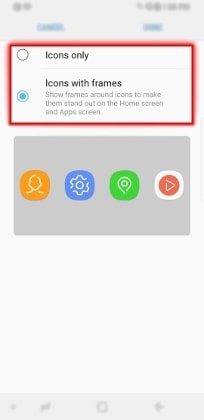 To view the apps icon larger or smaller, follow the below steps:-
2
2. Tap on More icon at the top right corner of screen.
3
3. Tap home screen Settings.
5
Select grid accordingly (4*4 for larger apps icon or 5*5 for smaller apps icon).
Please click the submit button below to share your feedback with us. Thank you for your participation.
Please answer all questions.