Galaxy A80 | Watch Active | Buds Blackpink Edition
HIGHLIGHTS
TERMS AND CONDITIONS
ONLINE PARTNERS
HIGHLIGHTS
Enjoy RM500 OFF and more
exclusively at Lazada and Shopee
Only available on 9th September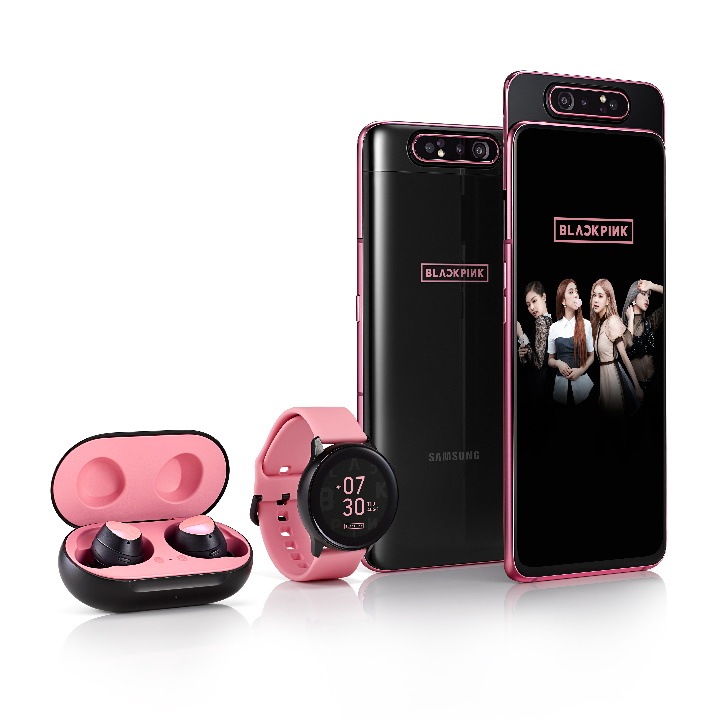 TERMS AND CONDITIONS
SAMSUNG GALAXY A80 | WATCH ACTIVE | BUDS BLACKPINK EDITION ONLINE 9.9 CAMPAIGN
Introduction
1. The Samsung Galaxy A80 | Watch Active | Buds Blackpink Edition Online 9.9 Campaign ("Campaign") is organized by Samsung Malaysia Electronics (SME) Sdn. Bhd. (629186D) ("Samsung") on 9th September 2019 ("Promotion Period").
2. The terms and conditions and the Privacy Policy posted .on this site will be construed as the terms and conditions ("Terms and Conditions") of this Campaign on which Samsung offers you ("Customer") access to and use of this site for the purposes of this Campaign.
3. Customer agrees to comply with all the above when accessing or using this site. The scope of this Terms and Conditions is limited to Samsung's role of hosting this site and organizing this Campaign only.
4. By participating in the Campaign and with every purchase of Samsung Galaxy A80 | Watch Active | Buds Blackpink Edition at online channel Lazada and Shopee, Customer will be entitled to promotions as per below:
| Package | Item 1 | Item 2 | Item 3 | Item 4 | Worth |
| --- | --- | --- | --- | --- | --- |
| Galaxy A80 | Watch Active | Buds Blackpink Edition | Galaxy A80 | Watch Active | Galaxy Buds | Blackpink CD | RM3,899 |
5. The quantity of Promotions in this Campaign is on "first-come, first-served" basis and also subject to stock availability.

6. The sale transaction in this Campaign is only between the participating dealer, Bintang Maju Commercial Sdn Bhd ("Dealer") and Customer. Samsung only provides the recommended retail price ("RRP") and redemption guidance on this site.
1. Lazada or Shopee
- Visit Lazada and Shopee page to place order and make payment for Galaxy A80 | Watch Active | Buds Blackpink Edition.
Visit the Lazada and Shopee page
(1) Lazada
(2) Shopee
2. The Promotion is open to all residents of Malaysia, including Malaysians and non-Malaysians, 18 years of age and above (as at 9 Sep 2019) except the employees or the immediate families of the Organizer, their affiliates and/or related companies, distributors, retailers, dealers, retailers, advertising and promotion agencies. In the event the Customer is below 18 years old, please seek consent from parent/guardian before participating in this Promotion. Participation by Customers less than 18 years old will be deemed to be accompanied with consent by the parent/guardian.
Duration
1. This Online 9.9 Campaign will begin from 10:00am, 9th Sep 2019 (Monday) to 11:59pm, 9th Sep 2019 (Monday) ("Campaign Period"). Samsung reserves the right to shorten, extend or cancel the Campaign Period without prior notice
Delivery
1. The delivery period of the item subject to the delivery schedule of Lazada and Shopee.

Indemnity
Customer will fully indemnify and hold Samsung (and our affiliates and subsidiaries, and our and their respective officers, directors, employees, agents) harmless from any claim or demand, including reasonable legal fees, made by himself/herself or any third party due to or arising out of his/her breach of these Terms and Conditions, improper use of the site or breach of any law or the rights of a third party.
Privacy
By providing Customer's personal data, Customer is indicating that he/she has read, understood and agreed that his/her personal data will be recorded, stored or otherwise processed in accordance to Samsung's Privacy Policy available at http://www.samsung.com/my/info/privacy.html.
Other Terms and Conditions
a) This Campaign is NOT applicable to the following:
- Dealers and their immediate family members
b) Samsung is just a platform of communication between Dealer and customers Samsung shall not be liable for any loss or damage whatsoever which is suffered (including but not limited to indirect or consequential loss) or for personal injury which is suffered or sustained, as a result of participating in the Campaign.
c) Samsung shall not be liable for any compensation or reimbursement due to the unavailability of the stocks stated and/or any costs and expenses including but not limited to transportation, logistics and accommodation howsoever incurred by consumer in participating the Campaign.
d) Samsung reserves the right to alter, extend or terminate the Campaign and amend the terms and conditions at any time without prior notice. In case of any disputes in connection with the Campaign, the decision of Samsung shall be final
e) Warranty of the Samsung Galaxy A80, Galaxy Watch Active and Galaxy Buds are subject to standard product warranty coverage as per terms and conditions stated in the official corporate website at http://www.samsung.com/my/support/warranty . Customer is advised to check the website from time to time and stay informed for any changes on the terms and conditions of the warranty.
f) These Terms and Conditions are governed by the laws of Malaysia and disputes directly or indirectly arising from these Terms and Conditions and/or this offer shall be referred to the exclusive jurisdiction of the courts of Malaysia.

ONLINE PARTNERS