Q90 Soundbar
is rated out of
5
by
235
.
Immersive Sound with true 7.1.4ch sound.
1. True 7.1.4ch Sound
Sound moves around you in three dimensions, delivering a full 7.1.4ch audio experience.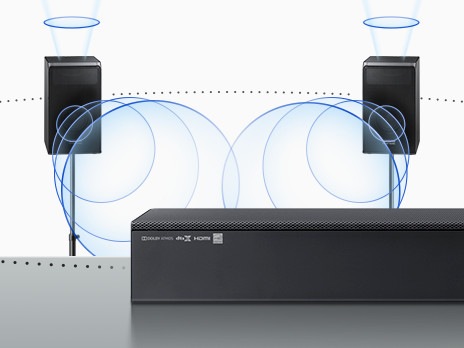 2. Wireless Up-firing Rear speaker incl
Bring true wireless surround sound with the included Samsung Wireless Rear Speakers with up-firing drivers.
3. Adaptive Sound
Automatically enhances voice clarity on low volumes.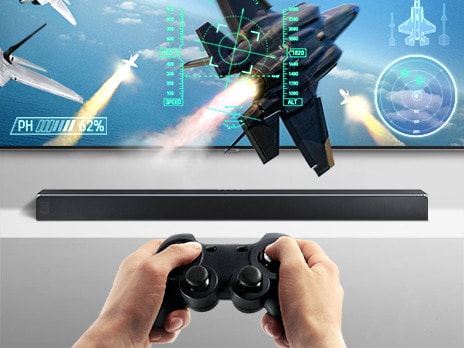 4. Game Mode Pro
Get yourself in the game with a unique setting that boosts game sound effects.
Immersive Sound with true 7.1.4ch sound
The Soundbar delivers true cinematic surround sound in your living room. Sound moves all around you thanks to up-firing and side-firing speakers, with atmospheric 7.1.4ch sound.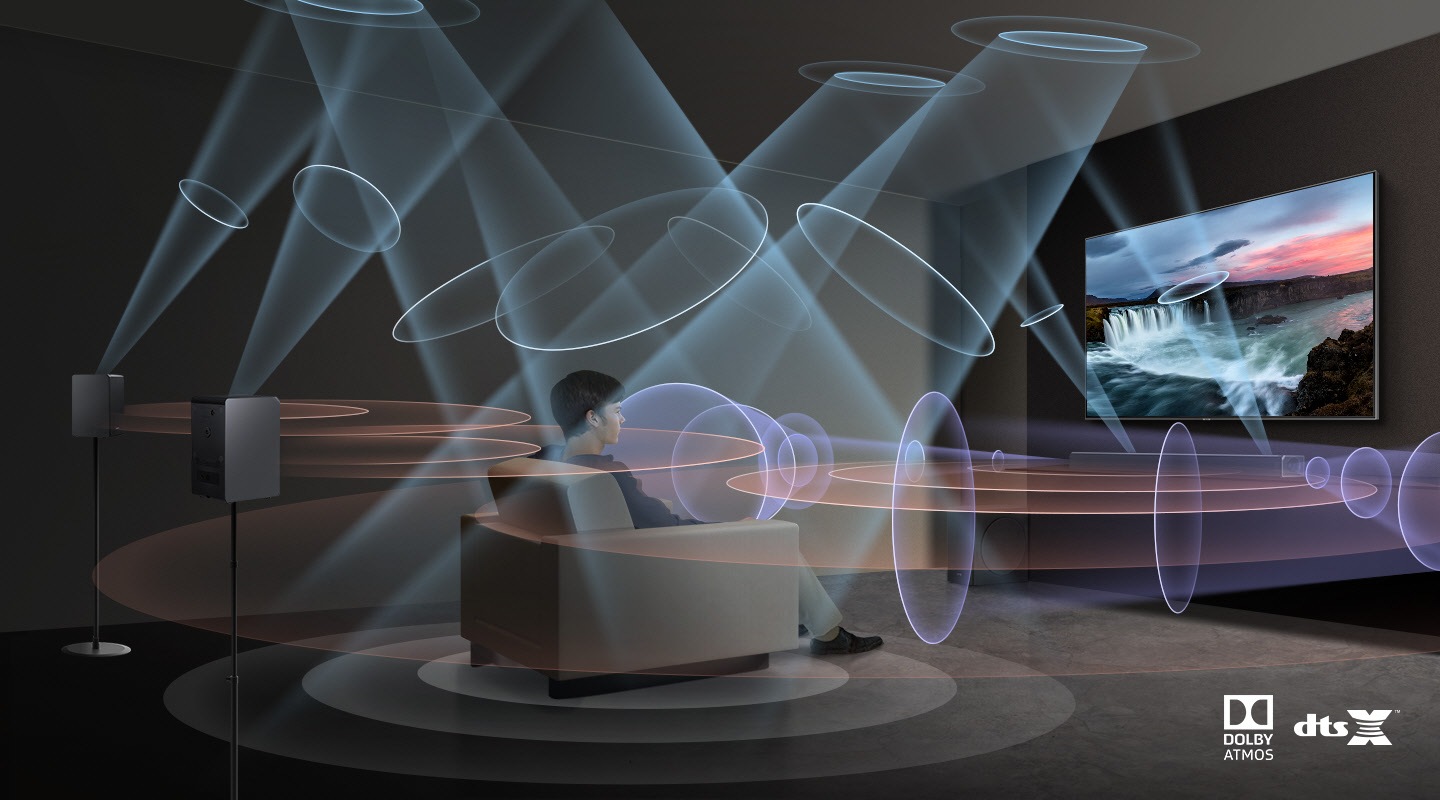 Up-firing speakers
Powerful sound waves shot to the ceiling make your audio seem like it's dropping in from above. Amazing overhead sound for a deep cinematic experience in the heart of your living space.
Side-firing speakers
With side-firing speakers on each end of the Soundbar, you'll be totally immersed in surround sound. Side to side, front to rear, from all angles.
Wireless Up-firing Rear speaker included
The sound system package includes 2 wireless rear speakers, featuring up-firing technology to complete your ultimate home cinema surround sound set up. Take your entertainment to the next level with wireless rear speakers.
Adaptive Sound helps you hear more
Samsung soundbar analyses the sound signal to automatically deliver optimised sound based on each scene. Adaptive Sound lets you hear voices clearly even on low volumes so even quiet conversations are heard.
Sound, Completed by Audio Masters
By combining Samsung's innovative mastery in home entertainment solutions with 65 years of Harmon Kardon's audio technical expertise, the two brands continue to push boundaries to bring state-of-the-art sound to the home entertainment experience.
Hear better. Play better.
Brace yourself for a powerful, immersive gaming experience with subwoofers that enhance the scene and up-firing speakers that provide incredible surround sound. The soundbar automatically switches to Game Mode when connected to your Samsung TV so you can focus on playing, not setting up.
* This feature is supported only when the game console is connected to select 2019 Samsung TVs via HDMI (all QLED TVs, RU7400 series, and above). Game consoles supported include PlayStation 4 and Xbox. Compatible TVs and game consoles may change.** Game console purchase separately.
Sweet spot anywhere you sit
Every spot is the sweet spot. Get consistently amazing sound everywhere in the room with the Soundbar's state-of-the-art wide-range tweeter.
Seamless HDR 10+ experience
With 4K pass-through built in, connecting 4K video sources like your Blu-ray player or game console is easy. It even works with HDR 10+ sources, allowing you to enjoy audio with pristine quality matching that of your video. One HDMI connection and you're set.
* HDR 10+ picture quality output available with equivalent input.
Music comes alive with your voice
Can't recall the title? Enjoy your Soundbar hands-free using Alexa voice control. Ask Alexa to play something by simply saying the title or a few lines of the song's lyrics. No matter what kind of music you're in the mood for, Alexa will find it.
* An Amazon Echo Device is required to use this feature. This service is provided by Amazon and is subject to availability and change without notice. Amazon, Alexa and all related logos are trademarks of Amazon.com, Inc. or its affiliates. A subscription to a music service will be required for music playback.
Wireless music streaming
The Soundbar uses Bluetooth for easy wireless connections to other devices. Enjoy music from your mobile in top audio quality anywhere, no strings attached.
Control with One Remote
You don't need several remotes. For power, volume, and even the sound effects, you can control key Soundbar functions with a Samsung TV remote through your TV's UI.
* Actual product may vary by TV model and region.** Compatible with selected Samsung TVs. Please check in-store for more details.
* Actual product may vary by TV model and region.** Compatible with selected Samsung TVs. Please check in-store for more details.
Listen smarter with SmartThings
SmartThings lets you add your speakers to your network, giving you greater control over your audio throughout your smart home. Take connected living to the next level.
* SmartThings compatible devices may vary by region. This function may differ by mobile and OS(Operation System). Download and installation of SmartThings app are required.
* SmartThings compatible devices may vary by region. This function may differ by mobile and OS(Operation System). Download and installation of SmartThings app are required.
Rated

1

out of

5
by
Stefan71
from
Sounds great when it works incidently
Constantly Disconnects! I bought it 4 weeks ago and it never worked as it should since then. This soundbar sounds Great when working. BUT it constantly disconnects from the Subwoofer and Surround Speakers This is a systematic flaw and must be addressed and fixed regarding the products price and being a flagship model. Samsung fix it!
Date published: 2019-06-15
Rated

1

out of

5
by
ShiroEd
from
Constantly Disconnects!
This soundbar sounds incredible BUT it disconnects from the Subwoofer and Surround Speakers when it's turned off and the only way to reconnect is to manually reconnect or power cycle the speakers. This is clearly a fundamental systemic flaw and one that must be addressed and fixed. Please Samsung lets us many users experiencing this know what the nature of this problem is and what we can expect as a fix. Is it a firmware update or a hardware issue? How did this pass testing?!?
Date published: 2019-06-11
Rated

1

out of

5
by
Nosoundatall
from
Constantly disconnects rear speakers
So annoying because when the soundbar works it is awesome. But, I'm on my second unit but both have the same fault, each time you switch them off they then lose the connection to the rear speakers and sub. Reading through Samsung sites elsewhere in the world, and on AV forums site, this seems to be a global problem. It looks like the wireless connection fails on some units.
Date published: 2019-06-15
Rated

4

out of

5
by
JC101
from
Jaw dropping sound
Bought this to compliment my new Q950r TV and so far I'm really happy with it. Whilst it's no looker from a design aesthetic the build quality is first rate with very heavy speakers (note if you want to wall mount the sound bar is very heavy). Once you get it wired up to the TV and Xbox the sound is amazing. Everything from terrestrial TV, atmos movies, games or music via bluetooth just sounds incredible. Play an Atmos test video and the sound truly envelopes you from all sides, behind and above. Main points: Pro's - Easy to set up with wireless speakers and sub woofer - Integrates well with the TV,automatically transferring the wi-fi details and allowing control via remote and menus - Sound is unbelievable, it replaced a Yamaha sound projector and blows it out of the water, in part because you have actual surround speakers plus a wonderful sub woofer - In atmos mode with the right movie it is sublime. - I wasn't expecting it to be good with music but is excellent, it must have a great DAC because it picks out every note and is well balanced with on the bass if you drop the s/w down a bit. Con's - It isn't pretty and the surround speakers aren't small - you have to hook the xbox direct to the soundbar. When that happens you lose the TV been able to use the one remote function to control the xbox which is annoying - I also think the TV no longer recognises that I have an xbox so the automatic switching into games mode for games and HDR for movies seems to have been lost, very annoying. - For £1,500 you might think that the machine would come with a mike to autocalibrate itself to the room and set up all 17 speakers and s/w. But no you have to try and do this yourself and there isn't even a test tone. - Linked to the above the machines cannot, unlike my old yamaha, have onscreen menus to control setup or make changes. Instead you have a tiny 1 inch scrolling display that you need to work with. Crazy ! - manual is poor, it doesn't explain the different sound modes or when/how to use them In short a fantastic machine but not without flaws.
Date published: 2019-05-21
Rated

5

out of

5
by
Satty
from
Best soundbar I've ever had
Bought this recently to go with my QLED TV, having had some soundbars in the past I was looking for something which would give me Dolby Atmos and 7.1 without having to go the whole route of wiring up by living room and drilling holes in the ceiling. This fit the bill perfectly. I cant even being to compare it to my old 3.1 sound bar this thing is on another level. Amazing sound quality. Yes its not the cheapest but then you get what you pay for. highly recommended to anyone who doesn't want the hassle of getting speakers fitted into your ceiling and wires everywhere but still wants to experience quality Dolby Atmos 7.1 sound.
Date published: 2019-10-16
Rated

4

out of

5
by
Johno
from
Excellent sound! Slightly Tricky setup
Firstly I must say the sound quality and volume is impressive. At first i wasn;t keen on a soundbar - this replaces my 3d bluray 5.1 Samsung system. The subwoofer volume (particularly lower frequencies) is far superior and more than enough for most reasonable setups. Price wise it's up there on the high side. It is by far the best soundbar i have tried and probably the best value dolby atmost setup without going ceiling speakers/full setup. Integrates with Samsung TV nicely. Positives: Awesome Sound, looks nice great bass. Negatives: Price. The front LED screen is way too small to be usable, it scrolls through writing and it drives me nuts. This requires a review/update in future models. Features are lackluster but not fussed it has everything i need and i am not a fan of "hall mode" etc anyways. Dolby Atmos - i recommend having or purchasing an xbox one S for this. Samsung TV's don't currently support Dolby Atmos for Netflix etc. Neither does PS4!(or pro). But xbox one s DOES(and has UHD 4k bluray support for dolby atmos 4k movies). Run netflix through xbox and you also get the dolby atmos! :D. AND DOES IT SOUND AWESOME LIKE THE MOVES - YES YES YES. Biggest negative: Setup. OK so follow these instructions and you will be set! Either power up the rear speakers and subwoof THEN turn on the soundbar(they should all connect at once) OR: You need to press the button on the back of the rear speakers for about 10 seconds till fast flashing blue(subwoofer to) do all 3 as quick as you can THEN hold up on the remote for 10 seconds(or press the ID set button underneath the soundbar) this will connect all 3 at once. If you try one at a time it doesn't work(disconnects the first one when you try connect the second one). No more cables for the doggy to chew either! :D Haven't had a proper go with it (about to watch endgame in 4k with my 65" QLED) but so far very impressed once setup and luckily got a xbox one s for a good price.
Date published: 2019-08-18
Rated

5

out of

5
by
Blaw
from
Amazing sound
i keep getting noise complaints but i dont care. super easy set up. earc capable. this is awesome! [This review was collected as part of a promotion.]
Date published: 2020-06-24
Rated

5

out of

5
by
Al E
from
Great Soundbar
received q90r. paired up easily. connected to 65 inch q9fn. bought rear speaker stands. updated through smartthings app easily.sounds great very clear and dolby atmos sounds amazing
Date published: 2020-06-22
User manual & Downloads
Live Chat
* Key feature may different from Key Spec