Traditional yet contemporary
flavours work in layers
Here tradition meets simplicity in golden pastry. You'll be surprised to see how easy to present a colourful Koulibiac for a buffet style party and please your guests as renowned chefs usually do.


Meet the Chef Lim
Appointed Chef of the Year by the Blue Ribbon Awards in 2015, chef Kihak Lim is the owner of a French bistro L'Espoir du Hibou surely recommended by gourmets of Seoul. Trained under chef Daniel Boulud at DB Bistro in New York, chef Lim's culinary delicacy is at his peak.
The ingredients for 5-6 people
- 450-500g salmon
- For the brine: 1L water, 60g salt, 30g sugar, 1 tbsp coriander, 1⁄2 tbsp cumin, 1⁄2 tbsp black pepper, 1 bay leaf, 10g ginger(grated)
- For the pie: puff pastry dough(frozen, 40cm x 30cm), 4-5 slices of prosciutto, 200g duxelles(chopped, sautéed mushrooms), 50g spinach(blanched and squeezed), 10g basil, 10g dill, 5g oregano, 5g marjoram, 2 eggs(hard-boiled, separated), 1 egg(for egg wash)
- For the pilaf: 1⁄2 cup white basmati rice, 1⁄2 cup brown basmati rice, 1⁄2 tbsp wild rice, 2 cups chicken stock, butter
Step 1: Brining the salmon for a tender fillet
- Put all the ingredients for the brine in the pot and boil.
- When it starts boiling, turn down the heat and simmer for 15 minutes. Wait until it cools down completely.
- Place the prepped salmon in the brine for 90 minutes.
- Take it out and remove the moisture.
Step 2: Creating colourful layers of ingredients
- Spread the prosciutto, then layer the duxelles, spinach and herbs, salmon, more spinach herbs, egg whites and yolks, more duxelles—in that order.
- Then top it all off with the rest of the prosciutto.

Step 3: Wrap in dough for baking
- Spread out the puff pastry and roll it out with a rolling pin.
- Wrap everything together in the sheet of puff pastry.
- Brush the pastry with egg wash and bake in the oven at 200°C for 15 minutes.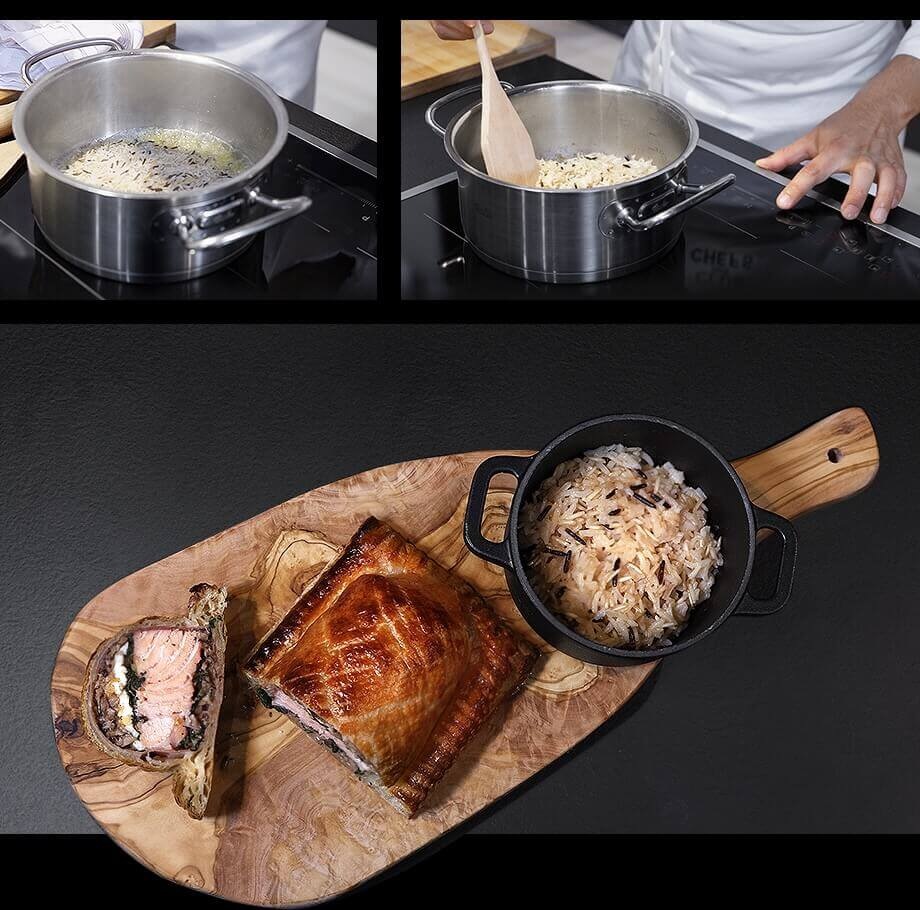 Step 4: Prepping the pilaf and plating Koulibiac
- Soak the 3 different types of rice in cold water for at least 3 hours.
- Then, stir-fry the rice in butter.
- Add chicken stock, cover and cook in the oven at 180°C for 20 minutes.
- Serve the pie in thick slices with a side of pilaf.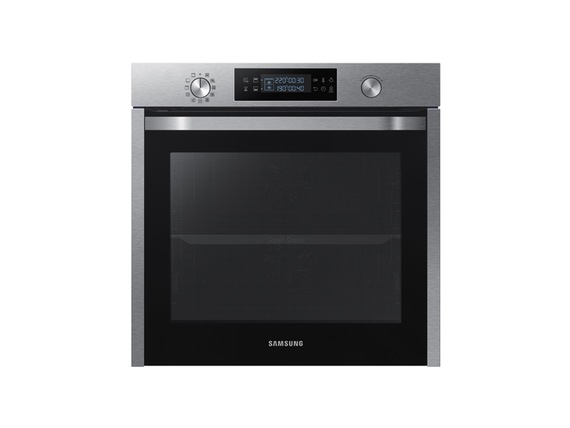 Convection Oven with Dual Cook

Chef Collection Induction Cooktop