Fraud warning for Samsung NZ Customers
Samsung has noticed an increase in frequency of scam/hoax/phishing incidents involving New Zealand consumers. These fraudulent correspondences generally carry Samsung's name and logo and appear (at face value) to be authorised communications from Samsung Electronics New Zealand.


In light of the frequency of these incidents, Samsung would like to spread awareness about the variety of ways that fraudulent third parties representing themselves as Samsung may attempt to gain your personal or financial information, or exploit you for financial gain. Generally consumers should be vigilant when dealing with third parties over email/internet/phone/mail/sms. Here are some guidelines to assist you to ensure that you are dealing with a genuine Samsung NZ representative.


See some of the latest examples
Some of the types of scams you may see


Text / SMS Promotions
We do not send outbound text messages (SMS) for promotions.


Request for Money Transfer
Samsung NZ's CUSTOMER SERVICE TEAM might get in contact with you through by email, social media or phone to arrange for resolution to the issues that have been escalated by you or your representative (e.g. service centres, retailers, Samsung brand shops and their service affiliates). However please be advised that Samsung NZ will never ask you to send cash or deposit money into any personal bank account or request your personal details through email.


Email Correspondence
Email communications sent by a Samsung New Zealand representative will always carry the "samsung.com" domain address and any call back requests should be done through our authorised customer contact centre number (0800 SAMSUNG). Please make sure to recheck the email or website address when replying to emails or completing online forms. If you have been contacted through any of the above media and you are suspicious, please contact our customer contact centre (0800 SAMSUNG ) to confirm the authenticity of the message.


Personal Information
As a general precaution do not give or send your name, bank account details, or any other personal details to anyone if you are sure as to whether they are an authorised representative of Samsung NZ. Use common sense when dealing with online sources and maintain your awareness through consulting government websites (such as www.consumerprotection.govt.nz ) which contain numerous helpful tips.


Phishing
Phishing is a fraudulent attempt by a third party to steal your personal information, usually made through email, or text messages.
Some examples of recent scams


Here are some examples which have been reported to us:

• An Instagram post offering to 'test and keep a Galaxy S20'.
• A website mimicking an article from NZ news website Stuff - offering a Galaxy S10 for $3.
• Email inbox advert; "You have won the Samsung Galaxy S10." This seems to appear as a sponsored advert within Gmail.
• Fake Facebook article which mentions Samsung.
• A Facebook post that appears to be a sponsored Samsung post. Offering the chance to win an S9.
• Article offering Galaxy S9+ for $1 featured on Yahoo Finance website.
• Email scam "Your gift - Galaxy S10".
• Offer of a gift for S9+ owners based on the user's IP address. This has been designed to look as though it is from Google.
• A Facebook advertisement advising you have won a new smartphone – and to click the link to claim the prize.
• Request for the customer to claim a prize by clicking a link, sent by someone purporting to be the Promotions Manager of Samsung NZ
• Notice of winning "Samsung Promo Lottery Award International" and request for consumer to send personal information.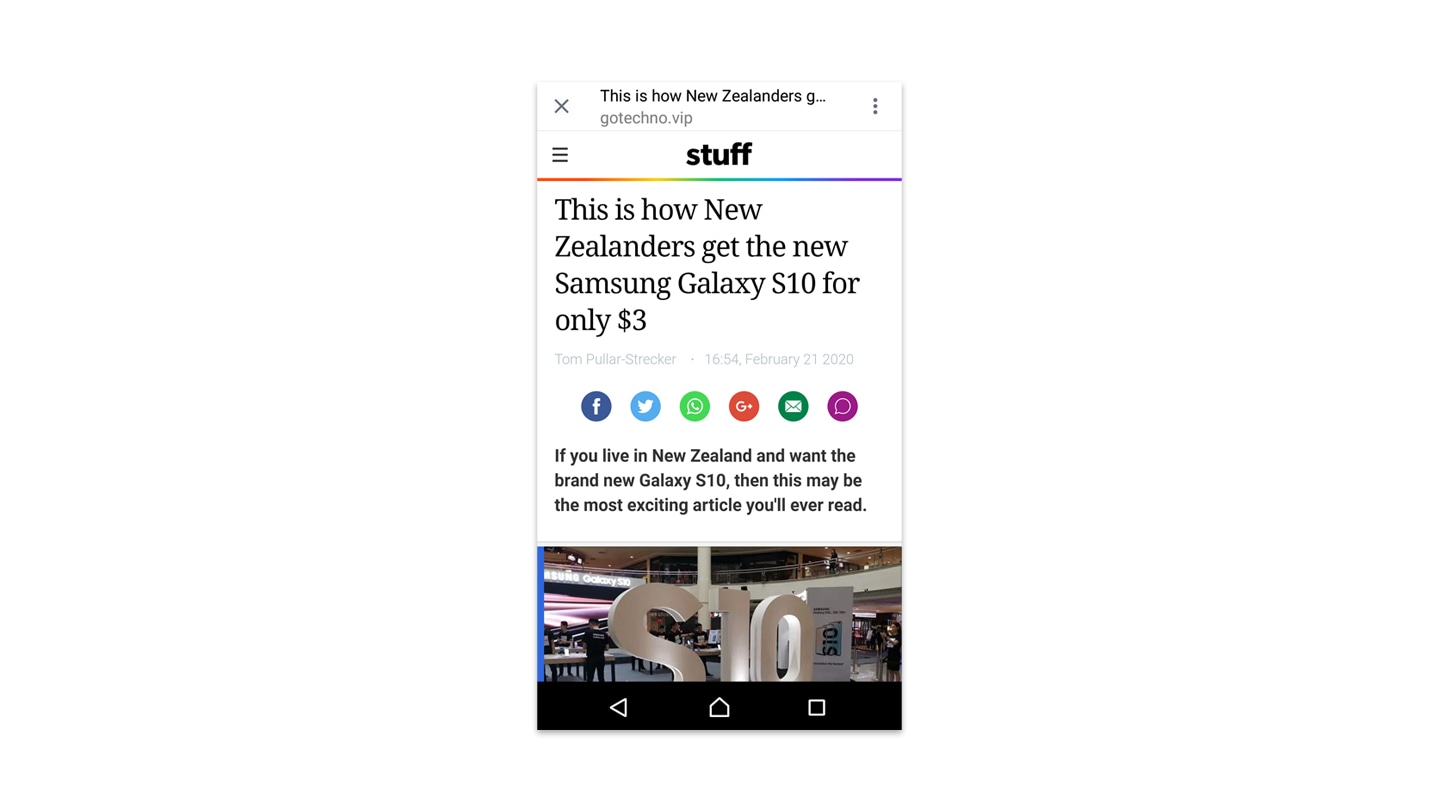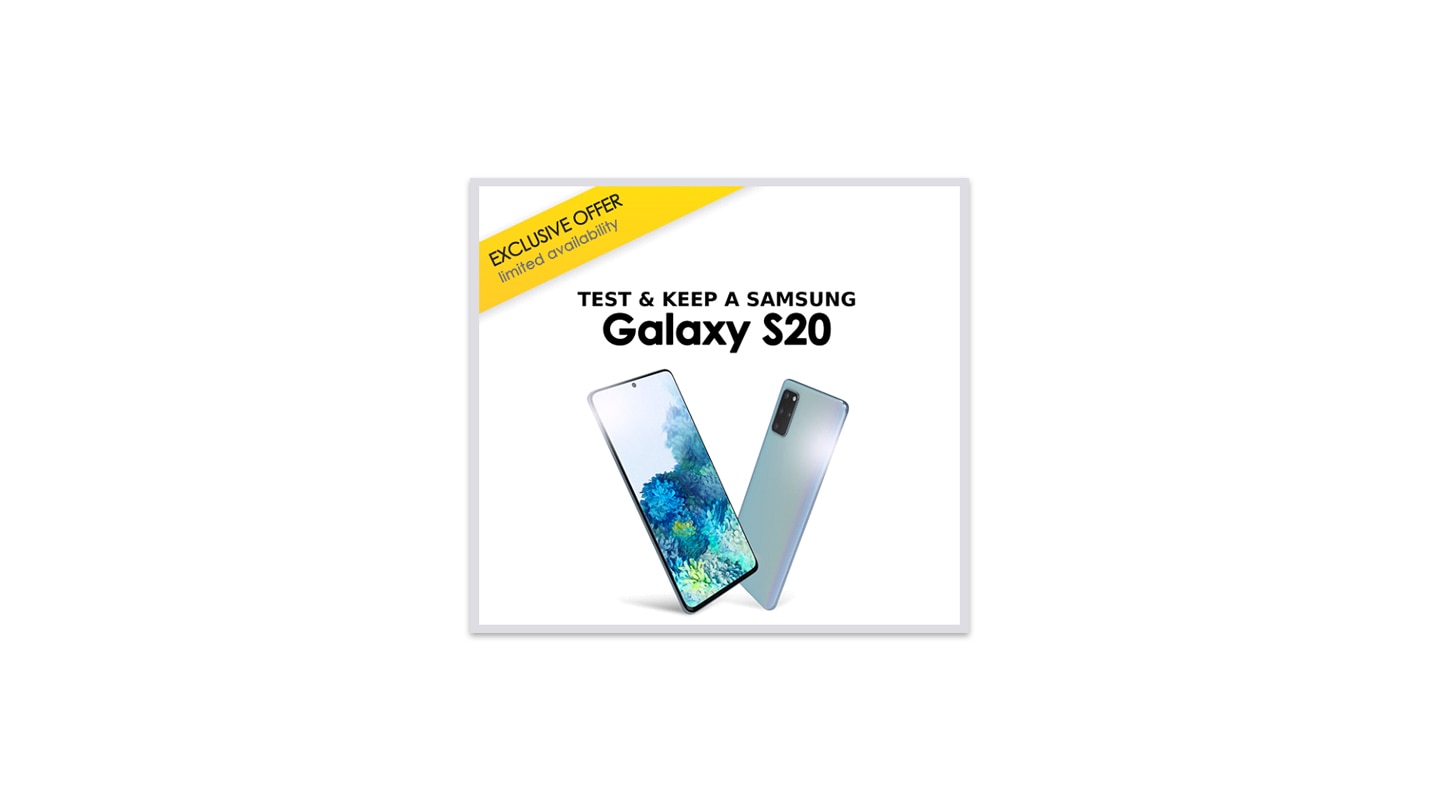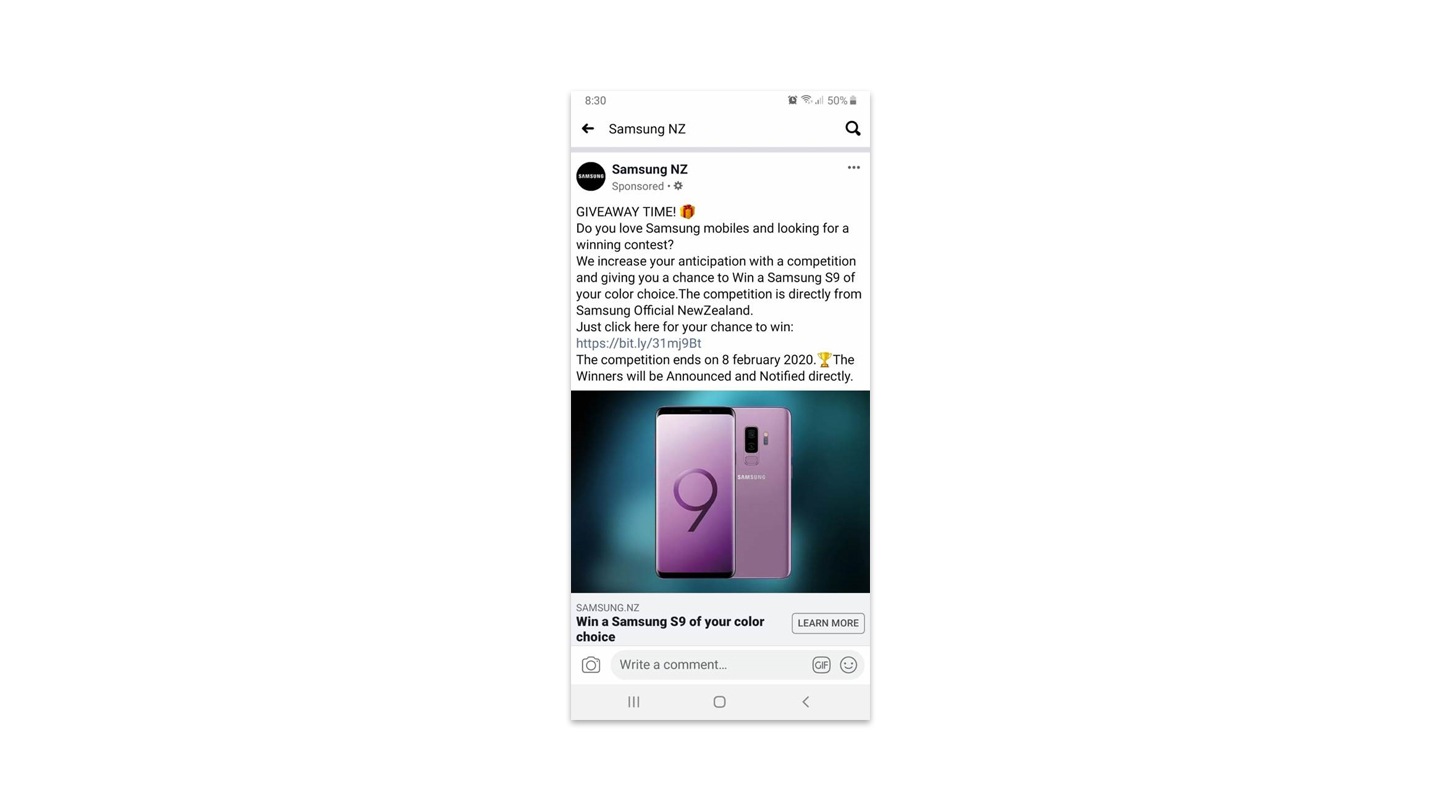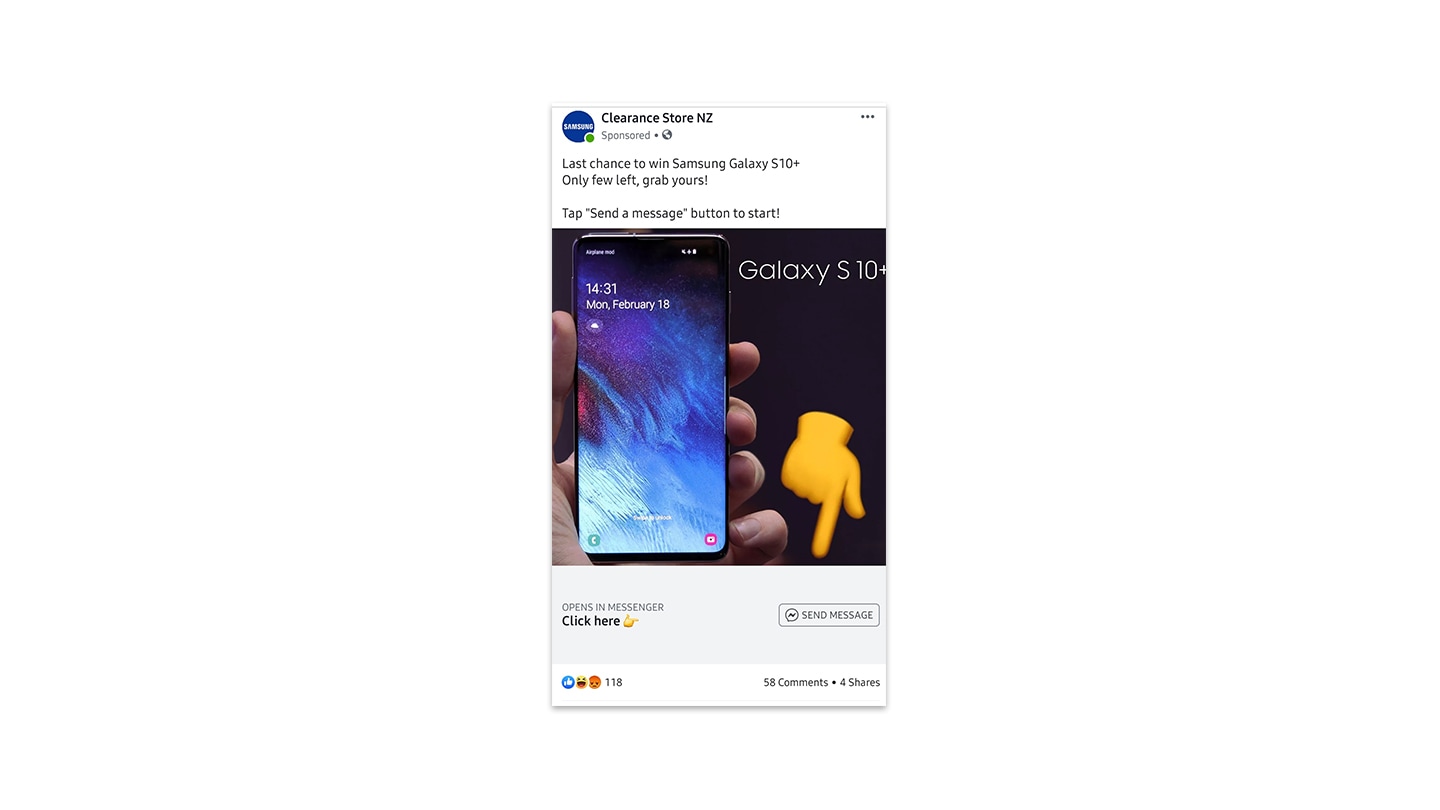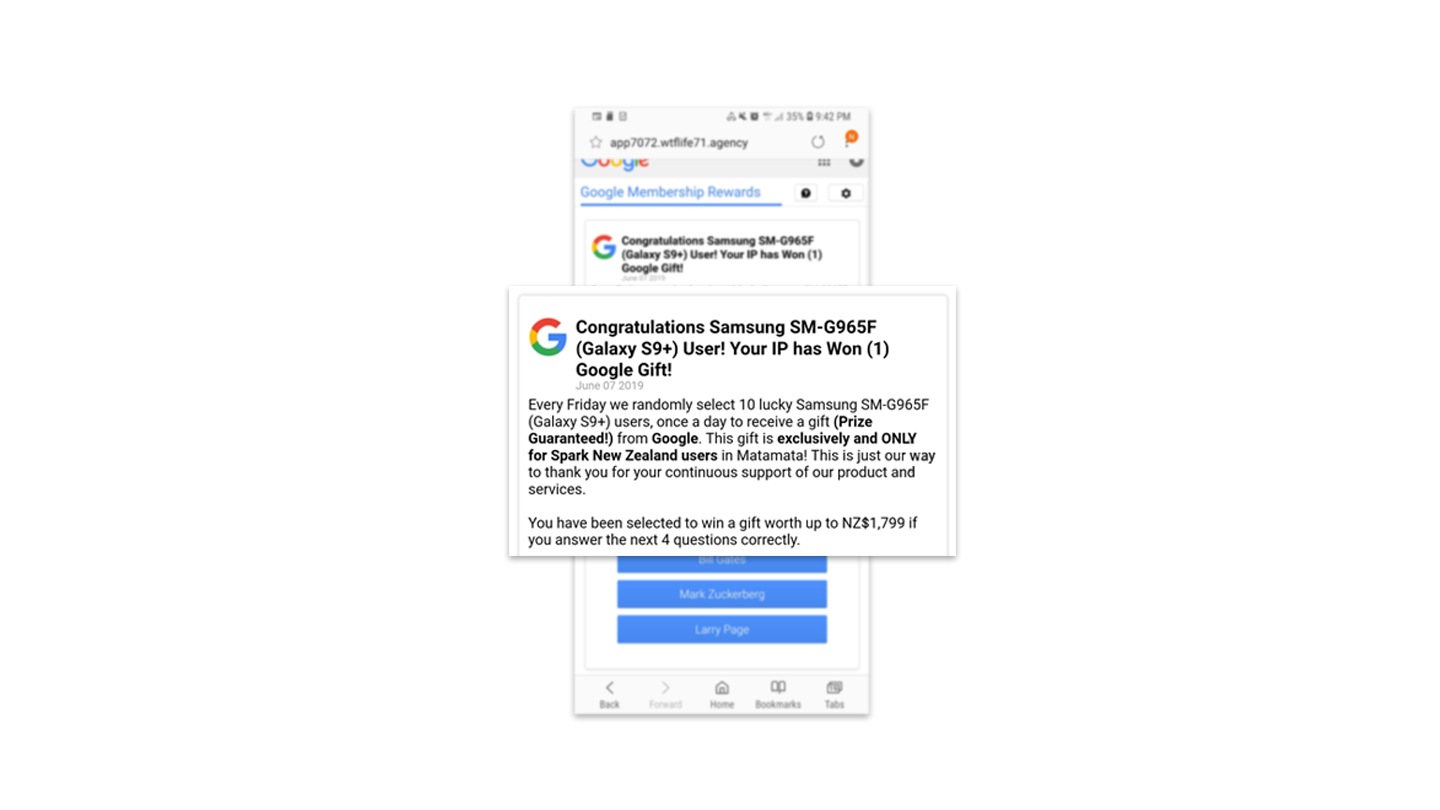 What to do if you suspect a scam
If you believe that you have received a scam message from an entity purporting to be Samsung New Zealand, please report it to:
• The Samsung NZ team at nz.media@samsung.com; and
• Report the scam to the Department of Internal Affairs
Top tips
• Samsung NZ will never ask you to send cash or deposit money into any personal bank account or request your personal details through email.
• For websites, check the site url or website address. Legitimate offers will have the "samsung.com/nz" domain or "nzsamsungcampaign.com" and will start with "https".
• Check an email senders details. Emails from Samsung will come from an address with "@samsung.com" or "@partner.samsung.com"
• The official Samsung NZ Facebook page is facebook.com/SamsungNZ. Be wary of offers on other pages.
• Official Facebook posts by Samsung will have a blue 'tick' next to the Samsung title. See the example above.
• If the offer seems too good to be true, it probably is.
• If you have any suspicions about an offer, contact our customer contact centre - 0800 SAMSUNG

For all current and official Samsung NZ offers please visit the Samsung Offers page.