970 EVO Plus NVMe M.2 SSD - 250GB
MZ-V7S250BW
970 EVO Plus NVMe M.2 SSD - 250GB
is rated out of
5
by
11
.
BUNDLE
Always Evolving SSD
The ultimate in performance, upgraded. Faster than the 970 EVO, the 970 EVO Plus is powered by the latest V-NAND technology and firmware optimisation. It maximises the potential of NVMe bandwidth for an exceptional computing experience. In capacities up to 2TB, with reliability of up to 1,200 TBW.
*1GB=1,000,000,000 bytes by IDEMA. A certain portion of capacity may be used for system file and maintenance use, so the actual capacity may differ from what is indicated on the product label.
Level up Performance
The 970 EVO Plus reaches sequential read/write speeds up to 3,500/3,300 MB/s, up to 57% faster than the 970 EVO. The latest V-NAND—which brings greater NAND performance and higher power efficiency—along with optimised firmware, a proven Phoenix controller, and Intelligent TurboWrite boost speeds.
*Performances may vary depending on SSD's firmware version and system hardware & configuration. Performance measurements based on IOmeter 1.1.0. The write performances were measured with Intelligent TurboWrite technology being activated. The sequential write performances after Intelligent TurboWrite region are: 400 MB/s(250GB), 900 MB/s(500GB), 1,700 MB/s(1TB) and 1,750 MB/s(2TB). * Test system configuration: Intel Core i7-7700K CPU @4.2GHz, DDR4 2400MHz 32GB, OS-Windows 10 Built 10240, Chipset–ASUS PRIME Z270-A. *Up to 57 percent performance increase for random write speed for 250GB version
Design Flexibility
The next advancement in NVMe SSD. The 970 EVO Plus fits up to 2TB onto the compact M.2 (2280) form factor, greatly expanding storage capacity and saving space for other components. Samsung†s innovative technology empowers you with the capacity to do more and accomplish more.
Exceptional Endurance
The new standard in sustainable performance. Get up to 1,200 TBW with a 5-year limited warranty for lasting performance. The 970 EVO Plus provides exceptional endurance powered by the latest V-NAND technology and Samsung's quality.
* TBW: Terabytes Written * Warrantied TBW for 970 EVO Plus: 150 TBW for 250GB model, 300 TBW for 500GB model, 600 TBW for 1TB model, 1,200 TBW for 2TB model. * 5-years or TBW, whichever comes first. For more information on the warranty, please find the enclosed warranty statement in the package.
Unparalleled Reliability
Achieve a new level of drive confidence. Samsung's advanced nickel-coated controller and heat spreader on the 970 EVO Plus enable superior heat dissipation. The Dynamic Thermal Guard automatically monitors and maintains optimal operating temperatures to minimise performance drops.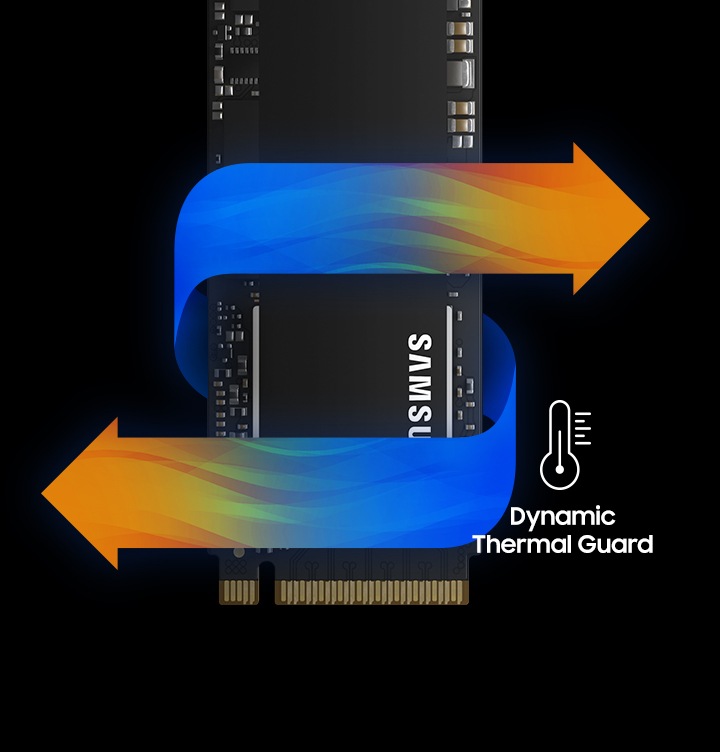 Samsung Magician
Advanced drive management made simple. The Samsung Magician software will help you keep an eye on your drive. A suite of user-friendly tools helps keep your drive up to date, monitor drive health and speed, and even boost performance.
*All brand, product, service names and logos are trademarks and/or registered trademarks of their respective owners and are hereby recognised and acknowledged.
Rated

5

out of

5
by
379MAN
from
Pubg
Works great with ryzen super fast , great on pubg fps are better I dont know why people on youtube say its does help it does big time.
Date published: 2019-03-15
Rated

5

out of

5
by
Anonymous
from
Impressively easy to install
I needed to enlarge my system/program SSD on my computer. So I searched around for an SSD with larger capacity. There were less expensive 240-256gb SSDs. But this one was rated so much higher than those. So here I am with this one and installed in less than 1 hour including cloning using Samsung's migration software and swapping the SSDs. It was so easy to do all these.
Date published: 2016-11-25
Rated

5

out of

5
by
vipes
from
good for my pc
makes my computer faster. i would get it if you are building a pc
Date published: 2016-10-30
Rated

5

out of

5
by
Felipespindola
from
I didn't know it was this fast!
As the title says, this is a very fast drive. I read online about differences between SSD's and HDD's, and had an idea of the speed you could gain with a SSD, but truly you have to try to believe it. My pc boots in 20 secs, whereas with my last HDD it booted in about a minute and a half. It looks nice and well made, as all samsung products are. Recomended.
Date published: 2016-10-11
Rated

5

out of

5
by
Aim3
from
Great Product
This little ssd is a real rocket. Replacement for a mechanical drive and there is no comparison. Thank you Samsung.
Date published: 2016-10-08
Rated

5

out of

5
by
Replacementk
from
This product is worth the investment
Samsung SSDs are worth the investment. I would definitely recommend getting one of these.
Date published: 2016-09-12
Rated

5

out of

5
by
MrJim1
from
SSD is fast
I saved 1 min and 45 sec. start up time. So far it works great!!
Date published: 2016-05-02
Rated

4

out of

5
by
Unreconstructed
from
Boot time doubled
With my old system and a 850 Evo as my boot disk, my boot time was 8-9 seconds. Now that's 32gb ram, 4790k CPU and gigabyte z97x Mobo. With a Asus Maximus hero xi, 9900k, 64gb trident ddr3000 and a 970 Evo plus....15-16 seconds. Have tried clean install and only drivers updates and still the same. Samsung magician states the drive is running at advertised speeds so not gonna hammer the issue but this being my first experience with m2 drives and I'm not that impressed. Maybe I'm missing something but temps are not a issue, stability not a issue, 970 drivers not a issue and OS integrity not a issue...nor bios settings. I would rate it a 3 star but it works and by no means is it slow but to double my boot time rates it at 3.5(4) stars. Would I recommend anybody buy a m2 drive over a standard SSD? Nope.
Date published: 2019-03-31
* Key feature may different from Key Spec