Debris filter Cleaning for Washing Machines
Last Update date :
Jul 21. 2022
Please Note: The information on this page is for New Zealand products only. Sequences or settings will vary depending on location and/or where the product had been purchased. To be redirected to your local support page please click here.

The debris filter should be cleaned periodically, approximately every 30-40 loads, or 2-3 months. Cleaning the filter can also potentially help improve cleaning performance and help prevent odors.
Note:  
Before cleaning the debris filter, make sure to unplug the washing machine from the electrical outlet.
Do not disassemble the debris filter while the machine is running as hot water may flow out.
If foreign substances accumulate at the debris filter, the performance of Eco Bubble function will bedegraded.
For Steps on How to clean the Debris Filter see below:
1
Prepare a bowl.
Note: The remaining water may be more than you expected. Use a large bowl.
2
Open the filter cover(A) by using a coin or key.
3
Pick the emergency draining tube(B) out.
4
Open the emergency drain cap(C) by pulling it. Allow all the water to flow into a bowl. Hold the cap at the end of the emergency draining tube(B) and slowly pull it out.
6
Unscrew the debris filter cap(D) by turning it to the left.
7
Wash any dirt or other material from the debris filter. Make sure the drain pump propeller behind the debris filter is not blocked.
8
Replace the debris filter cap tightly.
9
Reinsert the emergency drain cap and drain tube.
10
Make sure to replace the debris filter and emergency drain cap after cleaning it. If they is not reinserted into the machine, your washing machine may malfunction or water may leak.
11
Close the filter cover.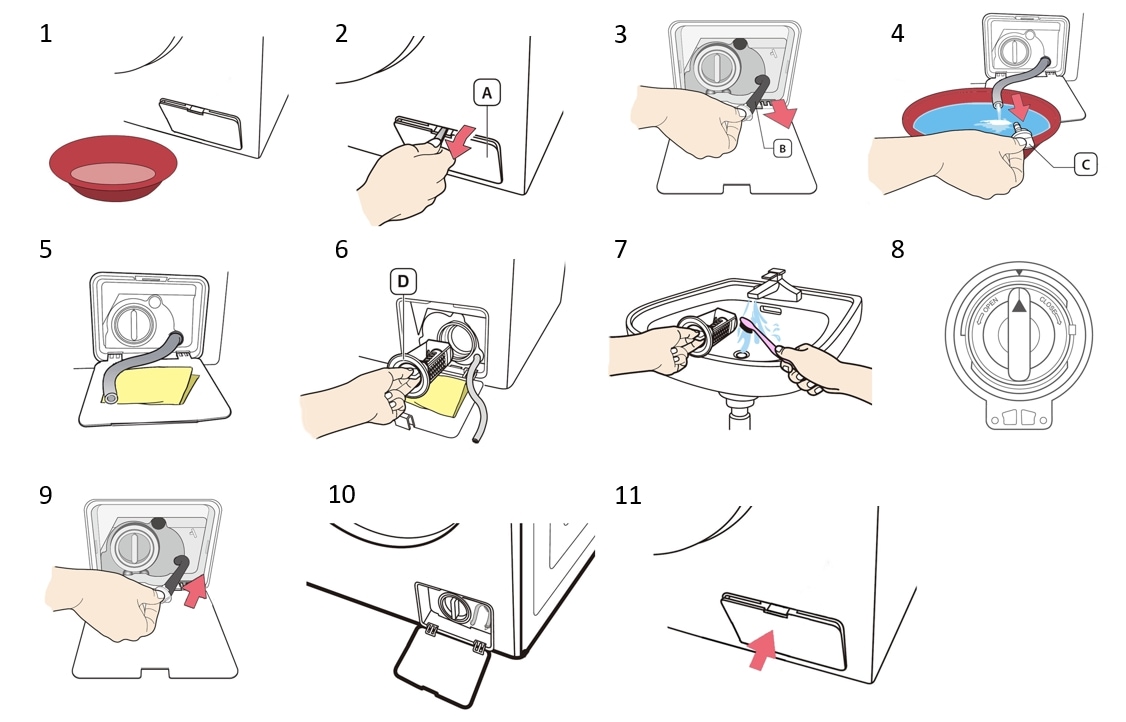 You can download the user manual from our Manuals & Downloads page. For all other queries or further technical assistance, please call Samsung Customer Care on 0800 726 786 or Live Chat with our Technical Team online, services are open 24 hours, 7 days.
Please click the submit button below to share your feedback with us. Thank you for your participation.
Please answer all questions.