My Refrigerator Has A Vibration Noise!
Last Update date :
Aug 04. 2022
Please Note: The information on this page is for New Zealand products only. Sequences or settings will vary depending on location and/or where the product had been purchased. To be redirected to your local support page please click here.

If your fridge seems to be vibrating or making rattling sounds, it could be caused by:
- The location of the fridge
- How the fridge is leveled
- Your fridge coming in contact with another object 
- The contents within your fridge coming in contact each other
These may cause a louder sound than normal. Sound is also produced from the compressor motor when refrigerator is operating.
1
Please make sure that there is enough space around the fridge.
We recommend more than 50mm with side & back side, 25mm with upper side.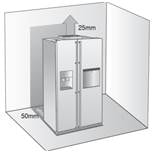 2
Also make sure that the fridge is level, if the fridge is level it will reduce noise coming from the compressor.
Note: If the info above does not help you to resolve the issue then your unit could be suffering from a hardware related issue.
For more information about noises coming from your refrigerator check out Abnormal noise is coming from the refrigerator. You can download the user manual from our Manuals & Downloads page. For all other queries or further technical assistance, please call Samsung Customer Care on 0800 726 786 or Live Chat with our Technical Team online, services are open 24 hours, 7 days.
Please click the submit button below to share your feedback with us. Thank you for your participation.
Please answer all questions.