Ceramic Heater in washing machines and its benefits
Last Update date :
Aug 10. 2022
* Please note, this section is designed to give you basic product troubleshooting information, also refer to your user manual for more information.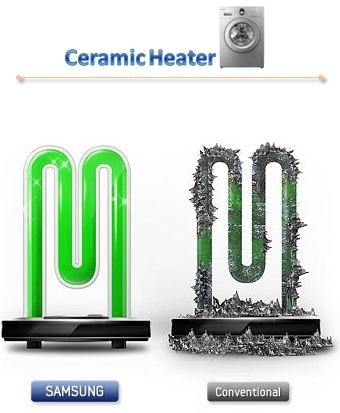 • Heaters are used in Washing machines to generally increase the temperature of water that will be used for the washing purpose. In conventional models other than those have ceramic heater, generally a calcium build up occurs around the heater. This generally decreases the efficiency of the Washing Machine.

• Clothing styles may come and go, but the Samsung's durable ceramic water heater means that your washer will be around to clean clothes for years to come.

Benefit of Samsung's Ceramic heaters:

• Ceramic heaters prevent calcium compound build-up, which absorbs more electricity. Conventional heaters require the use of special detergents to dissolve away these calcium compounds. In addition, the quick-heating ability of ceramic heaters also increases energy efficiency, translating into cost savings on your next electricity bill.

• Ceramic Heater is three times more durable as regular heaters. That saves you money on repairs. No scale build-up due to hard water. Saves energy and time while heating the water.

• Double Coating, Triple Durability Samsung washing machines have incorporated a double ceramic coating, unlike conventional heaters, providing heaters that are less porous and susceptible to hard water scale build-up. As a result of this innovation, not only are heaters protected from the build-up of water scale deposit, but the durability of your washing machine is also enhanced.
** "To aid us in creating better support content for you, kindly complete the survey below if your query was resolved. Your rating and comments should only be based on the above content.

For all other queries or further technical assistance, please call Samsung Customer Care on 0800 726 786 or Live Chat with our Technical Team online, services are open 24 hours, 7 days."
Please answer all questions.