How do I delete all of my personal information from my device?
Last Update date :
Dec 22. 2021
When purchasing or switching to a new device, it is essential to reset and remove all personal information from your old device. Learn more about how you can protect your personal information by resetting your device to factory settings and deleting all data.
Before you try the recommendations below, be sure to check if your device's software and related apps are updated to the latest version. To update your mobile device's software, follow these steps:
Step 1. Go to Settings > Software update.
Step 2. Tap on Download and install.
Step 3. Follow the on-screen instructions.
Check 1. Back up your data before a Factory data reset
Factory resetting your device permanently removes all of your data, which can not be recovered. It is important to move all of your data to a safe location in advance. Try using Smart Switch to connect your device to a PC and safely back up your data.
What is Smart Switch?
Smart Switch is a PC program that backs up or transfers backed up data to new or existing devices and makes it convenient to update your software to the latest version. Smart Switch is installed by default in most Galaxy models and can be activated by navigating to Settings > Accounts and backup > Smart Switch.
PC backup using Smart Switch
Step 2. After completing installation, open the Smart Switch program. With a USB cable, connect the device and the PC.
Step 3. On your device, select Allow on the pop-up message "Allow access to phone data?"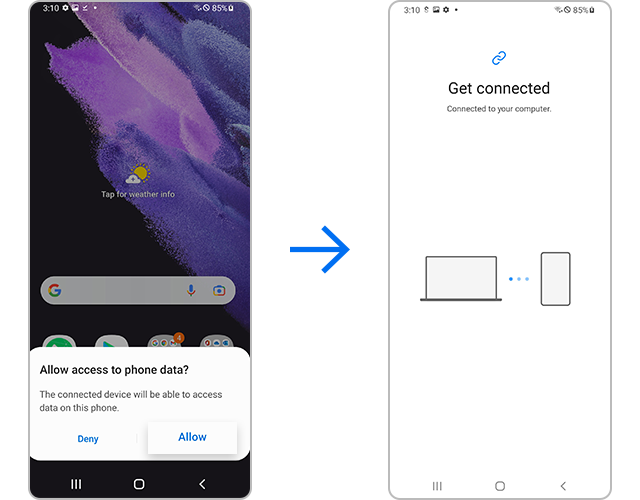 Step 4. Once successfully connected, a window will pop up on the PC. Select Backup on the lower left corner of the screen.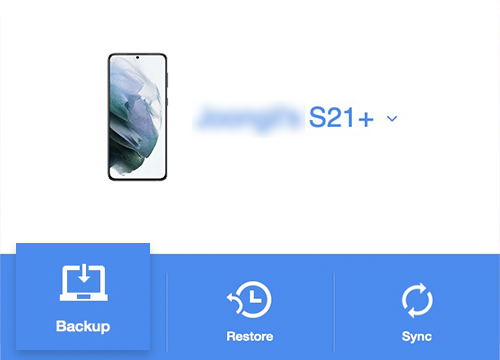 Step 5. After checking your backup files, select OK.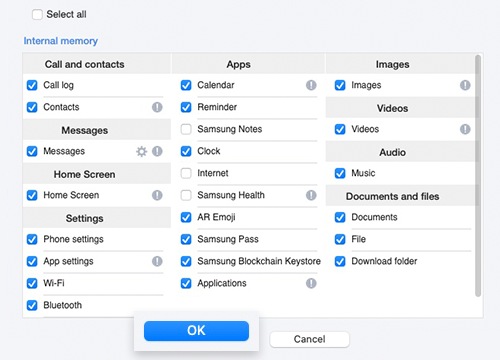 Step 6. Your PC will automatically start the backup process. Depending on the size of data to back up, it may take a few minutes. Once completed, click on OK.
Note: 
Contacts, Memo, Messages, Calendar, Recent History, Contents, Videos, Music, Photos, Documents, Applications, Account information and Settings, Alarm/Time, Email account information, Home screen, Settings etc. can be transferred through Smart Switch. However, hidden files and files located in the Secure Folder will not be transferred.
To transfer hidden files or files in the Secure Folder, disable security settings first.
Check 2. Delete a Google account
Before resetting your device, disconnect the Google account associated with your device. If you factory reset your device while connected to your Google account, the device may require authentication with your Google account and password.
If you connected multiple Google accounts, repeat the following steps below until all of the accounts are deleted.
Check 3. Factory data reset from Settings
A Factory data reset from the Settings menu will permanently delete all data, including files and downloaded apps.
Note:
A Factory data reset will restore your device to default factory settings and may delete or reset your personal files such as Downloads, Ringtone, Images, Applications, Contacts, etc. located in your internal storage device.
For devices that support external memory, a Factory data reset will not delete data saved to an SD card. As such, when selling or transferring ownership of your device, make sure to disconnect your account and remove your SD card. You can delete all data on your SD card by navigating to Settings > Battery and device care > Storage > SD card > Format > Format SD card.
Information regarding FRP (Factory Reset Protection) Authentication after a Factory data reset
In accordance with Google's security policy, this screen is displayed on devices with FRP (Factory Reset Protection) that was rolled out starting from Android 5.1 (Lollipop OS). This feature was enabled with the goal of preventing others from resetting and reusing lost phones and may require Google account authentication in such cases that the device was reset or rebooted via methods outside of normal rebooting or Factory data reset in Settings.
If you forgot your Google account password, it is recommended to visit a nearby service center and consult a technician for troubleshooting.
Note: Device screenshots and menus may vary depending on the device model and software version.
Please answer all questions.