What do I do when the location information is inaccurate on my Samsung smartphone?
Last Update date :
Nov 23. 2020
Please Note: The information on this page is for New Zealand products only. Sequences or settings will vary depending on location and/or where the product had been purchased. To be redirected to your local support page please click here.
For Samsung smartphones running Android 10 OS, the location information may appear inaccurate if the GPS signal is obstructed, location settings is disabled, or if you are not using the best location method. 
To resolve this issue it is recommended that you check out the current GPS signal setting first and then check the other settings outlined below.
Check the GPS signal settings on your mobile device
When the GPS is properly enabled on your mobile device, it will work inside a house or building, however, due to the potential obstacles that may block connection with satellites, it is not recommended to use this feature while you are indoors.
The GPS signal on your mobile device works best in areas where signals can be received. To communicate well with satellites, a direct open view of the sky is required. Please take note of the following cases where GPS signal can get lost.
GPS signal settings are turned off.
The devices' screen has been turned off.
The mobile device is held in a manner that blocks the antenna. This case occurs especially for the Galaxy Z Flip when it is folded.
The mobile device is in an area with tall buildings that block direct view of the sky.
Obstructed view of satellites caused by an oncoming storm.
If you are located outdoors with a clear view of the sky, yet your mobile device is still unable to provide accurate location information, please check and change the permission settings of the apps that use a GPS signal, change the power mode of your mobile device and check if apps using GPS is placed under sleeping apps.
Setting 1. Change the app permissions settings on apps that track GPS signal
Go to Settings > Apps and follow the steps outlined below and refer to images for further assistance.

Step 1. From the list of apps, select an app that uses a GPS signal such as Google Maps.

Step 2. Tap on Permissions.
Step 3. Tap on Location. 

Step 4. From the list, select Allow all the time.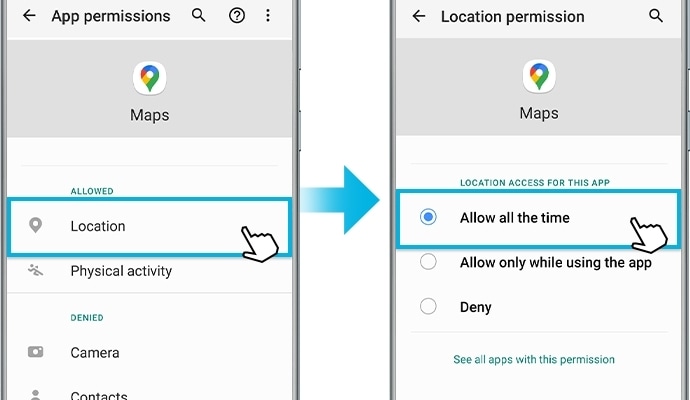 Note:
According to Google's new policy regarding location from Android 10 Q OS, each application that uses the GPS information is required to allow the location permission.
Check to see if the version of each app is latest. If not, please update to the latest version.
We recommend to check if same symptom still appears when using other GPS applications.
Setting 2. Change the power saving mode on your mobile device
If your mobile device is power saving or the device's screen is turned off, apps using GPS signal may not provide data in real-time. Please change the settings of the power mode to high performance or optimized.
Step 1. Go to Settings > Device care.
Step 2. Tap on the Battery icon.
Step 3. Tap on Power mode.
Step 4. Select either the High performance or Optimized power mode that you want to apply to your mobile device.
Setting 3. Check if the application using GPS signal has been added to the sleeping apps list
If you have added the target application using GPS signal to the sleeping application list on your mobile device, you may not receive updates or notifications related to the target application because it is not running in the background. To exclude the target application from the sleeping app list, please follow the steps outlined below.
Step 1. Go to Settings > Device care.
Step 2. Tap on the Battery icon.
Step 3. Tap on App power management.
Step 4. Tap on Sleeping apps.
Step 5. Tap on the Trash icon located on the upper right-side.
Step 6. Select the target app that needs location information and tap on Remove.
If you experience the same problem consistently even after updating the device to the latest software version and trying the methods mentioned above, please contact and visit nearest Authorized Samsung Service Center with your device.

Note: Device screenshots and menu may vary depending on the device model and software version.
You can download the user manual from our Manuals & Downloads page. For all other queries or further technical assistance, please call Samsung Customer Care on 0800 726 786 or Live Chat with our Technical Team online, services are open 24 hours, 7 days.
Please answer all questions.