What is Screen Mirroring?
Last Update Date :
Jan 16. 2018
* Please note, this section is designed to give you basic product troubleshooting information, also refer to your user manual for more information.
The Screen Mirroring feature lets you wirelessly beam your photos, videos, presentations, or even your video games to your big screen. You can connect to any HDTV using the AllShare Cast Wireless Hub for TV models earlier than 2013 (F Series), or you can connect directly to a supported Samsung Smart TV (newer models).
A Smart TV is an Internet-enabled TV set that supports movie streaming from various content providers. Also called a "connected TV," a Smart TV may contain a browser for general web surfing and also be able to execute built-in or downloaded applications.
Note:
■ The availability of this feature depends on the region or service provider
■ Miracast-enabled devices that do not support High-Bandwidth Digital Content Protection (HDCP 2.X) may not be compatible with this feature
■ Some files may buffer during playback, and may disconnect depending on the network connection/range
■ To save energy, deactivate this feature when not in use
■ If you specified a Wi-Fi frequency, AllShare Cast dongles or HomeSync may not be discovered or connected
■ If you play videos or games on a TV, select an appropriate TV mode to get the best experience
Before using this feature, please do the following:
■ Ensure that the screen mirroring-enabled device (i.e. HomeSync, AllShare Cast dongle and Wi-Fi Miracast devices) is connected to the TV via HDMI cable
■ Ensure that the TV is turned on
To set up Screen Mirroring, follow the instructions below:
For Smart TVs released with Screen Mirroring function (2013 models up)
Follow the steps below to prepare the TV for Screen Mirroring:
Step 1: Press the Source button on the remote control.

Step 2: Select the Screen Mirroring as a source.

Step 3: Your TV will display a screen informing you that it is waiting for a device to be connected. This screen will be displayed until your device is connected.

Note: If you do not connect your device within two (2) minutes, the scan will time out. To stop screen mirroring on the TV, simply change TV source on the remote.
Connecting your Android device with built in screen mirroring feature:
Step 1: Tap Applications.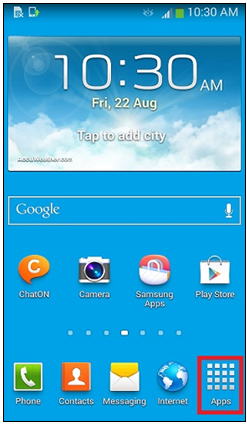 Step 2: Tap Settings.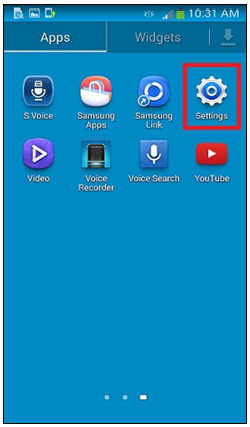 Note: These final steps will vary depending on your device. Most devices will have an option similar to Allshare Cast/Screen Mirroring in Samsung Phones. This can be enabled through this path: Settings > Wireless and Networks > More Settings > Allshare Cast/Screen Mirror.
Step 3: Under Connect and Share tap Screen Mirroring.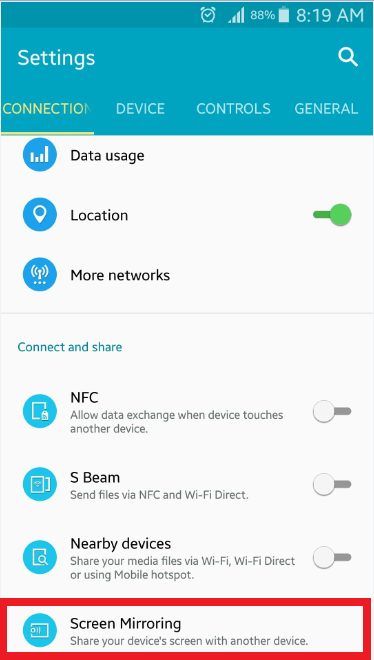 Step 4: Tap the TV that you want to connect to.
Step 5: Once connected, your mobile device's screen will now be displayed on the TV.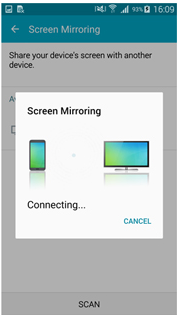 Note: There usually is a slight lag between the actions performed on the external device and their appearance on the TV.
For Smart TVs released without the built in Screen Mirroring function (Usually TV models below 2013)
To set up the connection between the TV and the screen mirroring-enabled device, you may refer to the device's User Manual. Here's an example on how to view a content using a TV connected via an AllShare Cast Dongle.

Step 1: On the TV, select a connection mode, such as HDMI mode, to connect an external device.

Step 2: On the connecting unit's Apps screen, tap Settings, and then tap Screen Mirroring. A list of detected devices will be displayed.

Step 3: Select a device to connect to (for this example, choose the TV). Your device screen appears on the TV screen. If you are connecting the device for the first time, tap and hold the dongle's name on the list and enter the PIN shown on the TV screen.
Step 4: Open or play a file, and then control the display with the keys on the device.
Note: Screen Mirroring can also be called as "Smart View" in new devices.

** "To aid us in creating better support content for you, kindly complete the survey below if your query was resolved. Your rating and comments should only be based on the above content.

For all other queries or further technical assistance, please call Samsung Customer Care on 0800 726 786 or Live Chat with our Technical Team online, services are open 24 hours, 7 days."
Need more help? Contact Us.
Online
Monday to Sunday
24 hours / 7 days a week

Email
We'll respond within 24 hours of your request.

Call
0800 726 786For all products
0800 SAMSUNG
24 hours / 7 days a week

0800 6 726 786For Smart Mobile Devices
0800 M SAMSUNG
24 hours / 7 days a week

* For any printer related enquiries please visit the HP website .
Contact Us