What Screen Mirroring is and how do I use it with my Samsung TV
Last Update date :
Dec 30. 2020
Watch your smartphone screen on TV. This means you can watch your favorite shows on your commute and then continue watching them on the big screen as soon as you walk through the door.
What is Screen Mirroring?
Screen mirroring is a technology that allows the screen of a mobile device to be transmitted to the TV screen as it is and viewed on a large screen of the TV. The SmartThings and Smart View apps allow you to quickly and easily connect to your Samsung Smart TV, but you can also connect via a Wi-Fi or HDMI connection. In addition, from the 2020 model, you can mirror your phone by simply touching on the TV. Various contents such as photos, videos, and apps on your smartphone will be shown on a larger screen and feel more impressed.
To mirror the screen wirelessly, Wi-Fi connection is essential to your TV. For non-smart TVs, you will need a casting device such as a Samsung AllShare Cast, Chromecast or Amazon Firestick.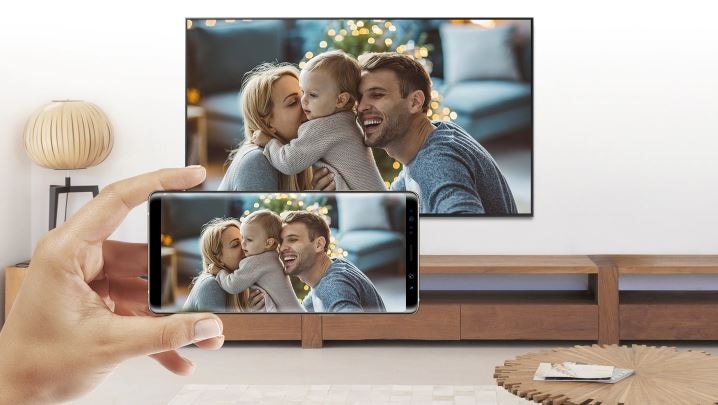 Note: the process of sharing your screen to a TV differs depending on the make and model of both your TV and device. The following instructions are for sharing the screen of any mobile device to a Samsung TV.
If you're experiencing unusual behaviour on Samsung mobiles, tablets or wearables, you can send us an error report or ask us a question in the Samsung Members app.

This allows us to take a closer look at what is happening. The data is anonymised and only held for the duration of the investigation. Find out more about sending an error report through the Samsung Members app.
Please click the submit button below to share your feedback with us. Thank you for your participation.
Please answer all questions.