How to change my Network connection?
Last Update date :
Dec 02. 2021
Please Note: The information on this page is for New Zealand products only. Sequences or settings will vary depending on location and/or where the product had been purchased. To be redirected to your local support page please click here.
To change your network connection or connect to another network, you need to check the following.
Internet connection. 
A wireless router should be within range (Refer to the router instruction manual for more details). 
If wireless network security is enabled, you need your network security key ready.
1
Press Menu and go to Network → Network Settings
2
Select the wireless network connection and the TV will automatically begin to search for wireless networks that are in range.
(Note: If your network router is not broadcasted you can manually add your network name by selecting Add network.)
3
Select your wireless networks SSID from the list, and then click to connect.
4
If your network is password protected you will need to enter your wireless networks password, When finished select done and click to continue.
5
The TV will attempt to connect to your network and Close.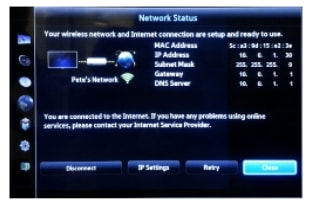 Please note: Secured websites may not work. Samsung Smart TVs include a pre-installed Internet Web Browser. Depending on the model year or series, the browser may be located on the Smart Hub home screen, or in the additional pre-installed apps page. However, the features of the Samsung web browser are limited.
If you are still experiencing issues reset the router and repeat the above steps.
You can download the user manual from our Manuals & Downloads page. For all other queries or further technical assistance, please call Samsung Customer Care NZ on 0800 726 786 or Live Chat with our Technical Team online, services are open 24 hours, 7 days.
Please answer all questions.