How to connect your Smart TV to a Wi-Fi network
Last Update date :
Nov 09. 2021
Please Note: The information on this page is for New Zealand products only. Sequences or settings will vary depending on location and/or where the product had been purchased. To be redirected to your local support page please click here.
Once you have set up your Smart TV, now it's time to connect it to Wi-Fi. When your TV is connected, you can stream videos or download the TV apps and enjoy them as you would on your phone, only on a bigger screen. To connect to a Wi-Fi, follow the instructions below.
Make sure that you have the wireless router's SSID (name) and password settings before attempting to connect.
Connect to Wi-Fi
If prompted, enter the network password, and then select Done. Your TV is now connected to the Internet. Select OK.
1
Press the Menu button on your Samsung remote and Open Settings
2
Go To General and Select Network.
3
Select Open Network Settings
The menu path to access the Network Settings on your TV might vary:
Settings > General > Network > Open Network Settings on newer TVs
Settings > Network > Network Settings on older TVs
4
Select Wireless from the Network types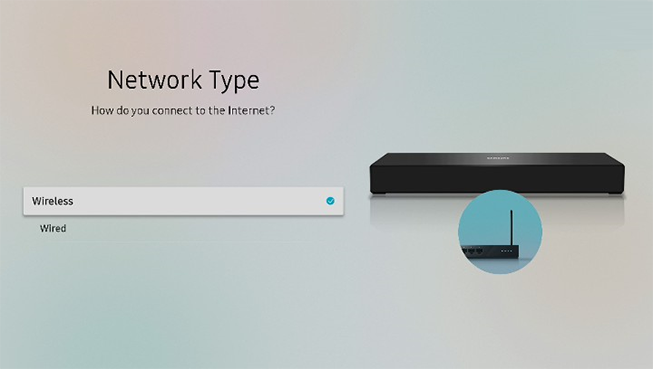 5
Select your Wi-Fi network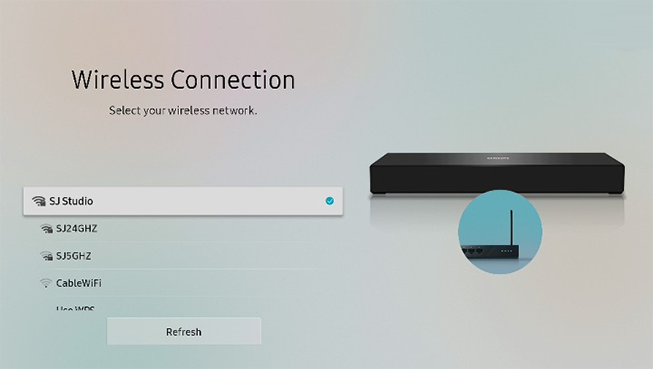 Please Note: Some TVs (especially 2018 model TVs) only support 2.4Ghz networks.
6
Enter the password for your Wi-fi network and Select Done
To change the password of the WiFi, please check your router's user manual. 
7
Your TV will test the network connection and display any issues. Select Close to finish.
Disconnect Wi-Fi
1
Press the Menu button on your Samsung remote and Open Settings
2
Go to General and Select Network.
4
Select Disconnect then press OK
Troubleshooting
If your TV cannot connect to your network or apps:
Make sure your TV has a internet connection (Settings > General > Network > Network Status).
Contact your internet service provider.
If your wireless network connection fails:
Make sure your wireless modem or router is on and connected to the Internet.
If your wireless network signal is too weak:
Position your wireless router, modem router, or access point in a central location. Try to avoid putting it in a corner. We recommend placing the router no more than 50 feet away from your TV.
Use a wireless repeater to boost your wireless signal strength. Place the repeater halfway between your router and your TV.
The most common wireless technology operates at a frequency of 2.4 GHz. You can reduce interference by not using or turning off wireless devices that use the 2.4 GHz frequency or you can use devices that communicate via the 5.0 GHz frequency.
Update software and firmware as they become available.    
Please click the submit button below to share your feedback with us. Thank you for your participation.
Please answer all questions.