More smart devices, one smart app.
Connect, automate and manage all your Samsung and SmartThings-compatible appliances and electronics with a single, easy-to-use app.
Because smart should be simple, however many devices you bring home.

Download the SmartThings app.
Life simplified. Home customized.
Optimize your home device settings for a smart lifestyle tailored to your needs.
Enjoy more control over your home with innovative SmartThings-compatible devices that simplify your day-to-day life.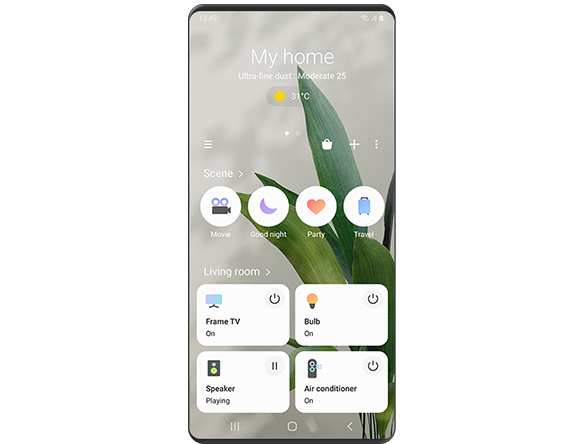 Get a better thrill out of the movie with SmartThings.
SmartThings takes care of the TV, lights and mood; you make the popcorn.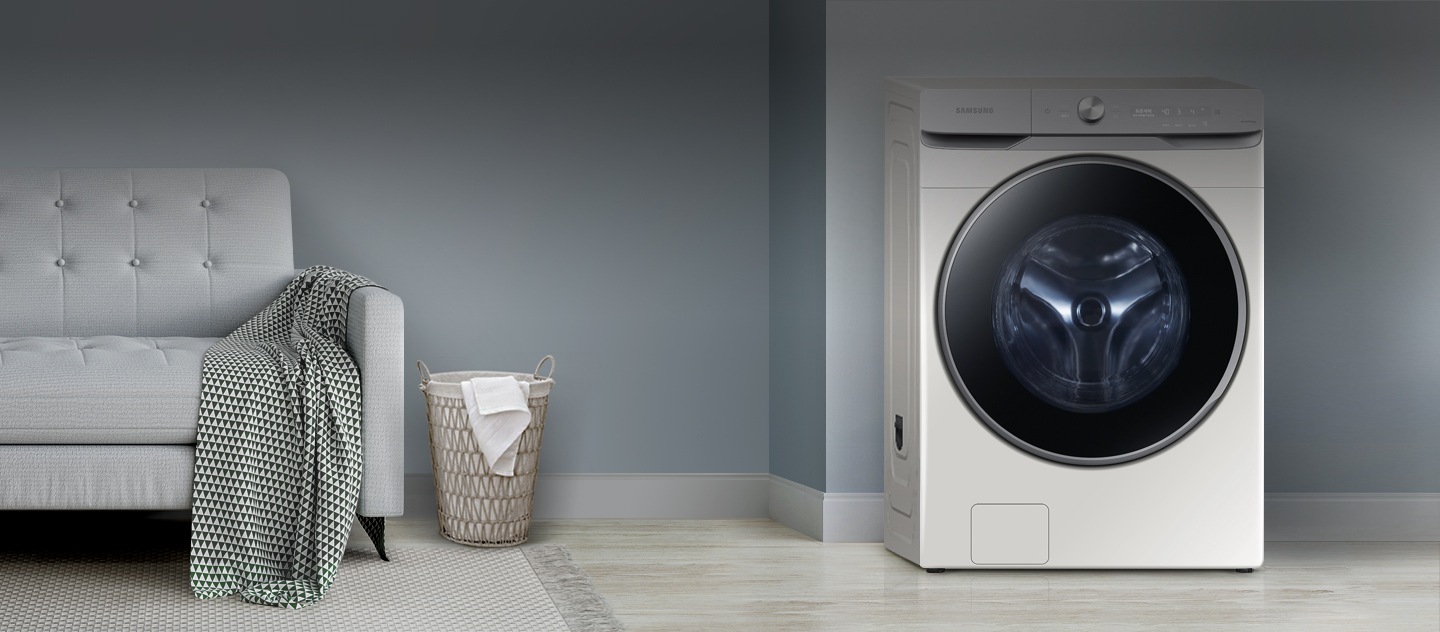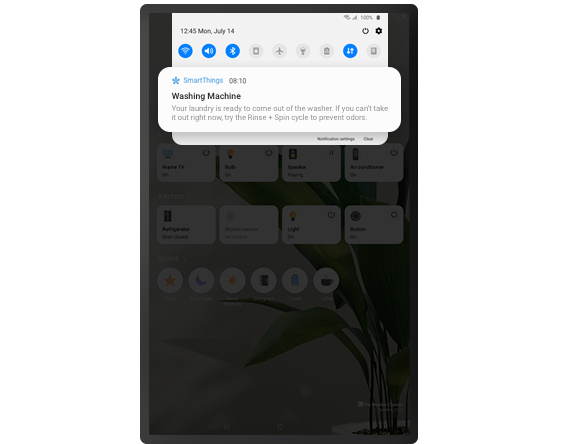 Get useful reminders on the little things, like when your laundry is done.
If you happen to be out, SmartThings will keep your laundry fresh until you return.
There's no need to wait for your home to cool down with SmartThings.
Your air conditioner automatically turns on for a refreshing entrance by the time you're back home.
Give your worries a break
Your home at-a-glance
Manage your home settings without even getting up from the couch. Use the SmartThings app anywhere to check devices and more.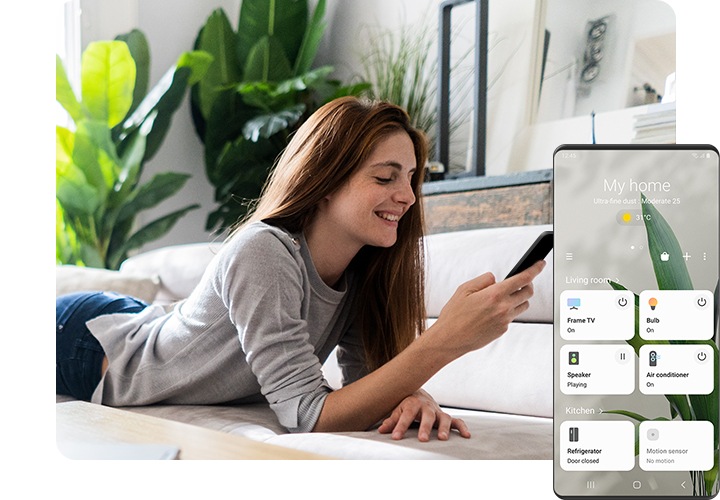 Your home in your hands
SmartThings is a powerful remote control for your home.
Discover how a single app can drastically enhance your lifestyle.
A home that works on your schedule
Now your home can keep up with your busy schedule.
SmartThings lets you customize your home so your mornings are easier and your nights are calmer.
Add a little smartness to your home
Let SmartThings handle the day-to-day chores and stresses, so you can focus on what's more important.
* Currently available with Galaxy smartphones and tablets above android 8.0, Galaxy Watch3 and Galaxy Buds Live. Others to be supported.
** To use SmartThings Find, Settings > Biometrics and security > Find My Mobile needs to be turned on.
*** To find Galaxy Watch and Buds with SmartThings Find, the latest version of Galaxy wearable app needs to be installed.
Life's a little easier
with a voice assistant - or two
Turn on the TV and start the vacuum by voice.
You can control your home with your favorite voice assistant, or all of them at the same time.
*Google is a trademark of Google LLC.
Connect and experience
more with SmartThings
SmartThings is more integrated with other smart devices to make life even easier.
Just look for the "Works with SmartThings" symbol in stores and online.

Let's get started with SmartThings
Connected life is only a button away. Tap the How-to-use menu in the SmartThings app.
* Each device must be connected to Wi-Fi or other wireless network.
* For interoperability through SmartThings, all the devices should be registered with a single Samsung Account.
* Available technology, functions, and features may vary by country, service provider, network environment, or product,
and are subject to change without notice.
* Please find 'Works with SmartThings' logo on the product or product package.
* Images and UX simulated for illustrative purposes.
* "Bixby" is limited to selected languages and certain accents/dialects.
* Device and screen images simulated for illustrative purposes.
* Compatible devices must be purchased separately in order to access SmartThings Services.

Contact Samsung Help
Do you have more questions?