How do I use the remote control of my air conditioner?
Last Update date :
Sep 14. 2020
With the remote control of your Samsung air conditioner, enjoy the various modes and functions. Every single touch will lead you to a very cool and convenient life. These instructions cover various models. The exact characteristics and functions of your air conditioner may differ from those described. For further instructions and functions, please read the provided product manual.
Overview of the remote control
Have a look at the basic functions of the Samsung air conditioner remote control. You can manage the various functions with the remote control, and this will help to make your stay even cooler and convenient. 
Note: The actual design of the remote controller may differ based on the model you have.
Major functions of the remote control
Additional tips to use the remote control
More efficient way to use
It is recommended to keep a 10m distance between the indoor unit and remote control.
For better and smooth electric communication, use the remote control toward the indoor unit direction.  

Replacing the remote control batteries
When the battery is almost finished, the icon will be displayed on the remote control's display. The indoor unit also displays the Low batteries on the display, either.
The remote control requires two 1.5 V triple-A type batteries.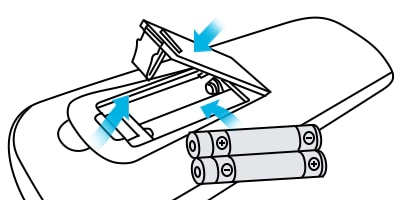 Cautions
Do not hit, shake, drop, or attempt to disassemble the remote control.

It is recommended to remove the batteries from the remote control when you do not use the remote control for a long time.
Once the batteries on the remote control have been replaced, all the modes will be reset. 
When replacing the remote control batteries, keep them out of the reach of infants. If an infant eats a battery, contact a doctor immediately.
We would love to know your feedback to help us improve. Please click the submit button to tell us what you think.
Please answer all questions.