Galaxy Note20 and Note20 Ultra: Device Layout
Last Update date :
Jun 16. 2022
Both models are crafted for sophistication that's incredibly comfortable in your hand. Select the 6.7" display on Samsung Galaxy Note20 or the 6.9" display on Galaxy Note20 Ultra. Two display screen sizes so you can go big, or go bigger. Either size gives you a wide canvas for work and a massive display for play.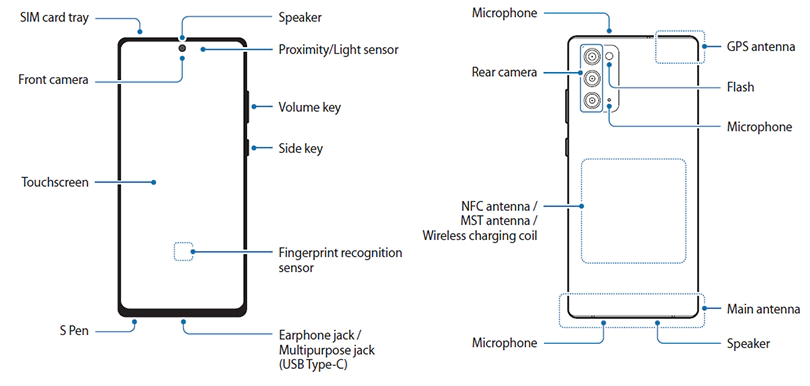 Galaxy Note20 Ultra Layout
Charging the battery
① Cable Charging
It is recommended to charge the battery before using it for the first time or when it has been unused for extended periods. Please ensure you charge your device only with Samsung approved chargers and cables. Unapproved chargers and cables could damage your device.
The Samsung Galaxy Note20 series has an in-built fast charging feature, you can easily enable this by heading into your Settings > Device Care > Battery > Charging > Toggle on Fast charging.
Step 1: Connect the USB cable to the USB power adaptor.
Step2: Plug the USB cable into the device's multipurpose jack.
Step3: Plug the USB power adaptor into an electric socket.
Step4: After fully charging, disconnect the charger from the device. Then, unplug the charger from the electric socket.
② Wireless Charging
The Galaxy Note20 range have an in-built wireless charging coil so you can easily wirelessly charge your device. You can also enable Fast Wireless charging to reduce the charging time.
To enable this feature head into your Settings > Device Care > Battery > Charging > toggle on Fast Wireless Charging. 
Indicator light colors
Blue - Charging
Green - Fully charged
Cyan - Charging at low power
③ Wireless PowerShare
You can charge both devices simultaneously by plugging in your PowerShare compatible smartphone and then placing the other device on its back, or transfer battery power from your smartphone by placing them together. 
Confirm that the phone with PowerShare is charged to at least 30 percent. 
Step1: Swipe down from the top of the screen to reveal the notification panel, then tap "Wireless PowerShare" to activate. A blue flashing light appears on the back of your device when Wireless PowerShare is activated.
Step2: Place the devices with their backs facing one another.
Step3: The screen will confirm once the devices are connected. Tap "OK". The light on the back of the device will turn red while charging. If you pull down the notification panel again a message will show that it is charging the connected device. The green Wireless PowerShare icon will also appear on the display bar or on your Always On Display panel.
Step4: Once the device is fully charged, the light will turn off. Separate the devices when enough power has been transferred.
Please answer all questions.