How to replace the S Pen nib
Last Update date :
Apr 11. 2021
Sketch, design, and bring your ideas alive with S Pen's sensitivity, responsiveness, and control. While the nib is durable and will last you a long time, it will wear out eventually. If you notice that your S Pen nib is appearing to become dull and not very accurate when writing, it is recommended to replace it with a new one.
Follow the below guide to correctly replace your S Pen nibs.
1
Firmly hold the nib with the tweezers and gently pull it out with care. Ensure that when you are pulling the nib that it is perpendicular to the S Pen to avoid any damage.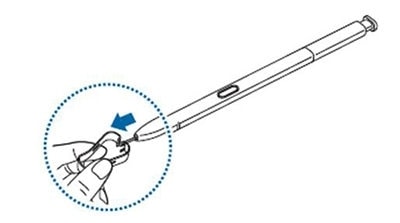 2
Gently insert the new nib into the S Pen. Ensure that you are inserting the nib the correct way.
Note:
Be careful not to pinch your fingers with the tweezers.
Do not reuse old nibs. Doing so may cause the S Pen to malfunction.
Do not press the nib excessively when inserting the nib into the S Pen.
Do not insert the round end of the nib into the S Pen. Doing so may cause damage to the S Pen or your device.
Do not bend or apply excessive pressure with the S Pen while using it. The S Pen may be damaged or the nib may be deformed.
If you use the S Pen at sharp angles on the screen, the device may not recognize the S Pen's actions.
If water enters the S Pen slot, gently shake the device to remove the water from the slot before using it.
Basic tips for using S Pen
How to detach the S Pen
You can easily disengage and reinsert S Pen. Press the end of the S Pen on the bottom of the Galaxy Note and pull out from the slot. To store the S Pen, reinsert it into the slot and push it until it clicks into place.

How to charge the S Pen
When you insert the S Pen into the slot, charging will start automatically. If the Air action feature is deactivated, the S Pen will be charged only when the device is charging. Even if the S Pen has been fully discharged, you can use other S Pen features, such as tapping the touchscreen, or the Air command features.
Note: The S Pen must be charged before you can control apps remotely by using the S Pen button.
We would love to know your feedback to help us improve. Please click the submit button to tell us what you think.
Please answer all questions.