How do I use the heating mode on my air conditioner?
Last Update date :
Nov 24. 2020
Samsung air conditioning products can provide heating instantly. It can be used in two ways - as an air conditioner in the summer and as a heater in the winter, so it's economical. The heating mode on your air conditioner can create a quick warm atmosphere quickly.

Control room temperature with the air conditioner
With the heating mode, the air conditioner can make your space warm. If you turn on the heating mode for the first 3 to 5 minutes, the fan may not work so that cold air does not flow until the air conditioner warms up. If the air conditioner heats insufficiently, use an additional heating appliance in combination with the air conditioner.
Note: The air conditioner gets heat energy from outside air and heats the room. Therefore, if the outside temperature is too low, the heating ability may decrease.
How to control the temperature with the remote controller
Step 1. Press the power button of the remote controller to turn on the air conditioner. 
Step 2. Press the Mode button to set the operation mode. Each time the Mode button is pressed, the mode changes from Auto → Cool → Dry → Fan → Heat

Step 3. After selecting the mode, set the desired temperature.
Step 4. If necessary, set the fan speed with the buttons on the remote control.

Note:
The actual design of the remote controller may differ from your model.
This image is just a sample in English but is available in the language of your country.

Tips on using the Automatic Defrost function
When the outdoor temperature is low and the humidity is high, frost may develop on the outdoor heat exchanger, which may decrease the heating efficiency. When these conditions are present while Heat mode is on, the air conditioner runs the Defrost function for 5 to 12 minutes to remove frost from the outdoor heat exchanger.

Indoor unit will display the df indicator 

When the Defrost function is on, the df indicator appears on the indoor unit display, steam is produced on the outdoor unit. Then, the air conditioner stops running to prevent cold air from coming out of the indoor unit.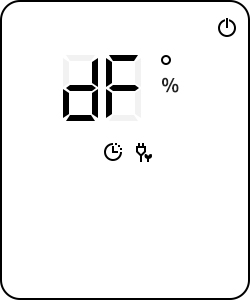 Note: You cannot select other options with the remote control until the Defrost function is finished.

Please answer all questions.