[Gear S]What is meant by each color indicator in the charging dock while charging?
Last Update date :
Nov 24. 2020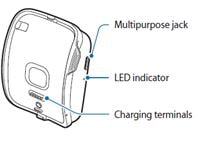 The charging dock for Gear S can be used as a supplementary battery. 
You can charge the Gear S by connecting it to the charging dock. 
When you connect the Gear and the charging dock, the LED indicator flashes one of the colors to indicate the battery level of charging dock. 
When the battery level is 100~80%, the light flashes blue. 
When 80~20%, it flashes green. When 20~5%, it flashes red. 
And when under 5%, it flashes red blinking. 
When a charging dock error occurs, the LED indicator flashes yellow. 
At that time, you should contact a Samsung Service Centre for service support. 
You should note that the Gear S's battery level may be different from LED color since LED indicator display the charging dock's battery level. 
To check the Gear's battery level, view the indicator panel on Gear's screen.
Please answer all questions.