[Gear S2]How to restart if it appears to be not responding while using the touch screen?
Last Update date :
Nov 24. 2020
If your Gear freezes or hangs, you may need to close apps or turn off the Gear and turn it on again.
If your Gear is frozen and unresponsive, press and hold the Power key for more than 7 seconds to reset.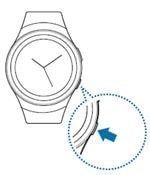 If this does not solve the problem (i.e. the device still sometimes freezes after rebooting it as described above), perform a factory data reset.
Turn the bezel clockwise till you see the Apps screen, then tap on
(1.)Settings → (2.) then tap on Gear info → (3.) then tap on Reset Gear → (4.) then tap on Factory reset., then (5.) tap on the "Tick" symbol
Since all data will be erased from Gear memory after Factory reset, before performing the factory data reset, remember to make backup copies of all important data stored on the Gear.
If the problem is still not resolved, contact a Samsung Service Centre.
Please click the submit button below to share your feedback with us. Thank you for your participation.
Please answer all questions.