How to keep your personal data safe using Private Share
Last Update date :
Feb 03. 2021
For user privacy, the Galaxy S21 series is equipped with a new feature, Private Share. It is important to share personal and sensitive content, such as travel photos, family videos and even confidential business documents, securely. Follow the guide below to learn how Samsung Private Share works to protect you and your data.
Private Share is a privacy-preserving file sharing function that allows you to share your data without concerns of Invasion of Privacy and loss of ownership. When you deliver your files through Private Share, your files are securely encrypted, and you, the owner of the data, can set permission and expiration date for the data and grant read-only access. 
See the advantages of Private Share through the video.
With Samsung Private Share on Galaxy S21, you can safely remove location metadata from photos before sharing, as well as control who can access the content you send and how long it's available.
Guaranteed User Data Ownership and Controllability

Only a designated receiver can open files.
Files cannot be re-shared but can only be read.
Capture is not allowed.
The sender can revoke the data accessibility given to the receiver whenever the sender wants to.
① Common Data Sharing ② Private Sharing
How to send files through Private Share
Private Share uses blockchain-based encryption technology. Through Private Share, content is encrypted before delivery. The sender can control the recipient's access and can see when the recipient received and opened it. You can share up to 10 files at once, but the total size needs to be less than 20MB.
Step 1. Select the file you want to send, and then tap the Share icon.
Step 2. Tap Private Share, then designate the person you want to send it to Private Share. 
Alternatively, you can go to Settings > Biometrics and security > Private Share.
Step 3. Choose how to invite (Send using SMS, Send using QR codes, Send in other ways)
Step 4. After sending the files, you can check the files you sent.
Step 5. You can also select a shared file to change the expiration date or revoke sharing permission.
How to view files on Private Share
Once the recipient receives the file, they receive a notification that there is a new item via Private Share. Received content can only be viewed within Private Share as read-only, so it cannot be captured or saved, nor can it be transferred externally.
If the sender revokes sharing, the recipient can no longer access the data.
Step 1. Tap the received notification.
Step 2. Tap Accept to start file sharing on Private Share.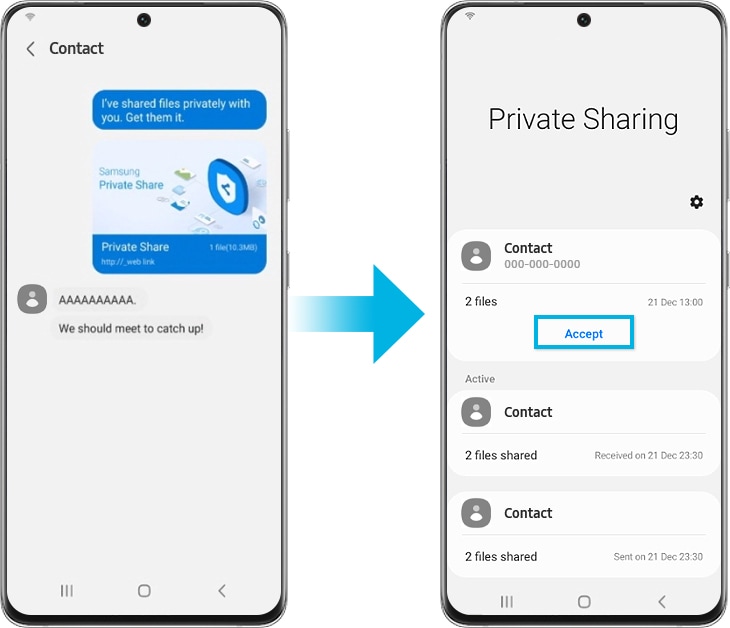 Step 3. Select the file you want to view on the received file list.
Step 4. You can see the contents you downloaded, file history, and expiration date.
Note: 
Private Share can only be supported on Galaxy mobile phones that have Android P OS or higher. If the Private Share app is not pre-loaded on your mobile devices that have Android P OS or higher, you can download it in the Galaxy Store or Play Store.

Private Share is pre-loaded on devices with One UI 3.1 support.

Private Share is not supported on Tablet and PC and it's only supported between Galaxy mobile devices.

Shareable types of files: Image (.jpg, .jpeg, .png, .gif, .bmp, .webp), Video (.webm, .mp4, .3gp, .mkv), Audio (.mp3, .wav, .ogg, .m4a), Text (.txt) 
Device screenshots and menus may vary depending on the device model and software version.

Please answer all questions.