How to solve No sound or Image distortion after changing HDMI UHD color settings?
Last Update Date :
Apr 09. 2018
[ Symptom ]
- When customer changes the settings of HDMI UHD color settings
(MENU → PICTURE → PICTURE OPTIONS),
TV does not have sound or image gets distored.
[ Affeced Model ]
- 2014 UHD TV : HU7000, HU8500, HU8550, HU8700, HU9000
The 2014 UHD TVs are designed to support HDMI 2.0 specification which could
accept UHD 50P/60P 4:4:4 and 4:2:2 signals. If customer want to connect the
devices with 50P/60P of UHD resolution, they need to change HDMI UHD color
settings to "ON".
However customer set it to "ON" with normal devices, TV might not have sound or proper picture.
■ How to change the settings of HDMI UHD color.
1) Go to MENU and select PICTURE, PICTURE OPTION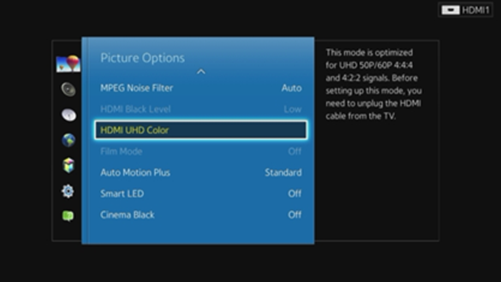 2) Select HDMI UHD Color and then change the option to "On"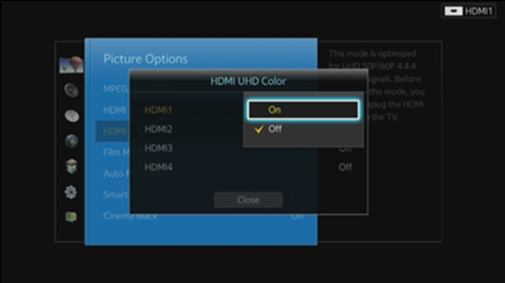 3) Make sure to unplug the selected HDMI cable.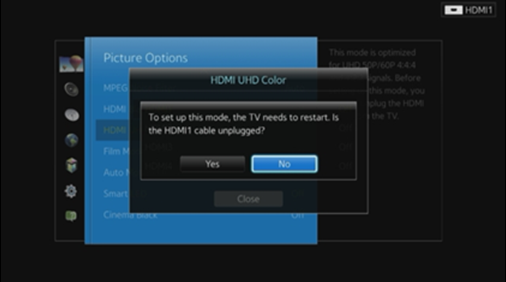 4) Then TV shows "HDMI UHD Color" on Info Banner.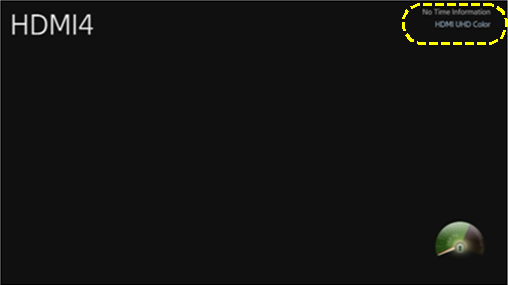 ※ If customer has weird sound and picture issues after changing "HDMI UHD Color" settings,
please change it to "Off"
Not finding what you're looking for? We're here to help.
Call
For your Inquiries on Samsung Products
(Inside Saudi Arabia)
8002474357
24 hours all days a week

(Outside Saudi Arabia)
+966112974690
24 hours all days a week

* May Call Charges will be applied
* For any printer related enquiries please visit the HP website .
Face-to-face support
Samsung Support Center

The latest Coronavirus (COVID-19) updates (Service Centers)
With the global spread of COVID-19 impacting most communities, Samsung is adapting its practices to protect the health and wellbeing of our people and customers.

As such, our customer service centers are operating with extremely limited resources and we are unable to serve you as usual.

We apologize for any inconvenience this may cause.
Contact Us