Twin Chamber
Protects furniture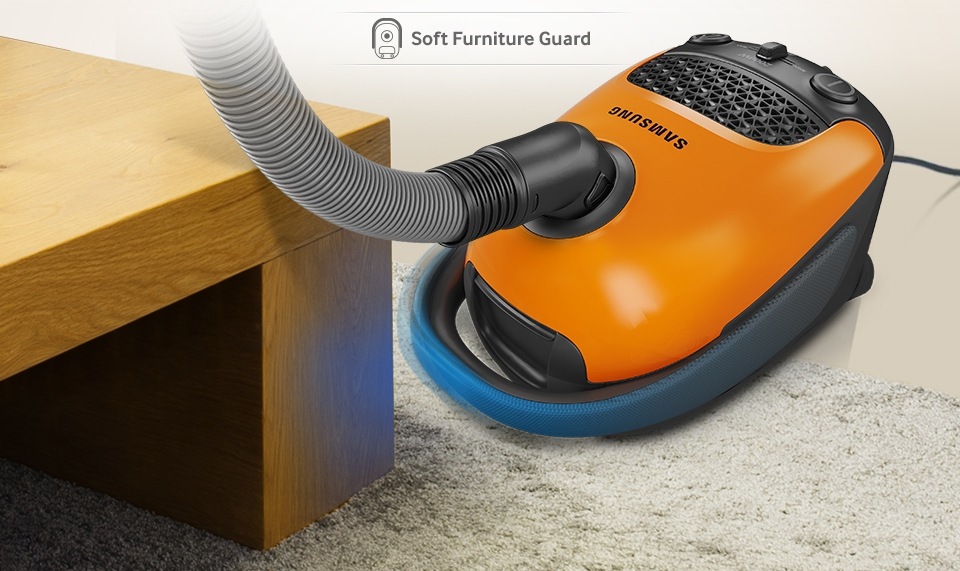 The Samsung vacuum cleaner features the protective Soft Furniture Guard which is a soft, curved bumper at the front of the vacuum. You don't have to worry about accidentally bumping into your furniture or walls. So you can move around faster your home and valuable furniture.
Compact design, Powerful suction
Don't miss another bit of dust or dirt. The Samsung vacuum cleaner's compact design makes it easy to handle, so you can get into corners, while its powerful suction ensures deep and intensive cleaning. it quickly picks up dust particles.
Anti-allergy and filtration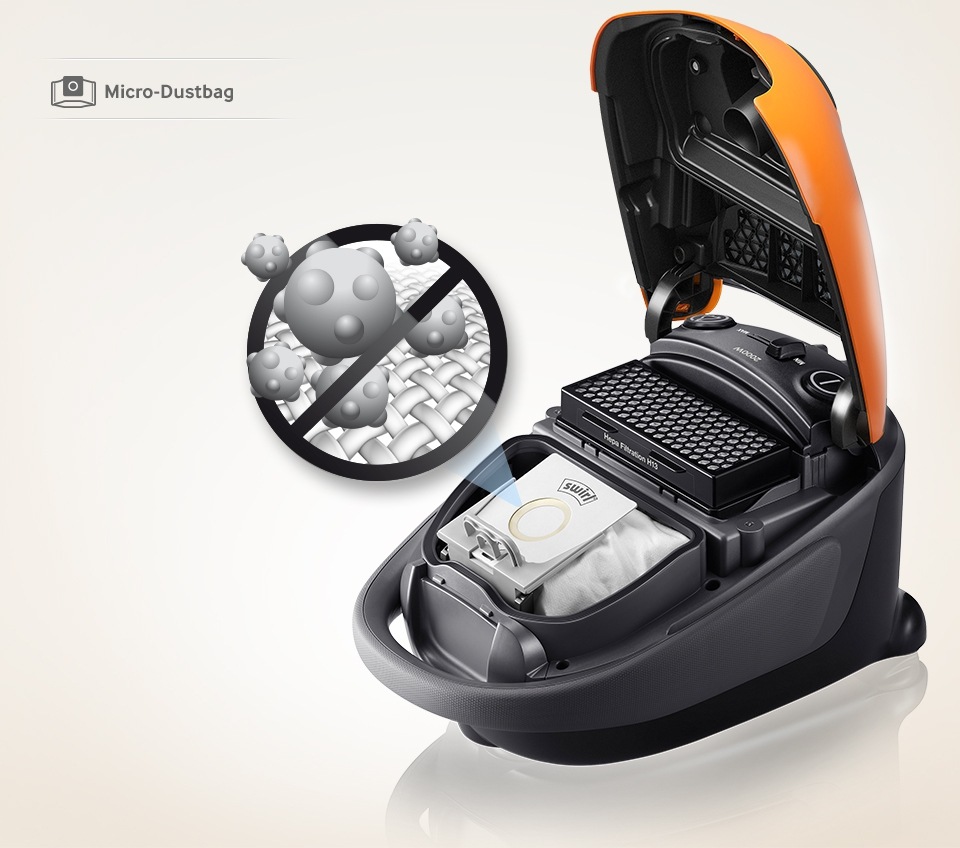 The Samsung vacuum cleaner features a Micro-Dustbag. The dust bag is also designed to detach and replace easily, so you just throw out any allergens with the dust in the bag. Its anti-allergy and filtration function keeps your home environment clean.
Simply removes dust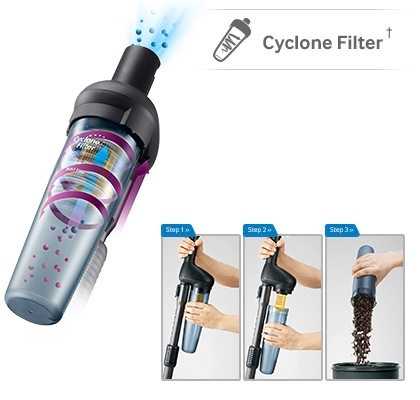 The Samsung vacuum cleaner's unique Cyclone Filter separates large dust particles with centrifugal forces. It's located on the handle, so it's easy to check the amount of dust collected. And because the dust bag only collects fine dust, it provides consistent suction and lasts more than twice as long as Samsung conventional systems before it needs cleaning. *Only for VC20F30WNDY, VC20F30WNEL, VC15F30WNDY, VC1520F30WNEL ' Tested on SC20F30WE in accordance with IEC60312-1 Edition 1.1
HEPA filtration
The Samsung vacuum cleaner features an advanced anti-allergy and hygienic filtration system. The Hepa filtration captures not only dust and dirt, but also air-borne allergens.
Clean any area
The Samsung vacuum cleaner has a choice of accessories for different cleaning needs. The soft brushes of the Parquet Master Brush ensure superior results on hard floors'', while the Power Pet Plus Brush is ideal for picking up pet hairs off the carpet. And for difficult to reach areas, there's a 3-in-1 accessory pack with different shaped heads especially designed for crevices, dusting and upholstery. '' Tested on SC20F30WE in accordance with IEC60312-1 Edition 1.1
How It Stacks Up
Anti-Tangle

Power W (Consumption / Suction)

1,800 / 370 W

Dust Capacity

2 ℓ
* Key feature may different from Key Spec