Can liquid detergent be used for Samsung Front Load Washing Machine?
Last Update date :
Nov 24. 2020
Please note:
• Do not exceed the max line when pouring detergent into the container

• Remove the liquid container if using powder detergent
Please note that the following are the list of Samsung Front Load washing machines that can use liquid detergents:
WD10N64FR2W/SP
WW80M74FNOR/SP
WW90M74FNOR/SP
WD80N74FNOR/SP
WD90N74FNOR/SP
WD90K6410OX/SP
WD80K6410OW/SP
WD80J6410AW/SP
WD70J5410AW/SP

WW12K8412OW/FQ
WW12H8420EW/FQ
WW10N64FRPW/SP
WW90K6410QW/SP
WW80K54E0UW/SP
WW80J54E0BW/SP
WW75J42G0KW/SP
WW80K5410UW/SP
WW70J4233KW/SP
The washing machine provides a three-compartment dispenser: the left compartment for the main wash, the front-right for fabric softeners, and the rear-right for the preliminary wash.
Prewash compartment on the right: Apply prewash detergent or starch Main-wash compartment on the left: Apply main-wash detergent, water softener, soaking detergent, bleach, and/or stain removers Softener compartment in the centre: Apply additives such as fabric softener. Do not exceed the max line (A)
Generally, Samsung Front loader Washing Machine has been designed for Powder use only. Liquid detergent can be used for applicable model only.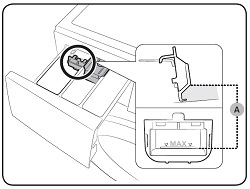 To use liquid detergent, remove the detergent drawer from the washing machine by pressing release lever (A) and then insert the provided liquid container in the main-wash compartment. Once done, apply liquid detergent to the container below the marked max line (A).
How much detergent should I use?
Note: Going over the MAX line in the detergent drawer will stain or damage your clothes or washer. Detergents come in different concentrations; if the amount you would need to add would exceed the MAX line, you should reduce the size of your load or use a more concentrated detergent.