Samsung: The Paris Edit
High fashion meets high tech
Falling in love with the latest season of the Netflix Original, Emily in Paris? Us too. From witty one-liners and big Parisian personalities to gorgeous haute couture gowns, the series has given fans everywhere a glimpse at the world of French high fashion, as seen through the eyes of an earnest, if slightly naïve, American.

This season it's back with even more fantastic looks and locations, not to mention some of the most iconic fashion-forward tech and accessories from Samsung. So whether you spotted something you like and came looking, or just out for a little more Emily in Paris to take home with you, we've got what you're looking for.
Snap it like Sylvie
There's a sassy Parisian fashion executive in all of us, and the Galaxy Z Flip3 is the perfect way to let her out. Designed to snap iconic hands-free selfies, and built to handle every task on Sylvie's busy schedule, The Z Flip3 is the ultimate statement piece.
Style your workout wardrobe
Just because you're at the gym, doesn't mean you need to censor your style. Sylvie's Galaxy Watch3 is the perfect accessory to go with her home-workout athleisure, and the new Galaxy Watch4 is more sophisticated than ever. Plus, you can track every workout, every step, and every calorie with the most powerful health tracking ever on Galaxy Watch.

See new perspectives
Fashion is about breaking convention, and in that regard, there is no TV more fashionable than The Sero. You may have seen its rotating display in some of the biggest events from the show, but The Sero can bring that same sense of magic into your living room, whether you're busy watching season 2, or keeping up with your TikTok FYP.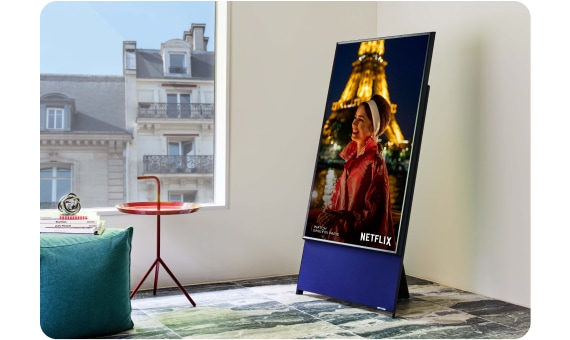 Embrace your inner interior designer
Fashion and interior design have always gone hand in hand, and the interiors of Emily in Paris certainly go above and beyond expectations. So it's no surprise that The Serif was right at home. Designed to be as functional as it is stunning, The Serif is more than just a TV, it's a dual-purpose sculpture that elevates any and every space.
High fashion refrigeration
Interior design doesn't stop with the living room, so when it came to choosing the fridges for Gabriel's new restaurant, The Bespoke Fridge Freezer was an easy choice. With a range of customisable colours, finishes and designs, each Bespoke is a piece of timeless design that's equally perfect for high-brow French restaurants and home kitchens alike.
Keep it cool with Bespoke Cube
Paris is rightfully known for world-class cosmetics and wines, so it's no surprise the new Bespoke Cube also made an appearance in the new season. A discrete, yet sophisticated design that's engineered to maintain precise temperatures, the Cube is perfect for storing everything from fine wines and bar snacks to perishable cosmetics.
Don't miss season 2!
If you haven't already watched every episode of Emily in Paris season 2, what are you waiting for? Check it out now at Netflix.com. And if you get 3 episodes in and decide you need to perfect your Sylvie snap – you know where to find us.