Smash Your Goals
(With a Little Help From Your TV)
How to make 2021 your year.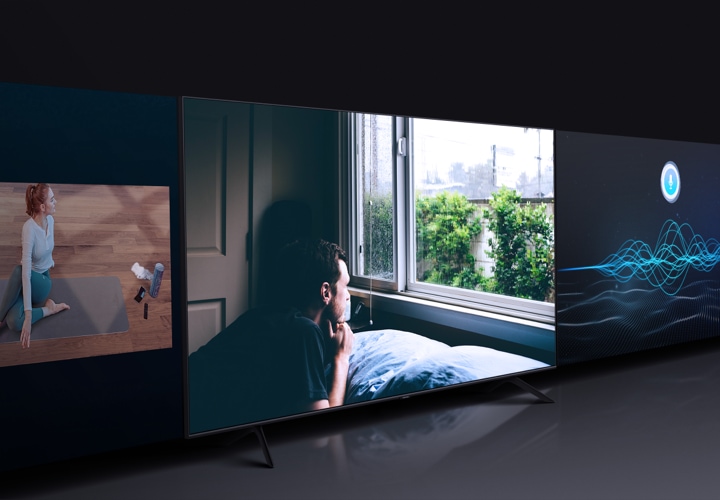 As we all spend more time at home, it's oh-so-easy to let our goals slip quietly off the radar. Whatever your goals are for the months ahead – big or small – your television could be a secret weapon for keeping you on track with what you want to achieve. Today's smart TVs are so much more than a vessel for escapism. Their connectivity offers a window to the world, and high functionality means we can use them for many more things besides watching scheduled and on-demand shows.

Most of us create goals with the aim of becoming a better, well-rounded human. From streaming endorphin-enhancing workouts, engaging in creativity-boosting interactive programmes and even blending your device into the room as inspirational art, here are just some of the ways that your TV can help you smash six common goals in 2021.
Goal 1: Keep fit, active and healthy
When it comes to defining personal development goals, maintaining good physical health comes top of the list for many of us. In 2021, we're often exercising at home rather than at public spaces like the gym, which means we have to get creative about how we tackle our fitness objectives. With a good portion of the population engaging in home workouts, your television can be a great aid in committing to a more active lifestyle.

Whether you love cardio, yoga, HIIT or weight training, it's easy to transform your Smart TV into a home gym with the YouTube app. From breaking a sweat to tried-and-tested training routines on your favourite YouTube channel to streaming new and exciting live workout tutorials, the YouTube app gives you access to millions of videos across every fitness niche. There is no better way to view HD YouTube clips in their full glory than with a QLED 8K Smart TV. Enter a new world of picture quality that brings reality to your living room. Make everything from landscape yoga classes to immersive POV mountain biking videos come to life with enhanced colours, texture and skin tones that make every workout infinitely more immersive.

Goal 2: Take better care of mental health
Alongside physical health goals, it's vital to take extra care of our mental health and wellbeing in 2021. If one of your goals for the year is to relax more and eliminate stress, your television can help support that – which starts with being mindful of the programmes and shows that you consume. Often, what you feed your brain fuels your mental health. Chilling out in front of the TV can contribute to stress relief and even help lower blood pressure.

Stay aware of how TV affects your mood, so that you can tailor your viewing choices accordingly. What we choose to switch on comes down to personal taste, so use your judgement to know what makes you feel your best. Psychologists tend to agree that some genres are particularly good for our wellbeing. Family favourite films, comedy shows and upbeat picks are all good choices to help lift your spirits, which may explain why people of all ages are tuning into Disney+. The positive overall tone of the content available on Disney's streaming service can be a great outlet for stress, fears and anxiety. Subscribe to Disney+ via the app on your QLED 8K Smart TV and experience the magic of Disney favourites in glorious 8K resolution.
Goal 3: Stay connected with family and friends
Maintaining strong personal relationships is a goal that we have to circumnavigate carefully in 2021. Most of us lead busy lifestyles, and having multiple devices and many means of communication makes it easy to forget to reply to all our calls and texts and DMs. Luckily, there's a simple way to ensure that you multitask effectively and stay in touch with everyone you care about.

Thanks to SmartThings, you can control all your devices in a more efficient way. Multi View makes multitasking a whole lot easier, as it allows you to connect your phone and TV together. Having everything on one screen means even the most binge-worthy box set won't distract you from the people in your life that matter most. Watch a football game or film on your TV while keeping an eye on your phone for updates from your loved ones.

Additionally, you can engage with family and friends via Social TV in the Samsung Smart TV app on Smart Hub. Communicate with friends through social networking sites such as Facebook and Twitter, as well as Instant Messaging (IM) programs such as Google Talk. Accessed via Picture-in-Picture mode, you'll be able to browse and chat on your favourite social sites while you watch your Samsung Smart TV.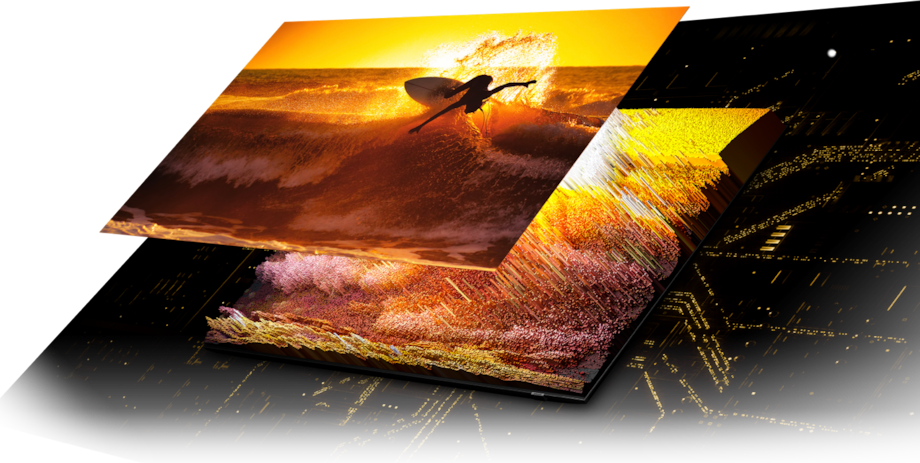 Goal 4: Be more eco-conscious
There are plenty of small but significant lifestyle changes you can make to help you achieve your goal of helping to save the planet, from bringing your own bag to the supermarket to investing in a reusable water bottle and making a conscious effort to buy less and recycle more. To keep you on track with eco-conscious goals look no further than the small screen. With so many eye opening environmental documentaries and eco-themed TV shows available, none of us can claim to be ignorant of the issues facing the planet. As well as turning to educational programmes to be better informed, try tuning into nature shows on a regular basis. A 2011 study conducted by the University of Rochester found that people feel more caring and inspired to save the planet after watching wildlife documentaries.

To see the world at its very best, try the cutting-edge , which pushes the limits of what's possible with Quantum Mini LED Technology. The result is the most vibrant and detailed QLED display yet, with even sharper picture quality and deeper, more intense colours. Combined with AI upscaling, NEO QLED transforms your favourite nature documentary into a true-to-life 8K safari, immersing you in the beauty of the deepest oceans or the highest peaks from the comfort of your sofa.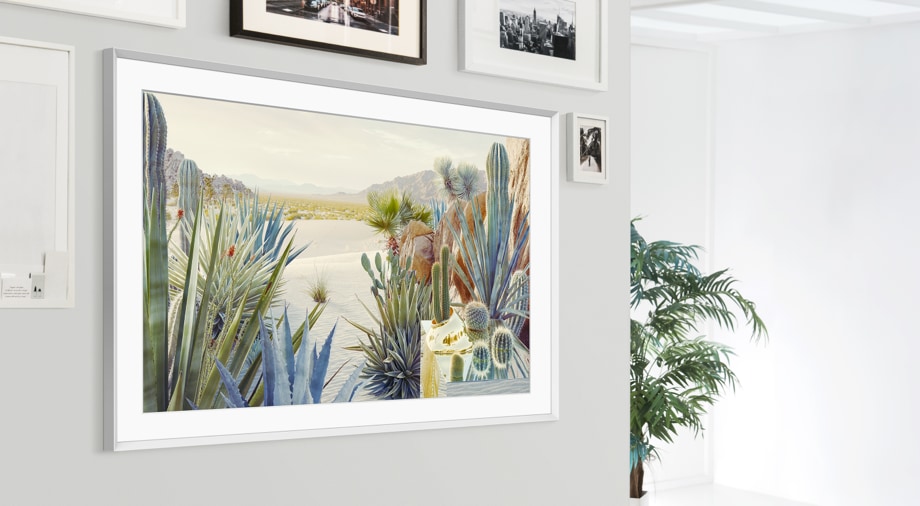 Goal 5: Fuel creativity and inspiration
If one of your 2021 goals is to boost creativity and immerse yourself in artistic inspiration, a Smart TV can be useful in so many ways. In terms of productivity, research shows that having your television on low volume in the background can help get creative juices flowing in a similar way to working in a bustling coffee shop. As well as that, next-level television technology means your TV can act as both a blank canvas and a window to the finest art in the world.

With The Frame, you can bring gallery-grade work right into your living room. No matter what kind of art inspires you, you'll find something that appeals to you, with over 1,200 classic and contemporary pieces to choose from. If you come to a creative block, the curated recommendations feature will pull up a surprise piece of art that could spark your next brainwave. You can even use The Frame to showcase your own creativity, or precious moments. Simply upload your own photos or even create a slideshow, and time how long you want each piece displayed.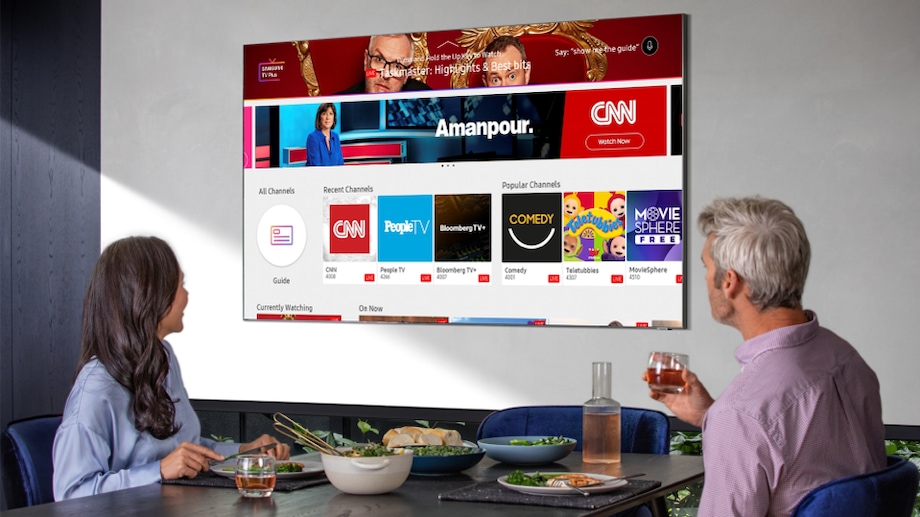 Goal 6: Have more fun
When we sit down and think about what we want to achieve in life, items such as exercising more, eating healthily and being more productive often come at the top of the list. It's easy to prioritise serious things such as work, commitments and responsibilities at the detriment of your own happiness. But having fun is important too.

While television technology has come on leaps and bounds in recent years, the first function of the small screen will always be entertainment. Nothing beats the joy that comes with discovering a new favourite show or getting lost in the fun of your all-time favourite comedy film. Samsung TV + gives you instant access to a world of entertainment – watch over 80 live and on-demand channels within an ultra-easy navigation menu that's already embedded on your Samsung TV. Best of all, the service is 100% free and doesn't require any sign-up or download. So forget the serious stuff for a while – sit back, relax and enjoy the ride.
Ready to hit new heights in 2021?
Here's everything you need.