How to load salt into the dispenser of Samsung Dishwasher(DW-FN320T/XTL)
Last Update date :
Oct 12. 2020
STEP 1. LOCATING SALT CONTAINER
The salt container is located beneath the lower rack and should be filled as follows:
a) Remove the lower basket of the Dishwasher and then unscrew and remove the cap from the salt container.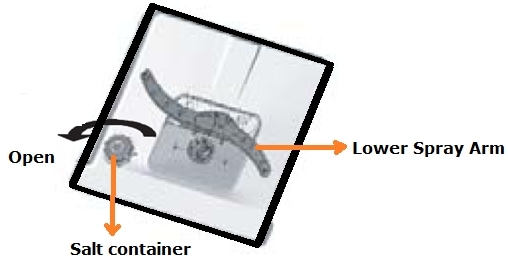 b) Now, If you are filling the container for the first time, fill 2/3 of its volume with water (around 1 litre).
STEP 2. ADDING SALT IN THE CONTAINER
c) Place the end of the funnel (supplied) into the hole and introduce about 1.5 kg of salt. It is normal for a small amount of water to come out of the salt container.
d) Carefully screw the cap back on.Usually, the salt warning light will be off after the salt container be filled with salt.
NOTE :
● Only use salt specifically designed for use in dishwashers.
● Though the salt container is filled enough, the indicator light may not switch off until the salt fully dissolves.
To know the use of Rinse aid in Samsung Dishwasher, CLICK HERE .
To know why suds appears in tub of Samsung Dishwasher, CLICK HERE .
Please answer all questions.