How to check the date and time in the Samsung Gallery app
Last Update date :
Jun 01. 2021
Using the Samsung Gallery app, you can view your photos in chronological order right on your phone. It is very helpful when browsing the memories of photos because you can check when you took them.
Before you try out the recommendations below, be sure to check if your device's software and related apps are updated to the latest version. To update your mobile device's software, follow these steps: 
Step 1. Go to Settings > Software update.
Step 2. Tap on Download and install.
Step 3. Follow the on-screen instructions.
Check the date that the photo was taken on at a glance
The Gallery app installed on your Galaxy phone displays photos and images that contain your memories in a smart way. By default, in the Pictures tab at the bottom left, your photos are sorted by date in the order that they were most recently taken.
How to display the date and time on the photo
If you want to know the exact date and time that your picture was taken, there is a very simple way to do that. Follow the steps below to view photo information.
Step 1. Open the Gallery app, and then select the picture that you want to check regarding its detailed information.
Step 2. Swipe up the enlarged picture with your finger.
Step 3. The exact date and time information for the picture displays on the top. If you want to check more details, tap the arrow at the bottom to display all the details of that picture.
Note: In the case of downloaded media files, the displayed date and time are based on the time of download.
Step 4. You can also tap Edit to rename the photo or view the location information.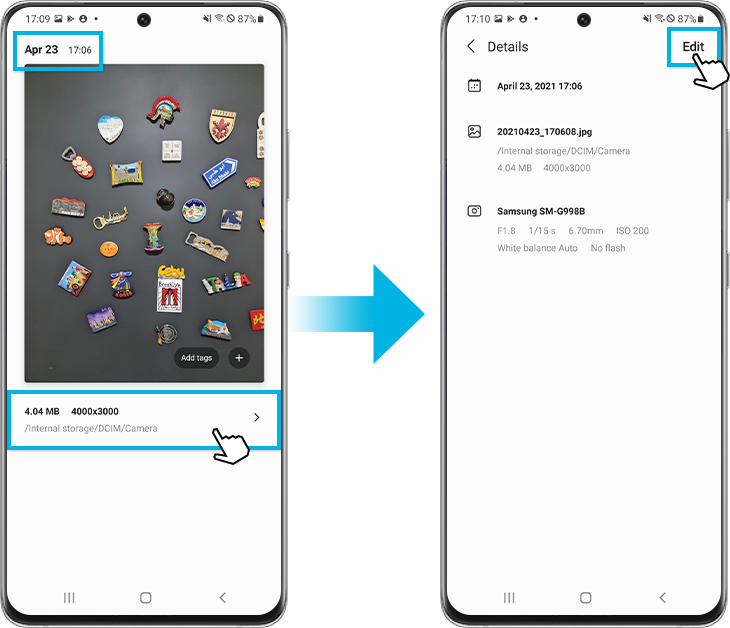 Note: 
It is not available to change the date and time of the media and to stamp the date and time.
Device screenshots and menus may vary depending on the device model and software version.
If you're experiencing unusual behaviour (unusual battery drain or heating) on Samsung mobiles, tablets or wearables, you can send us an error report or ask us a question in the Samsung Members app.  
This allows us to take a closer look at what is happening. The data is anonymised and only held for the duration of the investigation. Find out more about sending an error report through the Samsung Members app.
Please answer all questions.