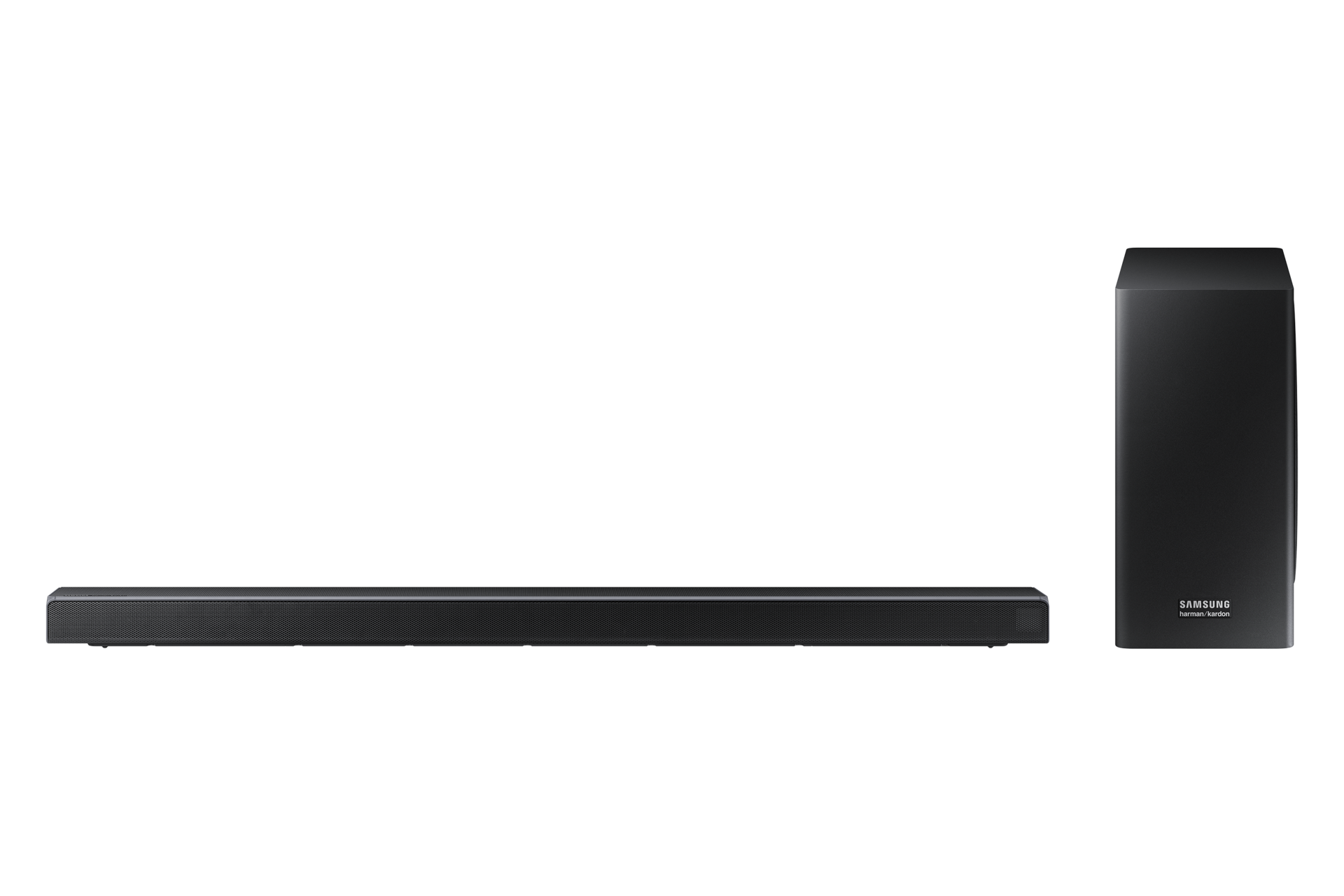 Q70 Soundbar
is rated out of
5
by
3
.
Immersive Sound with True 3.1.2ch Sound.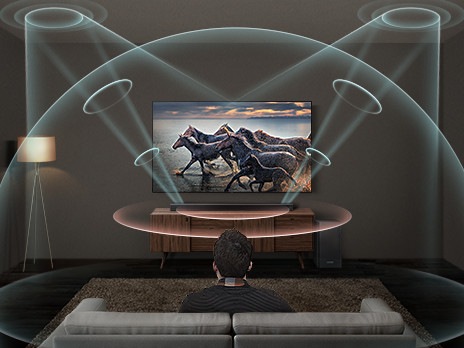 1. True 3.1.2 Sound
Sound moves around you with Dolby Atmos and DTS:X sound formats via Samsung Acoustic Beam Technology.
2. Adaptive Sound
Automatically enhances voice clarity on low volumes.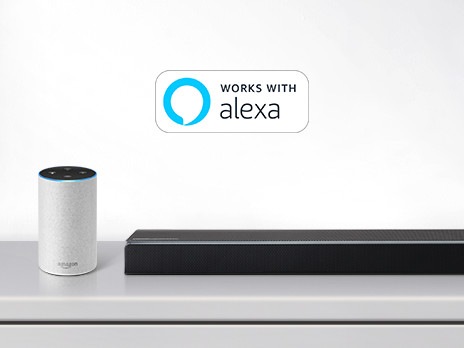 3. Works with alexa
Works with your compatible devices and fits with your home ecosystem.
4. Seamless HDR 10+ experience
Connect any HDR 10+ video source through your Soundbar to your Samsung TV.
The science of sound
Tested and tuned at the California Audio Lab, where our audio engineers apply the most advanced acoustic technologies and cutting-edge computer modeling to give you perfectly balanced, room-filling sound.
True 3.1.2ch Sound
Be surrounded by a complete audio environment with the 3.1.2ch Soundbar, powered by Samsung Accoustic Beam Technology.
Music comes alive with your voice
Can't recall the title? Enjoy your Soundbar hands-free using Alexa voice control. Ask Alexa to play something by simply saying the title or a few lines of the song's lyrics. No matter what kind of music you're in the mood for, Alexa will find it.
* An Amazon Echo Device is required to use this feature. This service is provided by Amazon and is subject to availability and change without notice. Amazon, Alexa and all related logos are trademarks of Amazon.com, Inc. or its affiliates. A subscription to a music service will be required for music playback.
Seamless HDR 10+ experience
With 4K pass-through built in, connecting 4K video sources like your Blu-ray player or game console is easy. It even works with HDR 10+ sources, allowing you to enjoy audio with quality matching that of your video. One HDMI connection and you're set.
* HDR 10+ picture quality output available with equivalent input.
Adaptive Sound helps you hear more
Samsung soundbar analyses the sound signal to automatically deliver optimised sound based on each scene. Adaptive Sound lets you hear voices clearly even on low volumes so even quiet conversations are heard.
Hear better. Play better.
Brace yourself for a powerful, immersive gaming experience with subwoofers that enhance the scene and up-firing speakers that provide incredible surround sound. The soundbar automatically switches to Game Mode when connected to your Samsung TV so you can focus on playing, not setting up.
* This feature is supported only when the game console is connected to select 2019 Samsung TVs via HDMI (all QLED TVs, RU7400 series, and above). Game consoles supported include PlayStation 4™ and Xbox™. Compatible TVs and game consoles may change.**Game console purchase separately.
Powerful bass where you need it
Don't let wires get in the way of your bass. Set the wireless subwoofer anywhere in your space and surround yourself with powerful, deeper bass.
Sound, Completed by Audio Masters
By combining Samsung's innovative mastery in home entertainment solutions with 65 years of Harmon Kardon's audio technical expertise, the two brands continue to push boundaries to bring state-of-the-art sound to the home entertainment experience.
Centre channel for clear dialogue
Experience crystal clear dialogue with a dedicated centre channel. It provides balanced sound from one end to the other and beautifully completes your home entertainment experience.
Wireless music streaming
The Soundbar uses Bluetooth for easy wireless connections to other devices. Enjoy music from your mobile in top audio quality anywhere, no strings attached.
Listen smarter with SmartThings
SmartThings lets you add your speakers to your network, giving you greater control over your audio throughout your smart home. Take connected living to the next level.
* SmartThings compatible devices may vary by region. This function may differ by mobile and OS(Operation System). Download and installation of SmartThings app are required.
* SmartThings compatible devices may vary by region. This function may differ by mobile and OS(Operation System). Download and installation of SmartThings app are required.
Control with One Remote
You don't need several remotes. For power, volume, and even the sound effects, you can control key Soundbar functions with a Samsung TV remote through TV's UI.
* Actual product may vary by TV model and region.** Compatible with selected Samsung TVs. Please check in-store for more details.
* Actual product may vary by TV model and region.** Compatible with selected Samsung TVs. Please check in-store for more details.
Wireless connection with TV
Connect the Soundbar to your Samsung TV* with ease and without the clutter of wires via Bluetooth or Wi-Fi. You'll be able to enjoy all your content instantly with clearer, more impactful sound.
* Compatible with selected Samsung TVs supporting Wi-Fi or Bluetooth.
Wireless surround sound ready
The Wireless Surround Kit* lets you expand your Soundbar to a surround sound system easily without the mess of wires**.Together with your Soundbar, you can create a channel system for a true surround sound experience.
* Samsung Wireless Rear Speaker Kit is available for separate purchase (Accessory model: SWA-8500S).** The wireless module requires a power cable. Rear speakers are connected to the module by cable.
Rated

4

out of

5
by
Foreverstorm
from
Excellent value atmos bar
I have this connected via ARC to the 2018 Samsung Q9FN and have an Xbox One X plugged into it. When you first plug the bar in the TV asks you to go through setup and has to try a few different methods for control before it finally can control both the xbox and soundbar under any scenario. Once this is done you can use the one remote to switch from tv/apps to xbox and have the soundbar switchover to HDMI pass through automatically. You can even use the remote to control apps which is handy on the xbox since the controller switches off after a few minutes when you are watching Netflix. Once the appropriate Xbox video and audio settings are selected (bitstream with atmos) the soundbar passes 4k HDR through and receives atmos audio from Netflix, the blu ray drive and games, if the content supports it. The bar will always say in atmos mode if that is selected on the xbox but other than Netflix and some games other apps like Kodi and VLC will not transmit true atmos, only regular surround sound at best. The Q9FN cannot pass through atmos, nor do any TV apps seem to transmit it (not even Netflix, defaulting to Dolby Digital+ at best, and you will only see this automatically selected in TV settings if the content supports it otherwise it will be greyed out). For most non atmos content on the xbox, selecting bitstream and Dolby Digital is best instead of atmos mode but you MUST select Surround on the soundbar and make sure Virtual speaker is on as well, otherwise you will not hear any psychoacousitic rear channels (unless you bought rear speakers). If in atmos mode mode, standard mode, adaptive mode or game mode, you CANNOT hear rear channels under any circumstances. If you are playing Call of Duty BO4 which doesn't support atmos for example, people will shoot you from behind and you won't hear anything. This is unfortunate because if you have selected game mode on the TV for lower visual latency the soundbar switches to game mode every time you launch a game and there is no way to stop it. You have to manually select surround mode every time. This could be fixed in firmware, but when psychoacoustic surround can be used is not even explained anywhere in the manual. Overall atmos should be manually switched over to only If you want to play something that has atmos sound, and those things are few and far between. When you are hearing atmos, it is good, definitely fuller than 7.1 surround but I can't pick out the vertical placement that well. It is very room size and shape dependent and probably you need to step up to the N950 for a more impressive atmos experience anyway. I still reccomed this bar because I got it for $850 AUD from Harvey Norman, it is low profile and narrow, yet is a pleasure to listen to with bitstream dolby digital signals. Speech sounds clear, loud and full. Special effects and game sounds in surround mode definitely sound like they can come from any direction and are exciting. However when listening to music at higher volumes the midrange can fail to keep up and can make the subwoofer seem overpowering and differentiate this bar from more expensive but larger counterparts. I would give this bar 5 stars if I could stop it automatically switching from surround mode when the TV is in low latency/game mode. I wanted a bar that is not too cumbersome, not to expensive, but performs well and allows me to experience perks like atmos. This bar does the job in a big way. I would only spend on more sophisticated options if I had a room designed for home theatre or a TV larger than 65".
Date published: 2019-06-02
Rated

5

out of

5
by
snatoool
from
Absolutely amazing speakers
I bought this about a week ago from the good guys. highly recommend this speakers. I connected also my Xbox to the dedicated Hdmi port on it, in order to get dolby atmos activated, absolutely love it, and got the other ARC to the tv, amazing. so when I switch input, it changes to the Hdmi by itself. the sound is superb quality. Overall I find Samsung products with great quality at all times. The lifecycle that they have around their products is very solid. Amazing work Samsung!
Date published: 2019-05-29
Rated

1

out of

5
by
Misleading
from
Poor - Cannot use Atmos and OneRemote Together
I upgraded to this soundbar from a previous generation Samsung 2 channel soundbar that came with my Samsung 55" UHD TV. Primary reason for upgrading was to get Atmos decoding, primary reason for sticking with Samsung was compatibility with my TV and single remote support. Unfortunately the product listing here does not explain that you CANNOT use Atmos decoding and OneRemote support at the same time. If you want to control the soundbar with your Samsung TV remote you need to connect via Digital Optical and that connection method cannot passthrough Atmos audio from the TV. If you want to listen to an Atmos soundtrack you cannot control the soundbar using your Samsung TV remote. Despite instructions in the user manual this function does not work, and a Samsung support representative confirmed this was a product limitation. BUYER BEWARE - if you are considering this soundbar for its Atmos support and integration with your Samsung TV then buy something else instead as you will be disappointed with this model.
Date published: 2019-05-21
User manual & Downloads
Live Chat
* Key feature may different from Key Spec