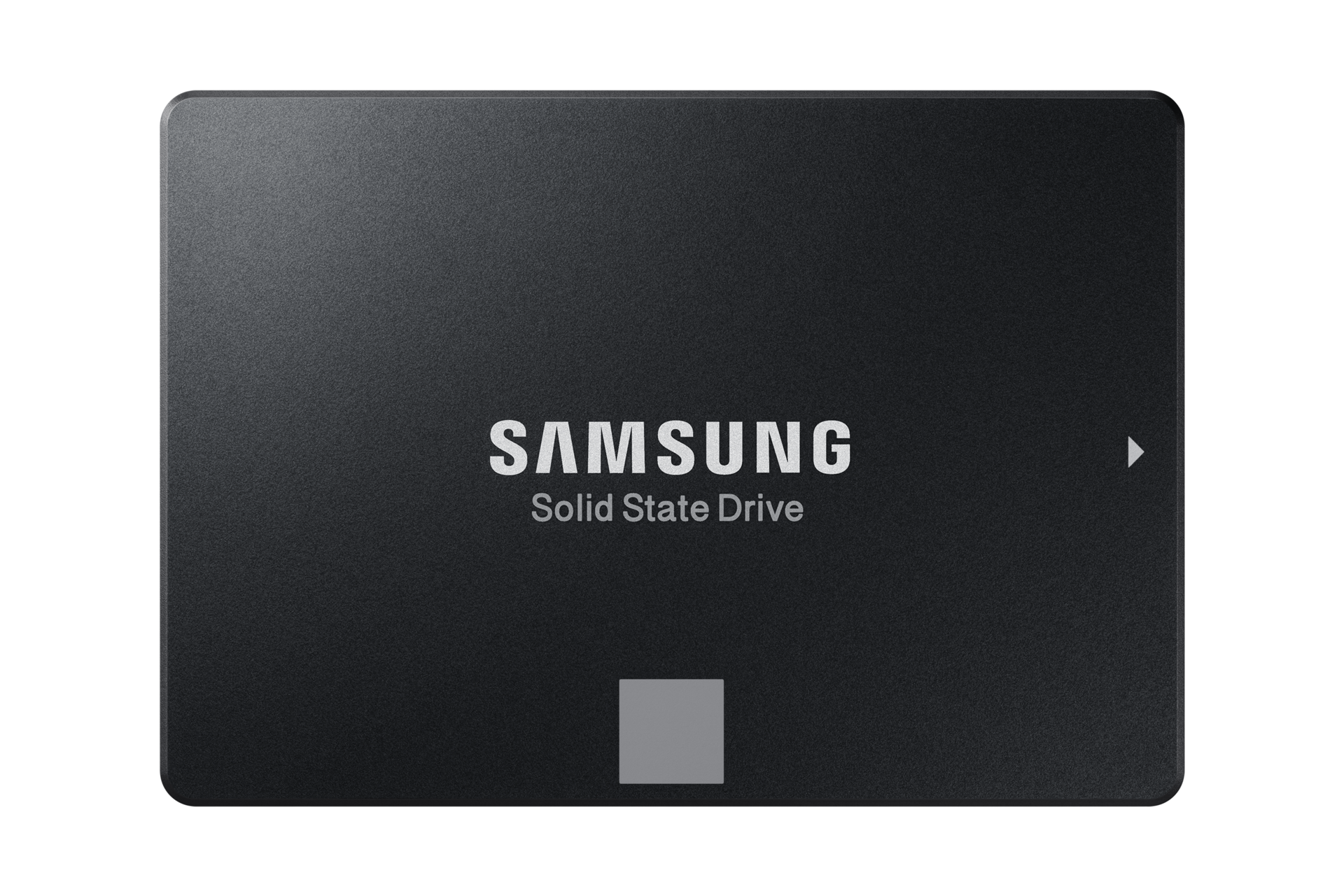 SSD 860 EVO SATA III 2.5 inch 500 GB
MZ-76E500BW
SSD 860 EVO SATA III 2.5 inch 500 GB
is rated out of
5
by
125
.
BUNDLE
The SSD to trust
The newest edition to the world's best-selling* SATA SSD series, the Samsung 860 EVO. Specially designed for mainstream PCs and laptops, with the latest V-NAND and a robust algorithm-based controller, this fast and reliable SSD comes in a wide range of compatible form factors and capacities.
* Sources: NPD (US data from Jan. 2015 to Oct. 2017) and GfK (EU5 data from Jan. 2015 to Sep. 2017, China data from Jan. 2016 to Sep. 2017)
Enhanced performance
Speeds are more consistent, even with heavy workloads and multi-tasks. The 860 EVO performs at sequential writes up to 520 MB/s* with Intelligent TurboWrite technology, and sequential reads up to 550 MB/s. The TurboWrite buffer size* is upgraded from 12 GB to 78 GB for faster file transfer.
* Performance may vary based on SSD's firmware version and system hardware & configuration. Sequential write performance measurements are based on Intelligent TurboWrite technology. Sequential performance measurements based on CrystalDiskMark v.5.0.2 and IOmeter 1.1.0. The sequential write performances after Intelligent TurboWrite region are 300 MB/s for 250/500 GB and 500 MB/s for 1 TB. * Test system configuration: Intel Core i5-3550 CPU @ 3.3 GHz, DDR3 1333 MHz 4 GB, OS – Windows 7 Ultimate x64, Chipset: ASUS P8H77-V * The TurboWrite buffer size varies based on the capacity of the SSD; 12 GB for 250 GB model, 22 GB for 500 GB model, 42 GB for 1 TB model and 78 GB for 2/4 TB. For more information on the TurboWrite, please visit www.samsungssd.com.
Boosted endurance
Safely store and render large sized 4K videos and 3D data used by the latest applications, up to 8x higher TBW (Terabytes Written)* than the previous 850 EVO. The latest V-NAND technology gives you up to 2,400 TBW, or is backed by a 5-year limited warranty.*
* Warrantied TBW for 860 EVO: 150 TBW for 250 GB model, 300 TBW for 500 GB model, 600 TBW for 1 TB model, 1,200 TBW for 2 TB model and 2,400 TBW for 4 TB model. * 5-years or TBW, whichever comes first. For more information on the warranty, please find the enclosed warranty statement in the package
Smart compatibility
Benefit from faster, more fluid communication with your host system. The refined ECC* algorithm and a new MJX controller generate higher speeds, and the improved queued trim enhances Linux compatibility. Our advanced engineering makes the 860 EVO more compatible with your computing system.
Multi form factors
Whatever size your computer needs, there is an 860 EVO for you. Choose among the 2.5-inch size for desktop PCs and laptops, and the SATA-based M.2 (2280) or the mSATA for ultra-slim computing devices.
Samsung Magician
Management software
Samsung Magician software is designed to help you manage your SSD with a simple and intuitive user interface.
Firmware update
Get notifications when new firmware is released, and easily install updates for enhanced performance, stability, and compatibility.
Perf. benchmark
Check your SSD's sequential and random read/write speeds, so you can maintain superb performance.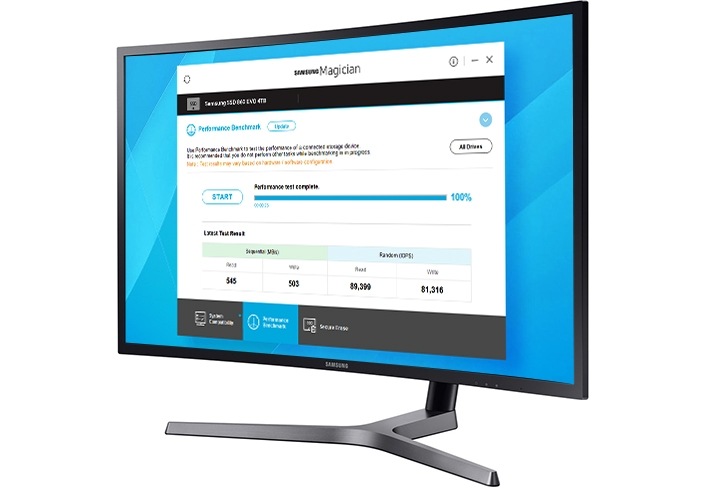 Data security
Protect data by selecting security options. The 860 EVO supports AES 256-bit hardware-based encryption and is compliant with TCG Opal and IEEE 1667.
Rated

5

out of

5
by
cotesy
from
Great laptop update
I replaced a really slow HDD in my Toshiba laptop with the 500Gb SSD, and it was so simple. Samsung's Data Migration s/w made the cloning process so easy. Instead of minutes to awaken from hibernation, it is now only seconds. I was so impressed I upgraded my brother-in-law's laptop (also with a very slow and old HDD) with with a second 860 EVO 500Gb SSD, with very similar pleasing results. I also really appreciate having the Magician monitoring s/w too.
Date published: 2018-09-02
Rated

5

out of

5
by
Drakthorian
from
Happy with my new 500GB Samsung 860 EVO
Hello, this is my 7th SSD from the Evo series with the previous ones being 2 840s 3 850s and 1 960, and like with all the other Samsung Evos I have had price/performance is stellar, I don't have any issues on this just like I didn't have any issues with my previous SSDS which I still have in raids etc. in my desktop computer, this one is just to add extra storage. Thanks for the reliable SSDs you make. It's the only Samsung products I buy, but it is also the best products Samsung makes. The design is kinda meh, but it's hidden away so it's no big deal to me. I vastly prefer the design of the M.2s but again, form factor makes this impossible to replicate.
Date published: 2018-07-18
Rated

5

out of

5
by
MacHale Enterprises
from
Great Inventory item
I keep these drives in stock because I can use the in the latest 6.0GBsm SATA III and they are backward compatible to the 3.0 GBs SATA II.
Date published: 2019-10-14
Rated

5

out of

5
by
bill46
from
Great reliable performance
This is my third SSD. At the time had a 500gb and 1TB. Performance was outstanding. Needed more independent storage for my underwater photos and videos. Installed another 1TB and moved easily. Samsung Magic gives me all the performance monitoring I need and trims as well.
Date published: 2019-08-24
Rated

5

out of

5
by
SeiCo
from
Like a new laptop in minutes
Installation was a snap and coupled with enhanced RAM this new SSD cut boot time tpo a fourth of what it had been. Data access is liekwise much faster, programs boot up much more quickly and it's almost like a new laptop rather than over 6 years old.
Date published: 2019-03-05
Rated

5

out of

5
by
brg1959
from
outstanding !!
laptop boots up in 8 seconds.. all programs and downloads have increased approx 80 % !! amazing
Date published: 2019-05-03
Rated

5

out of

5
by
Miljan
from
Small little thing
I bought it a few months ago, and it's just amazing. My now secondary 1TB HDD was getting slow so I decided to buy this SSD and it was the best decision of my life, my gaming PC sure loves it as much as I do.
Date published: 2018-12-27
Rated

5

out of

5
by
djzgfx
from
Phenomenal Drive
Very quick, purchased this one to replace my old 250gb 850 evo. Equivalent speeds with larger warranty on TBW. Using this as an intermediate drive to transfer my exported photos/videos before editing and storing them on my storage HDD which I will eventually replace with a 1TB (or larger) 860 evo. Cannot beat the price to performance for this drive. As I said, it's very quick especially with RAPID mode enabled. Zero hiccups, just performs like a champ.
Date published: 2018-12-26
* Key feature may different from Key Spec