Notebook : What does defragment mean and how do I do it?
Last Update date :
Jul 21. 2022
* Please note, this section is designed to give you basic product troubleshooting information, also refer to your user manual for more information. 
When a file is fragmented it takes longer for the notebook to read it because it has to skip to different sections of the hard disk drive.

Defragmentation improves your notebook's performance by reorganising your files. While fragmentation looks complicated it's easy to defragment your notebook.

To defragment your hard disk on your notebook:

1. Open Disk Defragmenter by selecting Start.
2. In the search box type Disk Defragmenter.
3. In the list of results select Disk Defragmenter.
4. Under Current status select the disk you want to defragment.
5. To determine if the disk needs to be defragmented select Analyze disk.

If you're prompted for an administrator password or confirmation, type the password or provide confirmation.

Once Windows is finished analyzing the disk you can check the percentage of fragmentation on the disk in the Last Run column. If the number is above 10%, you should defragment the disk.

6. Select Defragment disk.

If you're prompted for an administrator password or confirmation type the password or provide confirmation.

Disk Defragmenter might take from several minutes to a few hours to finish depending on the size and degree of fragmentation of your hard disk. You can still use your notebook during the defragmentation process.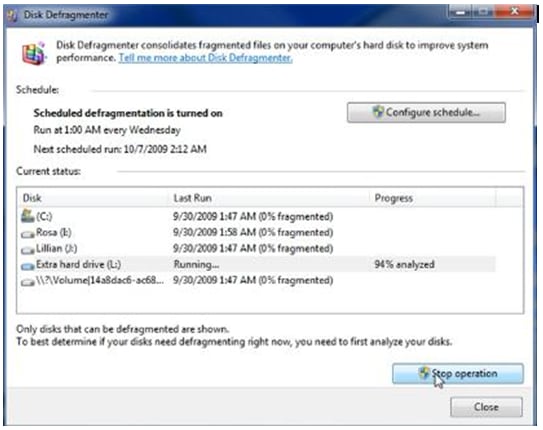 ** "To aid us in creating better support content for you, kindly complete the survey below if your query was resolved. Your rating and comments should only be based on the above content.

For all other queries or further technical assistance, please call Samsung Customer Care on 0800 726 786 or Live Chat with our Technical Team online, services are open 24 hours, 7 days." 
Please click the submit button below to share your feedback with us. Thank you for your participation.
Please answer all questions.