Galaxy Note 8: S Pen features > How do I use the Translate feature?
Last Update date :
Nov 30. 2021
Please Note: The information on this page is for New Zealand products only. Sequences or settings will vary depending on location and/or where the product had been purchased. To be redirected to your local support page please click here.

One of the features of the S Pen is it gives you the ability to translate text and sentences by simply hovering the stylus on the screen. With this feature, it saves you time to copy and paste the text/sentence into app such as Google Translate for translation.
Please note:
To use this feature, your device must be connected to a Wi-Fi or mobile network.
This feature does not support some languages.
This feature is available only when detectable text is on the screen.
Words inside images are unable to be translated.

1
When there are text you want to translate, open the Air command panel and tap Translate.
2
Select the languages on the translator panel at the top of the screen.
You can change the text between words and sentences by tapping.
3
Hover the S Pen over the text you want to translate or the unit you want to convert.
The translated text will appear above the original text.


Tap to listen to the pronunciation of the original text. 
Note: The icon may not appear depending on the language you select. 
4
To close the translator, tap on the translator panel.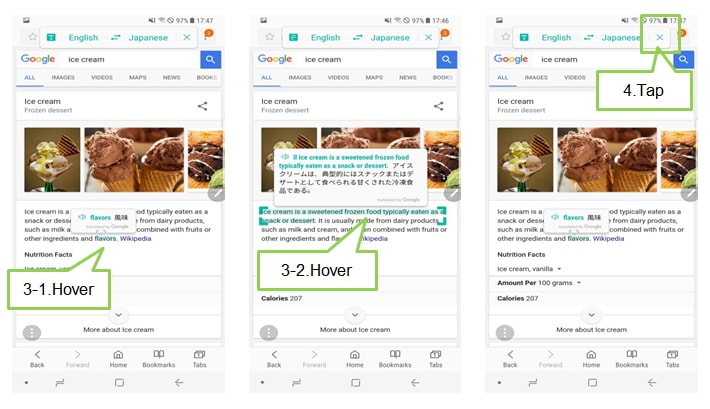 Please answer all questions.