How to block accidental touches on your Galaxy smartphone
Last Update date :
Nov 23. 2020
It could be embarrassing if you accidently called someone or sent a message while your phone was in your pocket or bag. But no more embarrassment is yours since your phone already has a feature to prevent that pocket dialing. Check out what to do to keep your screen inactive and keep it safe from any accidental screen touches below. 
Before you try out below recommendations as to your solutions, be sure to check if your device's software and related apps are updated with latest version. Please check how to update your mobile device's software in following order.  
Step 1. Go to Settings > Software update.
Step 2. Tap on Download and install. 
Step 3. Follow the on-screen instructions. 
How to turn on Accidental touch protection
Step 1. Go to Settings > tap Display.
Step 2. Tap the switch next to Accidental touch protection to turn the feature on.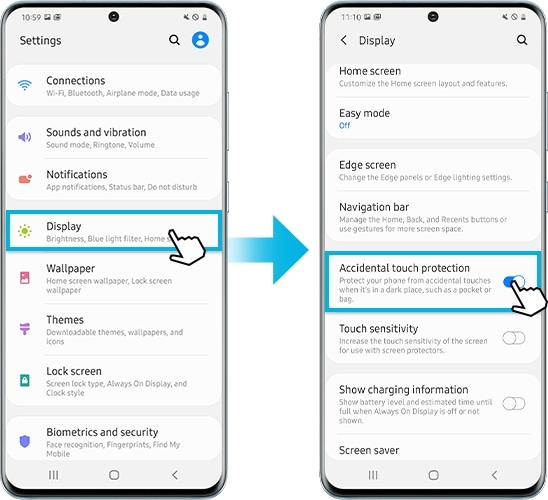 How to turn off Fingerprint always on on the Galaxy Z Flip
On Galaxy Z Flip, there is a way to avoid accidental fingerprint touches by turning off 'Fingerprint always on' setting.

Step 1. Navigate to and open Settings.
Step 2. Search for and select Fingerprint always on. 
Step 3. If you already have a fingerprint saved, disable this feature by tapping the switch next to Fingerprint always on. 
What is the small blinking light on my phone screen
After turning on Accidental touch protection, you may notice a small pixel-sized light flashing on the top of your phone in the dark. When you touch the screen while the Accidental touch protection function is activated and Always-on display is preset to 'Tap to show', such small light flicker will appear.
That is because the proximity sensor is operated due to Accidental touch protection, and it is not a product defect. Some models that have proximity sensor behind the display panel, the sensor is turned on to determine whether it is in a pocket when the screen is turned on in low light (10 lux or less). When the proximity sensor is operated, the phenomenon of light flickering is recognised by the photoelectric effect. In other words, light flashing is the operation of the sensor to prevent malfunction. The brighter you set your screen, the brighter the flashing light will be.
The models that the proximity sensor is located behind the display panel are as below.
Galaxy A90 5G, Galaxy Note10 Series, Galaxy S20 Series, Galaxy Z Flip 
Note: Device screenshots and menu may vary depending on the device model and software version.
If you are experiencing unusual behavioyr on Samsung mobiles, tablets or wearables, you can send us a question in the Samsung Members app. 
This allows us to take a closer look at what is happening. The data is anonymised and only held for the duration of the investigation. Find out more about sending an error report through the 'How to use the Samsung Members app'.
Please answer all questions.