How to troubleshoot when your device doesn't detect an SD card
Last Update date :
Dec 30. 2021
Depending on your device model, you may be able to expand your device's storage capacity by inserting an SD card. If your device does not recognize the SD card or displays a 'Can't write to SD card' warning, check the following guide to troubleshoot the issue.
Before you try the recommendations below, be sure to check if your device's software and related apps are updated to the latest version. To update your mobile device's software, follow these steps:
Step 1. Go to Settings > Software update.
Step 2. Tap on Download and install.
Step 3. Follow the on-screen instructions.
Inspect the SD card
First, take out the SD card from your device and inspect it for any damage.
Even if your SD card does not have any visible damage, you may still experience issues. If you have other devices nearby, test the SD card to ensure that it works.
Force restart your device
Try force restarting your device. Restarting may resolve the issue of your device not recognising your SD card.
Note:
Your data and files will be preserved even if you force restart your device.
Try accessing the SD card in Safe mode
Your SD card may have been damaged due to a third-party app on your device. To check whether this is the case, try accessing the SD card in Safe mode, with all third-party apps disabled. If your SD card is recognized in Safe mode, you can try deleting apps that you recently downloaded, don't recognize or appear malicious.
Switch to Safe mode by following the steps below.

Follow the steps below to delete an app in Safe mode.
From Safe mode, switch to normal mode by following the steps below.
Step 1. Press and hold the Volume down key and Side key simultaneously.
Step 2. Select Restart.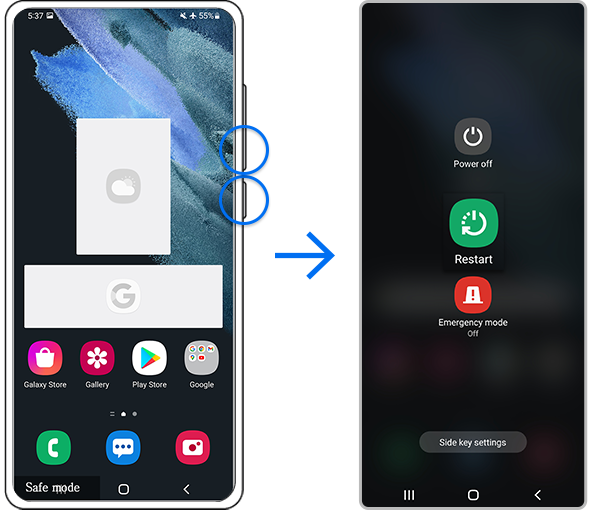 Format SD card
You can try resolving the SD card recognition error by formatting your SD card. To avoid losing your data, make sure to back it up before formatting. To format your SD card, follow the steps below.
Note:
Formatting will erase any existing content on the SD card and can not be restored.
Note:
Volume and Side key locations may vary depending on the device model.
Not all phone models support the use of SD cards.
If you followed the steps listed above but the issue persists, your device may be physically damaged. Please check the Support Centre for relevant information.
Device screenshots and menus may vary depending on the device model and software version.
Please answer all questions.