What does Unified Daemon app do?
Last Update date :
Nov 23. 2020
* Please note, this section is designed to give you basic product troubleshooting information, also refer to your user manual for more information.
Unified Daemon is an application for Weather, Stock, and News app. It shows the total data usage from Accuweather.com, Yahoo Finance, and Yahoo News. The data is requested by Alarm, Desk Clock, S Planner, Camera, and Briefing app.

Data usage will be different according to settings of each user. For example, data usage depends on how many cities set in the Weather app, and how you set the Stock or Category in Yahoo finance and news. If you want to reduce data usage by those apps, set a more suitable refresh period depending on your needs.

In setting each of the application, the refresh period can be set for either:

■ None
■ 1 hour
■ 3 hours
■ 6 hours
■ 12 hours
To use this app (on selected models only), go to: Setting > Data usage > Unified Daemon
You can enable and disable this service by following the path below:

Go to: Settings > Data usage > scroll down and tap on Unified Daemon > scroll down and tap to enable Restrict Background Data.
Note: If you are a Samsung Galaxy S4 user and you've installed 4.4.2 update, you are probably having a data issue on your device. When you enter Settings > Data Usage menu on your device you will see this service named as Unified Daemon (EUR). Data usage of Unified Daemon will be vary according to how often you have certain apps (such as Weather and Yahoo Finance) refresh. To reduce your data usage just click on it and restrict its background data usage.
On one hand, for Samsung mobile devices such as Galaxy S4 with Android OS ver. 4.2.2, you may follow the steps below if you wish to disable Unified Daemon (EUR) app:

Step 1: From the Home screen, tap Apps.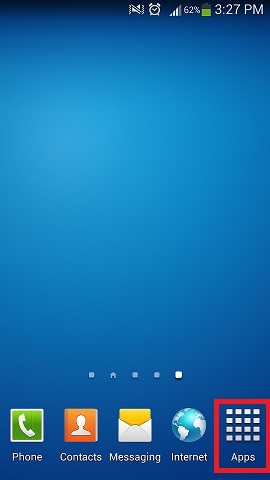 Step 2: Tap Settings.
Step 3: Go to More tab, then tap Application manager.
Step 4: Swipe the screen to the left (or right) until you have found the ALL category. Scroll down then tap Unified Daemon(EUR).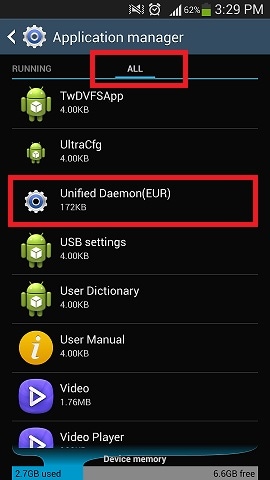 Step 5: Tap Disable. A warning message will appear, tap OK if you wish to continue.

Note: You may also opt to do Force stop, Clear data or Clear cache depending on what you want. You will be prompted with a warning message to confirm if you wish to proceed.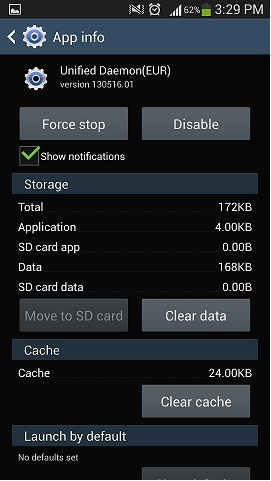 ** "To aid us in creating better support content for you, kindly complete the survey below if your query was resolved. Your rating and comments should only be based on the above content.

For all other queries or further technical assistance, please call Samsung Customer Care on 0800 726 786 or Live Chat with our Technical Team online, services are open 24 hours, 7 days."