Father's Day Sale
Keep your home safer and cleaner with amazing deals
from Samsung Digital Appliances
Valid from Jun 16. 2021 ~ Jun 23. 2021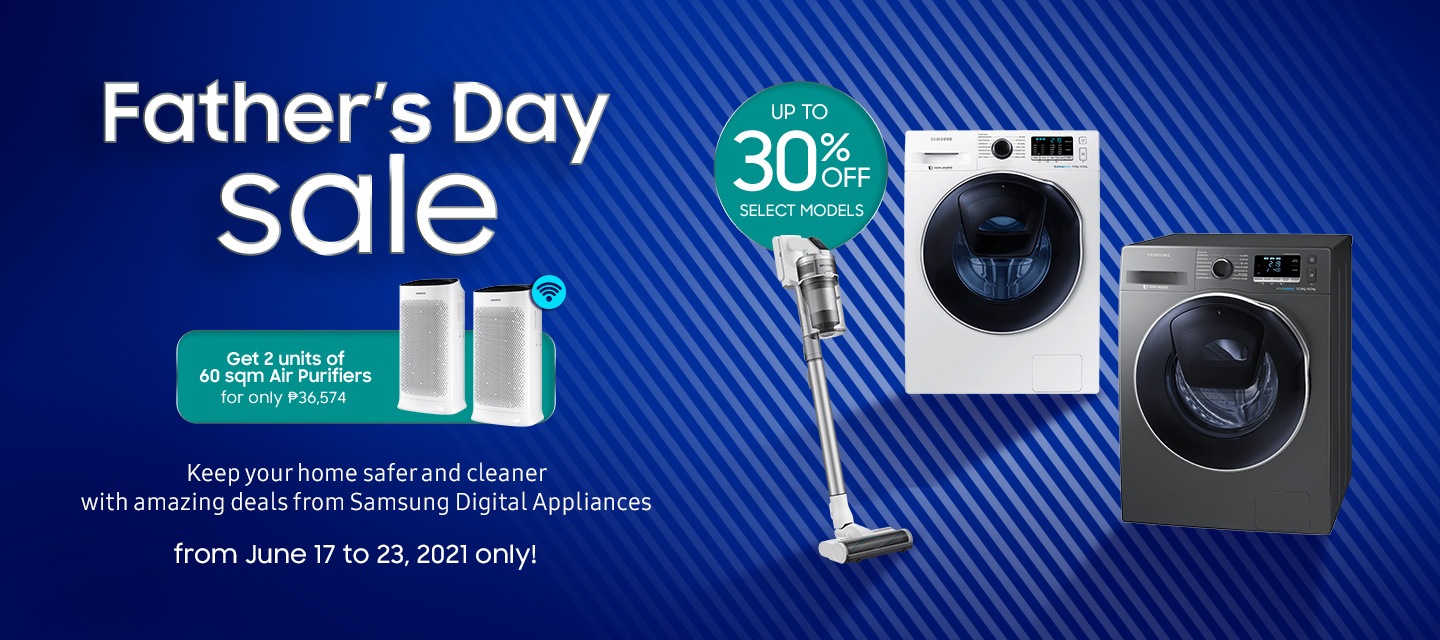 Front Load Combo
10.5 kg Washer
6.0 kg Dryer
WD10K6410OX
• AddWash
• Hygiene steam: Anti-Bacteria
• SuperSpeed
• EcoBubble Technology
SRP: ₱64,995
Net cash: ₱47,445

Front Load Combo
8.5 kg Washer
6.0 kg Dryer
WD85K5410OW
• AddWash
• Hygiene steam: Anti-Bacteria
• EcoBubble Technology
• Eco Drum Clean
SRP:₱54,995
Net cash: ₱40,145

Front Load Combo
7.5 kg Washer
5.0 kg Dryer
WD75K5410OW
• AddWash
• Hygiene steam: Anti-Bacteria
• EcoBubble Technology
• Eco Drum Clean
SRP: ₱49,995
Net cash: ₱35,995.00
Front Load Washer
7.5 kg Front Load
Washer
WW75K52E0YW
• AddWash
• Hygiene steam: Anti-Bacteria
• EcoBubble Technology
• Bubble Soak
SRP: ₱39,995
Net cash: ₱28,795
Vacuum Cleaner
150W Jet 90E Stick
Vacuum Cleaner
VS15R8546S5
• Digital Inverter Motor & Jet Cyclone
• 5 Layered Filtration System
• Ergnomic and Self Standing Charger
• 2-in-1 Flexible Cleaning Tool
SRP: ₱42,995
Net cash: ₱30,956
Air Purifier
2 units of
60 sqm Air Purifier
AX60T5080WD
• Multi-Layered Purification with HEPA Filter
• 3-Way Airflow
• Smart Wi-Fi Connectivity
• Numeric Air Quality Display
SRP: ₱61,990
Net cash: ₱36,574
GENERAL MECHANICS
1.
Promo Duration: June 17, 2021 to June 23, 2021.
2.
Participating Channels: Samsung DA E-Retailers with Working Websites ONLY.
Abenson
Automatic Centre
Magic Appliance
Robinsons Appliances
Savers
Tarlac Mac (Megasavers)
Western Appliances
3.
The support extended to the participating models should be passed on to customers as cash discount.
4.
Gray units/parallel imported Samsung products are not eligible for this promotion.
5.
The promotion offers are not applicable to B2B or Institutional transactions.
6.
Promotion is valid for purchases made online. Online covers purchases on participating dealers' online shopping sites (retailer.com) and pure player platforms (dealer stores on Lazada and Shopee) with corresponding check out facilities. Facebook / Social Media Selling or Telemarketing will not be valid for this promotion.
7.
This promotion is non-customizable and will only be implemented as discounts.
8.
Dealer should submit monthly sales (sell-out) report with model codes and serial numbers of the purchased product.
9.
Dealer must submit a screenshot of online database as a proof that claims are from online transactions.
10.
This promotion is on top of national promotion and the free delivery online subsidy.
Image simulated for illustration purposes only.
Per DTI Fair Trade Permit No. FTEB-118260 Series of 2021.
Terms and Conditions apply.