How to use the heart rate monitor on your Samsung Galaxy Gear Fit
Last Update date :
Nov 20. 2020
Measure your heart rate almost instantly with the heart rate monitor sensor located on the back of your Samsung Gear Fit. Record heart rate levels before, during, and after exercise.
Please Note:  It is intended to help users manage their overall health and well-being through capturing and tracking healthrelated information and metrics. It is not intended to be used in the detection, diagnosis, monitoring, or treatment of any condition, disease, or vital physiological processes or for the transmission of time-sensitive health information.
1
Make sure that your Gear Fit is snug on your arm, just above the wrist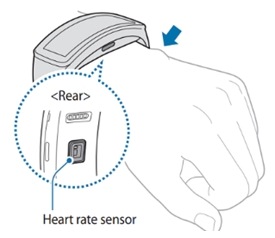 2
Swipe left or right on the home screen until you can see Heart Rate
3
Tap Start to begin measuring your heart rate

4
The heart icon will appear and begin blinking. This indicates that the measurement is being taken. After a short while your current heart rate will be displayed
Please Note: To get the most accurate results you should: 
Keep your body warm and rest for 5 minutes before taking a measurement
Do not move your body while taking a measurement u
Use the heart rate feature when your body isn't moving and the exercise feature when your body is moving
5
Scroll left on the heart rate measurement screen
6
To check the history, tap History
7
Scroll left or right to view your previous heart rate records