Poor picture quality when sharing pictures to Instagram
Last Update date :
May 23. 2023
Pictures shared on Instagram are restricted to specific horizontal and vertical image dimensions. The preferred vertical and horizontal pixels have been determined by Instagram and are set to four different dimensions. For more details, see the explanation below.
Before you try the recommendations below, be sure to check if your device's software and related apps are updated to the latest version. To update your mobile device's software, follow these steps:
Step 1. Go to Settings > Software update.
Step 2. Tap on Download and install.
Step 3. Follow the on-screen instructions.
Instagram's horizontal and vertical picture dimensions
Instagram recommends a total of four image dimensions to users. They are 1:1, 4:5, 1.91:1, and 9:16. When sharing pictures outside of these dimensions, the pictures automatically adjust to the set dimensions and may be cut off in the process.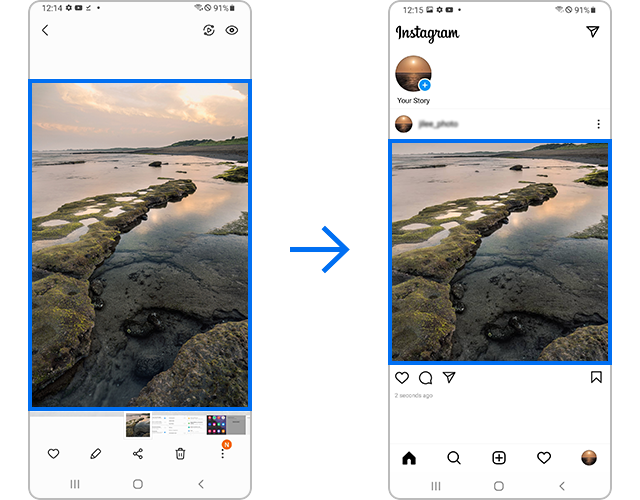 Example of a picture with an original ratio of 10:16 adjusted to 1:1 when uploaded to Instagram
Instagram picture's width
The optimal width of a picture to share on Instagram is 1080 pixels. If a user shares a high-resolution picture, the picture's resolution will automatically be compressed to 1080 pixels. Through this process, the quality of the photo may appear reduced, especially compared to the original.
Note:
Download the latest version of the Instagram app. Fix the width of the photo to 1080 pixels and adjust the picture according to the standards recommended by Instagram.
Device screenshots and menus may vary depending on the device model and software version.
We would love to know your feedback to help us improve. Please click the submit button to tell us what you think.
Please answer all questions.