Pro Mode Adjustment on Galaxy S10
Last Update date :
Sep 22. 2020
if you're at all interested in taking your photography to the next level, try Pro Mode of Samsung Galaxy S10.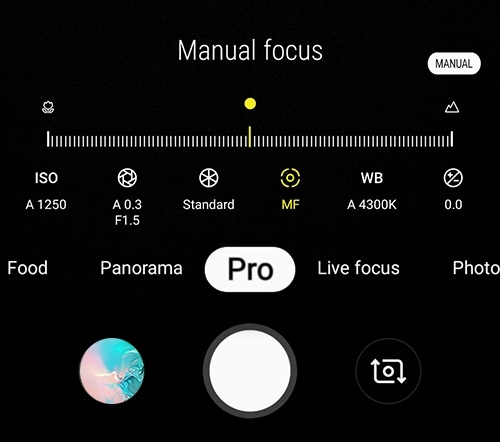 Pro Mode Manual Adjustments
Pro Mode is available when shooting through the rear cameras. Select Pro Mode on Samsung Camera app to make manual adjustments to the following:
Aperture & Shutter Speed: Select between the f/1.5 and f/2.4 cameras and adjust the shutter speed between 1/2400th and 10 seconds

Standard: Adjust colour temperature, Tint, Contrast, Saturation, Highlight and Shadows individually
White Balance: Tap the Auto Icon to switch to manual, and use the slider to adjust theWB
Exposure: Push or pull the exposure -2 to +2 stops
ISO:  Set the ISO between 50 and 800
Manual Focus: Tap the Auto Icon to switch to manual and use the slider to adjust the focus 
Tap the Settings in the Camera app to turn on Grid Lines (3X3 and Square) or Save Options; shoot and save both a JPEG and RAW copy of your photo.
We would love to know your feedback to help us improve. Please click the submit button to tell us what you think.
Please answer all questions.