Streaked rays from light sources & black lines on mobile
Last Update date :
Jul 25. 2022
Screen flickering, black lines showing up, or vibration occurring that may appear in certain conditions happens as if in errors in doubt. Please find out more information about such phenomena below.
Before you try out the below recommendations as to your solution, be sure to check if your device's software is updated with the latest version. Please check how to update your mobile device's software in the following order. 
Step 1. Go to Settings > Software update.
Step 2. Tap on Download and install. 
Step 3. Follow the on-screen instructions.
The following issues that may occur with your device's camera are not malfunctions. 
Black lines and  flickering when taking photos or video near fluorescent lights
This is a normal phenomenon related to flicker of light source that occurs when the light source taking the form of a flashing frequency of the fluorescent lamp to the camera. Flicker phenomenon can mainly be generated at a shutter speed of 1/120 or more and it occurs in the characteristics of the CMOS sensor.
This is normal operation which can happen on all camera with CMOS sensor and it's caused by CMOS sensor's original specification.

If excessive heat or high-density energy, direct sunlight is concentrated in certain areas of the camera lens, it may cause damage to the micro lens on the camera. Be careful not to expose the camera lens to a strong light source, such as direct sunlight. If the camera lens is exposed to a strong light source, such as direct sunlight, the camera image sensor may be damaged. A damaged image sensor is irreparable and will cause dots or spots in pictures.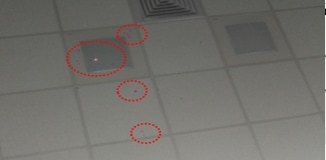 Black dots (Black Sun phenomenon)

This is the Black Sun phenomenon that can appear when a specific pixel is focused by too many amounts of lights at the same time. It is a normal operation that can happen on all cameras with a CMOS sensor. In such an environment, we recommend changing to a lower exposure value.
*Exposure determines how much light the camera's sensor receives.
Linear light appears around a light source

The phenomenon that appears on your camera is not faulty. It's a normal flare phenomenon and it can occur when shooting under backlight that sun/light is located close to screen frame or fingerprint/foreign matter gets on the lens. When you take a shoot of objects around bright lights, you can easily find them. At that time, please specify where the sun is not so close to the screen or check again once you have removed the foreign material on the lens (As foreign matter can remain according to wiping method, please wipe the lens in a circle around to remove the foreign material completely).
It may differ slightly by lens specification and foreign matter on the lens.

If you're experiencing unusual behavior on Samsung mobiles, tablets, or wearables, you can send us an error report or ask us a question in the Samsung Members app. This allows us to take a closer look at what is happening. The data is anonymized and only held for the duration of the investigation. Find out more about how to send an error report here: How to use the Samsung Members app 
We would love to know your feedback to help us improve. Please click the submit button to tell us what you think.
Please answer all questions.