What causes streaked rays from light sources and black lines on mobile device?
Last Update Date :
Aug 20. 2019
Black lines and  flickering when taking photos or video near fluorescent lights
This is a natural phenomenon that can happen when taking photos under fluorescent lights. Fluorescent lights flicker at twice the mains frequency and if you are using a shutter speed of 1/120 or faster, the light and colour intensity can change. This can be more common if you are using Burst Shot mode or Slow Motion.In some cases, the effect can be negated by using the flash.
Pink dots is shown when using camera app
Samsung is aware of this symptom which may appear on some S10 Series devices exposed to extremely bright light such as a laser beam. If excessive heat or high-density energy is concentrated in certain areas of the camera lens, it may cause damage to the micro lens on the camera. It is recommend that do not use a camera on mobile device under extremely bright light condition and please contact  a Samsung Service Center for exchange camera module.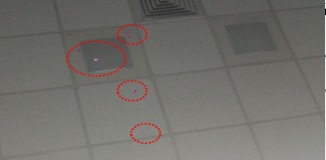 Black dots (Black Sun phenomenon)
This is Black Sun phenomenon that can appear when specific pixel is focused by too much amount of lights at the same time. It is a normal operation which can happen on all camera with CMOS sensor. At such an environment, we recommend to change to a lower exposure value.
*Exposure determines how much light the camera's sensor receives
Linear light appears around light source
The phenomenon that appears on your camera is not faulty. It's normal flare phenomenon and it can occur when shooting under backlight that sun/light is located close to screen frame or fingerprint/foreign matter gets on the lens.
Especially, when you take shoot of objects around bright lights, you can easily find it. At that time, please specify where sun is not so close to the screen or check again once you have removed the foreign material on lens (As foreign matter can remain according wiping method, please wipe the lens in a circle around to remove the foreign material completely).
It may differ slightly by lens specification and foreign matter on lens..
Need help? Contact Us for Support.
Online
Live Chat
24 hours a day/7 days a week
(Including Public Holidays)
Email
We'll respond within 24 hours of your request.
Phone Support
Before calling us, there are some information we need to obtain from you. Please get ready with model code, serial number and date of purchase.
Note : Call conversation is recorder for quality, monitoring and/or training purposes for our continuous quality improvement.
For Mobile Devices (24/7)
#GALAXY (just dial #425299)
[Free access for all Networks ]
(02) 8-422-2177 [Standard Landline]
For Television, Audio & Digital Appliances (8:00 AM to 8:00 PM)
1-800-10-726-7864 [PLDT Toll Free]
1-800-8-726-7864 [Globe Toll Free]
(02) 8-422-2111 [Standard Landline]

* For Toll Free numbers, just directly dial 1-800 followed by the network number.
**Standard Landline numbers have been updated to comply with the NTC ruling effective October 6, 2019
Face to Face Support
* For any printer related enquiries please visit HP website .
Contact Us