What is Bixby Home and how to activate it
Last Update date :
Jun 07. 2021
Bixby Home is the main page of Bixby which studies the user's behaviors and recommends content suitable in different circumstances, ensuring convenient use.
Access just about everything with a swipe.
Quick glance of your activities from social networks, appointments, weather in different cards.
Bixby learns about you and predicts what you might be looking for.
Complete certain tasks like a Reminder, Call Uber, Watch YouTube, Calendar, etc.
Note: Device screenshots and menus may vary depending on the device model and software version.
How to activate Bixby
To open Bixby Home, press the Bixby key. Depending on what phone model and side key functions you have, the buttons are located on the left or right side.
From the Home screen, swipe to the right to launch Bixby Home.
How to deactivate Bixby Home from Home screen
1
To hide Bixby Home from the Home screen, tap and hold an empty area on the Home screen
2
Swipe to the right.
3
Tap the Hello Bixby switch to deactivate it.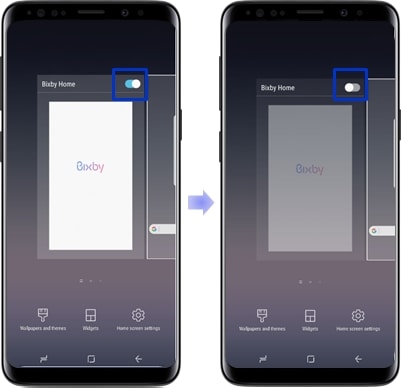 How to turn off Bixby feature
You can choose to open Bixby Home as it does currently. Or, you can select"No Action" if you do not want anything to happen when you "short press" the key.
1
Tap More option at the top of the Bixby Home.
2
Tap Settings.
3
Tap Bixby key.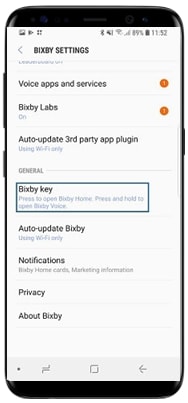 4
Select Don't open anything.
Typical scenario for using Bixby Home
Bixby learns your routine, so you'll have the right content ready when you need it.  By looking for patterns in your app usage by time and location, Bixby can predict what you might be looking for.
Eg: In the morning, music and today's schedule, news and weather will be shown. In the evening, time change you've made on Alarm app, today's health activity statistics summary will be shown.
Manage cards through Bixby Home setting
When you open Bixby Home, you can review the content that is frequently updated as Bixby cards. Swipe upwards or downwards to view the Bixby cards. Cards are automatically arranged by relevance to a certain time based on TPO (Time, Place, Occasion) by analyzing the user's behavior patterns.
You can access a limited view of Bixby Home to only view important Cards and choose which one you'd like to display.
1
Tap More option at the top of the Bixby Home.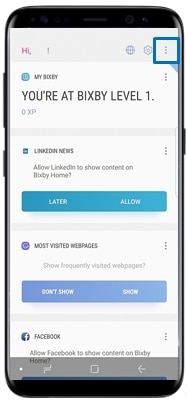 2
Tap Settings.
3
Tap Apps.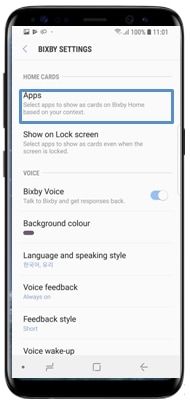 4
Tap the switches next to items to add or delete them.
5
If an app is not installed on the device, you must install it to use.
If you're experiencing unusual behavior on Samsung mobiles, tablets, or wearables, you can send us an error report or ask us a question in the Samsung Members app. This allows us to take a closer look at what is happening. The data is anonymized and only held for the duration of the investigation. Find out more about how to send an error report here: How to use the Samsung Members app 
We would love to know your feedback to help us improve. Please click the submit button to tell us what you think.
Please answer all questions.