Galaxy Note4: How to use the Side Key Panel of one handed operation?
Last Update date :
Nov 24. 2020
1. You can use your device more easily with one hand by having
the hard key and other selected functions appear as buttons at
the side of the screen. Tap the Apps on Home screen and tap Settings
2. Select the Display and wallpaper
3. Select the One-handed operation
4. Select the Side key panel
5. Scroll the switch to the right direction to enable the side key panel
6. Alternatively, you can use the notification panel to enable side key panel.
Scroll down the notification panel.
7. Scroll to the right and Select the Side key panel to enable the feature
8. Currently, you can check the side key panel
9. Now , you can control your device use your device with one hand by
having the hard key as buttons at the side of the screen. If Quick minimize
option is enabled, you can tap anywhere outside of the side key panel to
minimize it. To expand, swipe across the side key panel from the near edge
to the middle of the screen.
10. To move the side key panel, Tap and hold the movement icon then drag
it to where you want.
11. To set up transparency of the side key panel , tap the Transparency then
use the slider to adjust transparency of panel.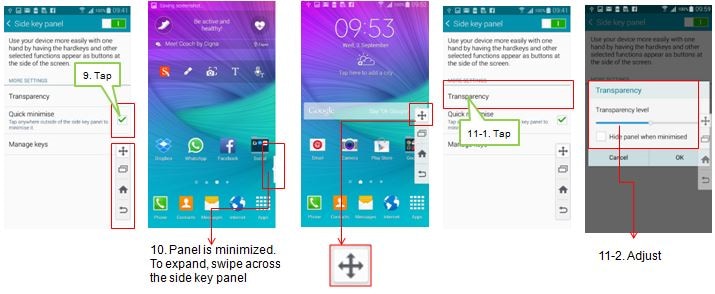 12. You can customize which buttons appear on your side key panel.
Tap the Manage keys.
13. Tap and hold icon, then drag the buttons to add, remove, or re-order them.
For example, to add them to the panel , drag icons from the Available
keys area to the Shown on panel area.
14. To edit or remove the side key panel quickly, Tap and hold movement icon
on side key panel, then drag it to Edit or Remove on top.
Please answer all questions.