How do I connect the Note9 S Pen via Bluetooth?
Last Update Date :
Aug 31. 2018
Take full advantage of the Note9 through the use of the remote control S Pen which has a range of up to 10m.
The pen supplied with the Note9 is already connected to the device so there is no need to make a Bluetooth connection manually.
In case of wanting to connect another S Pen to your device, connect it via Bluetooth and enjoy its functionalities to the fullest.
Please note: You can only connect Samsung-approved S Pens that support Bluetooth Low Energy (BLE).
Connecting another S Pen
1
Insert the S Pen into the slot to start the connection.
2
Open the notification panel by sliding down from the top of the device.
3
Expand the options in the notification panel.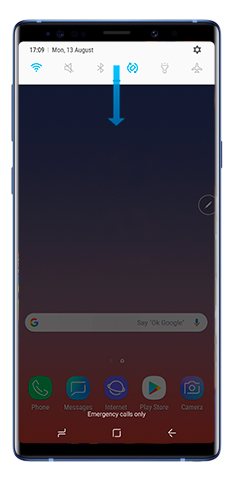 4
Slide the notification panel to the left.
5
Tap S Pen remote.
6
Tap it again to reactivate it.
The S Pen icon on the status bar will flicker and might take a few minutes to connect. 
Please Note: Do not detach the S Pen from the device when it is being connected. Doing so will interrupt the process.
When the S Pen is connected, the S Pen icon on the status bar will disappear.
If it fails to connect or you want to use the previous S Pen, reconnect it following the earlier steps.

Resetting the S Pen
There are two ways to reset the S Pen connection: 

1
Long press the S Pen remote icon.
2
The S Pen remote settings screen will automatically open.
3
Tap the More options icon.
4
Tap Reset S Pen.
You can also access through Settings:
5
Tap the "more options" icon.
6
Tap Reset S Pen.
Not finding what you're looking for? We're here to help.
Call
For your Inquiries on Samsung Products
(Inside Saudi Arabia)
8002474357
24 hours all days a week

(Outside Saudi Arabia)
+966112974690
24 hours all days a week

* May Call Charges will be applied
* For any printer related enquiries please visit the HP website .
Face-to-face support
Samsung Support Center

The latest Coronavirus (COVID-19) updates (Service Centers)
With the global spread of COVID-19 impacting most communities, Samsung is adapting its practices to protect the health and wellbeing of our people and customers.

As such, our customer service centers are operating with extremely limited resources and we are unable to serve you as usual.

We apologize for any inconvenience this may cause.
Contact Us